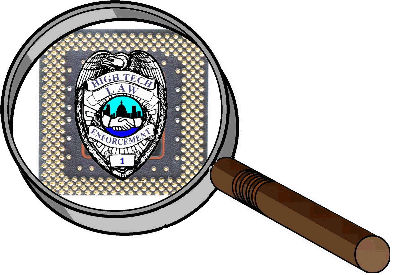 The High-Tech Crime Unit was created as a joint partnership between the Austin Police Department and local high-tech industries on Feb. 1, 1995. The unit, which is comprised of six Austin police officers, is the first of its kind in Texas. The unit was patterned after a similar unit in San Jose, California.
The High-Tech Unit was formed to take a pro-active approach in tackling high-tech crimes before they become a problem in the Austin area's growing high-tech industry. Currently, more than 400 high-tech companies are in the region.
Law enforcement focuses on issues such as computer chip theft, computer hacking, fraud, theft of intellectual property, robbery and burglaries of high tech companies. Since the formation of the unit, over three million dollars worth of stolen computer equipment has been recovered.
Law enforcement agencies which are involved in the high-tech unit are the Austin Police Department, IRS Criminal Investigations Division, Secret Service, FBI, U.S. Customs Service and the Travis, Williamson and Hays County sheriff's offices.
High-tech industries provide financial support, materials, equipment and technical information. Money provided to the unit is given to a non-profit foundation to administer funds.
The Austin Police Department High Tech Unit can be reached by phone at 458-0401