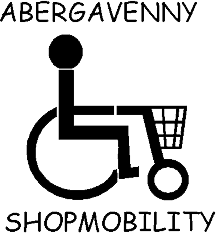 ---
The Abergavenny Shopmobility scheme is open from 10AM to 2PM Tuesday to
Saturday.
The scheme has been established to help anyone with a mobility difficulty be it
temporary or permanent. You do not need a medical note or to be registered
disabled to use this scheme.
Abergavenny Shopmobility is a free service provided by Monmouthshire
County Council, we can provide three or four wheel powered scooters and a
choice of manual wheelchairs.
The hire of these vehicles is completely free, we take a £20 deposit whilst the
vehicle is out and this is returned in full when the vehicle is brought back.
We ask that when somebody uses the scheme for the first time they bring
some identification with them, we will then register them and give full instruction
on using the vehicle. The whole process takes about 15 minutes.
Abergavenny Shopmobility is brought to you by Monmouthshire County Council
with Abergavenny Chamber of Trade and Commerce, SWALEC and Llanover
Community Council.
All post to - Monmouthshire County Council, One Stop Shop, Town Hall,
Cross Street, Abergavenny NP7 5HD – Freephone 0800 298 3656