Planet

Cioran

Life and Works
Home | Biography | Citations | Interviews | Books | Articles - Essays - Reviews | Discussion - Maillists | Links
---
We have moved !!
Multilingual Site : Deutsch English Español Français Nederlands Português Românã
---
---
Update: march 21, 2007
This site is no longer being updated. We are moving to a new location this month. We will use the domain Cioran.eu to redirect to that site
New Cioran site
Planeta Cioran - Romanian
http://groups.yahoo.com/group/planetacioran/
---
New Articles Added: march 10, 2006
Dubious Raptures by Nicolas Cavaillès
E.M. Cioran on Beckett - Translated by Thomas Cousineau
---
New Discussion Mail lists: march 9, 2006
Deutsch English Español Français Nederlands Português Româna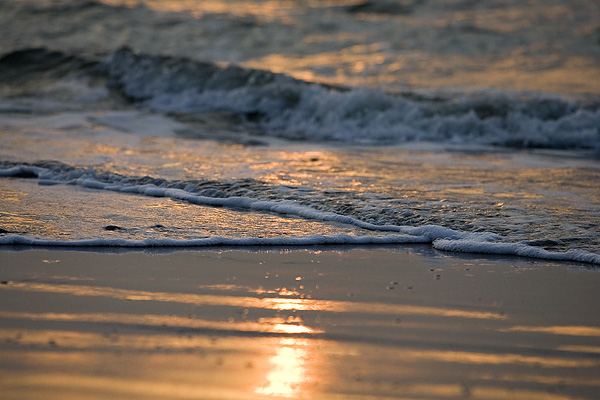 We recently established a few new mail lists to improve the communication between those interested in the life and works of Cioran. We already had lists in English (international list) and Dutch. We've added lists in French, German, Spanish and Portuguese. Romanian is planned for the near future.
Our private lists are unofficial and not linked either to Cioran's estate or to his publishers.
---
Project Cioran: january 30, 2006
We started a site with just a few citations in 2003, and at the same time we started a discussion mail list, which now has over 600 members. The Cioran web site and its mailing lists exists for the discussion of all aspects of the life and works of Emil Cioran. We have, in the last couple of years, been pioneers at connecting all interested in the thinking of Cioran.

It's time to get things better organised. That is why we have started up Project Cioran, which will create an expanding network to make it possible to put on-line a comprehensive group of essays, reviews, analyses and various other material related to the life and works of Emil Cioran.

A new, easier to navigate site is being prepared and will see the light in the near future. Stay tuned...
---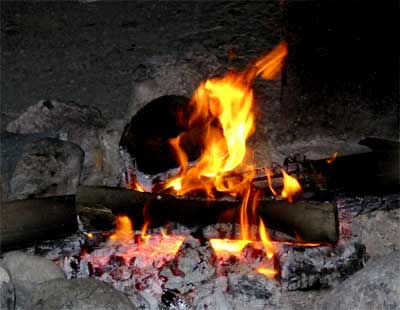 The beauty of flames
The beauty of flames lies in their strange play, beyond all proportion and harmony. Their diaphanous flare symbolizes at once grace and tragedy, innocence and despair, sadness and voluptuousness. The burning transcendence has something of the lightness of great purifications. I wish the fiery transcendence would carry me up and throw me into a sea of flames, where, consumed by their delicate and insidious tongues, I would die an ecstatic death. The beauty of flames creates the illusion of a pure, sublime death similar to the light of dawn. Immaterial, death in flames is like a burning of light, graceful wings. Do only butterflies die in flames? What about those devoured by the flames within them?
from EM Cioran's book "On the Heights of Despair."
---
Notebooks: "delayed indefinitely."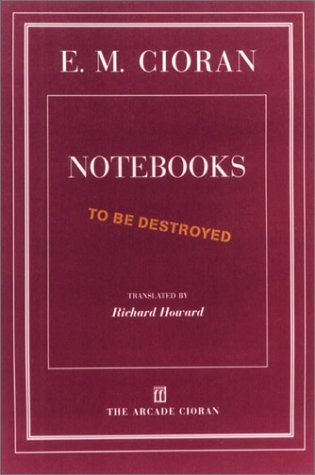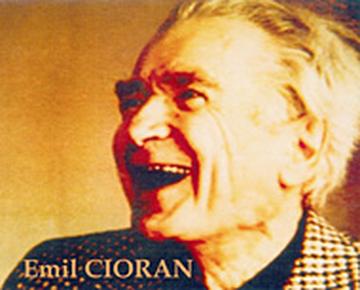 Here in one volume, are the thirty-four notebooks Cioran left behind at his death, not a journal but a sort of exercise manual, in which he tries out his formulations, perfects the expression of his obsessions and whims. The notebooks are rich in anecdotes, accounts of meetings, portraits of friends and enemies, descriptions of excursions and sleepless nights. Here are the lists, day after day, of failures, sufferings, anxieties, terrors, rages, and humiliations,curiously at odds with the daytime Cioran, so mocking and tonic, so comical and various. These brief entries constitute a backstage glimpse of a tormented mind, wise in its very torments, solitary in its wisdom. Amazon US
---
excerpted from
ON THE HEIGHTS OF DESPAIR
by
E. M. Cioran
Truth, What a Word!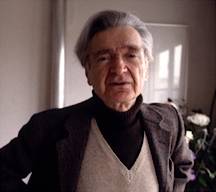 The idea of liberation through the suppression of desire is the greatest foolishness ever conceived by the human mind. Why cut life short, why destroy it for so little profit as total indifference and the illusion of freedom? How dare you speak of life after you have stifled it in yourself? I have more respect for the man with thwarted desires, unhappy and desperate in love, than for the cold and proud philosopher. A world full of philosophers, what a terrifying prospect! They should be all wiped out so that life could go on naturally - blind and irrationally.

I hate the wisdom of these men unmoved by truths, who do not suffer with their nerves, their flesh, and their blood. I like only vital, organic truths, the offspring of our anxiety. Those whose thoughts are alive are always right; there are no arguments against them. And even if there were, they would not last long. I wonder how there can still be men searching for the truth. Do wise men not yet understand that truth cannot be?
© University of Chicago, 1992. The use of this material is believed to fall within the fair use provision of copyright law.
---
Olavo de Carvalho on Cioran:
..."Cioran cannot be read literally, or else you will blow your brains out. That is something he himself did not do, what shows us he was aware of the dose of irony in his writings (he used to say he was a fraud and that people would see that if they understood him). Cioran takes the stand in the name of the devil, prosecutor of humanity, and defies us to take charge of the defense. Playing among patent truths and truthlike exaggeration, he always leaves us an opening for salvation, and it is precisely in these hiatuses, in these calculated failings inside his argument, that lies the most intelligent part of his work, in truth more pedagogic or psycho-therapeutic than philosophical. Cioran can induce you to despair, to stoic resignation, or to resuming faith and hope. He can be poison or medication: it is up to you to decide."...
Philosophy is not for the timid
Interview of Olavo de Carvalho to Zora Seljan
Translated by Assunção Medeiros
---
Mircea Eliade on Cioran:
..."How I admire E. M. Cioran for his incomparable mastery of the art of letter writing. I think I have penetrated his secret: Cioran never writes a letter out of obligation, or because he has nothing better to do, but only when he feels the need to communicate with someone, whether friend or stranger. And his letter reflects his mood at the moment, a nontemporal mood in a way--in any case, beyond the historical moment."...

In his journal, No Souvenirs (1957-1969)
---
Home | Biography | Citations | Interviews | Books | Articles - Essays - Reviews | Discussion - Maillists | Links
©Planet Cioran 1997 - 2005 Copyright - Disclaimer
Jan Van Biervliet Flanders - Belgium - Europe