During the first world war, Bride held a post on the Mona's Isle. On April 10, 1920, Lucy and Harry married. It was a very small ceremony with only family and close friends in attendance.

In 1922, the Bride family were living 70 miles outside of London, where Harry was the operator aboard the Cross-Channel Ferry. Their first child, Lucy ("Lulu"), had been born the previous year and Lucy quit teaching to raise the start of their hopefully growing family. Later in 1922, they decided to pick up stakes and move to Ayrshire, Scotland where they lived in quiet anonymony. There were two reasons for the sudden disapearce. . .(1)Harry's father, Arthur, had recently died and (2)The 10th anniversary of the sinking was far too close and he didn't want to be in the lime-light again. Bride became a traveling salesman and two other children were born in Scotland--John ("Jack")in 1924 and Jeanette in 1929. The friendship with the Cottams continued through letters and everyone's memories. In his free time, Harry tinkered with antenae and operated his own radio.

After the initial Inquiries into the disaster, Harry rarely spoke of his involvement with Titanic. Everyone knew, they just never asked. The kids knew of the disaster and that "Dad" was involved, but also sensed the soreness of the topic and instinctively knew not to bring it up.

Harry died in 1956 at the age of 66. Lucy died in 1973 at the age of 83.

Additional Pictures:
*do no remove any pictures without the webmaster's permission*

Harry at 16. (His grammar school graduation shot.)
Sketch of Harry manning the wireless set of the Carpathia (Drawn by Jim Spears of the Times?)
Being carried off the Carpathia~~April 18, 1912
Sitting in a wheelchair. April 18, 1912.
Testifying~~April 20, 1912. Mr. Marconi is smiling in the foreground
Testifying~~April 20, 1912.Cottam is standing to Harry's right
After testimony~~April 20, 1912.
Home at last~~May 18, 1912. His dad is also in the picture.
Arriving in London for the British Inquiry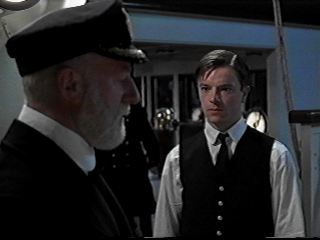 Craig Kelly as Harold Bride in 'Titanic'
---
Sources:
Walter Lord A Night To Remember
" " The Night Lives On
Tom Kuntz (editor) The Titanic US Inquiry Transcripts
Wyn Craig Wade Titanic: End of a Dream
Eaton & Haas Titanic: Triumph and Tragedy
Kathryn Goddard Meyer (Jarvis grand-daughter)
Bill Copland (Downie relative)
Colin Downie (Downie relative)
David O. Norris (researcher and private investigator)
Scott Anderson (researcher)
George Sinclair (Harold Bride's great-nephew)

---
Contributing L/F Writer: Aurora Brynn. © 1998
---
I'm asking nicely to please, please, please respect my copyrights. A great deal of information here is unpublished and I am determined to keep it unique to this site. If you are in violation of my copyright, I will find out and action will be taken. Please, I want you to enjoy the full story of Harold Bride's life, but don't plagerize and claim it as your own. That is just morally (and legally) wrong. I would also like to thank Bill Copland and Colin Downie for sharing Downie info and the picture of Lucy Downie Bride. Under no circumstance are any pictures or information to be removed from this site without the express permission of me, the web master.
---

The wireless shack won: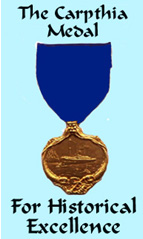 ---
You are #
to drop by the wireless shack.
---