Free Medical Dictionary Online

You are visitor number
to this Web site. Please sit back, take off your shoes and have a refreshing cool juice or something

I am a RETIRED Licensed Nurse and a Professional Labor Assistant AKA a (Doula). I also teach childbirth preparation classes individually in the home enviroment. My virtual office/company is called "Crowning Moments Childbirth Services"! Why did I name my company "CROWNING MOMENTS CHIDBIRTH SERVICES" click here to find out!
Greetings and Salutations

The description of my page(s) are:
Nursing and other Holistic Health & Wellness Providers


Childbirth, Health Education, and Labor assistance;


These are my labours of Love, good for my soul, and what I consider my purpose in this life!

Fellow Internet surfer welcome to my home page(s). I'm very glad that you made it this far . . . and I hope that you'll stick around long enough to get to know just a little bit more about me and my life. After all, these days, acquaintances that begin in cyberspace are often the most real, vivid, and long-lasting this maybe be true of us. Although we have just met I feel you may have an idea of what type of person I am:) For those seeking a Doula or an OB/GYN Nurse I have references availible upon request. To get to know me a little better please look at my Resume,or Papers written by me for college classes and my Crowning Moments pages or my personal pages



Here is a Professional Organization I wish any interested Woman's Health Professional to please click on the link and check out what we are doing for our profession and the woman and families we care for as clients.

We are a new association... ANACS, Association of Nurse Advocates for Childbirth Solutions. We feel that women are not truly informed about some of the choices they make with regard to pregnancy, labor and delivery. Our goal is to educate these women and now via the association...the professionals that serve them. We want to see less intervention, fewer inductions and epidurals and more women invested in the childbirth experience to the best of their ability. We believe this is an ideal time for this new association.

Have you all read the latest JOGNN? Check out Kardong-Edgren, S. (2001) Evidence-based practice to improve intrapartum care. JOGNN 30(4)371-375.

Visit ANACS.org and be among the first to share your opinions, experiences, frustrations and hopes for the field of obstetrical nursing.

I hope some of you are interested in working with us and if you are please let us know.
If you are interested in more information please contact me or Carolyn Rafferty, BSN the founder of this association.

Carolyn Rafferty RN, BSN Executive Director, ANACS Inc.

Association of Nurse Advocates for Childbirth Solutions

ANACS.ORG

[email protected]

301-434-5546

301-434-5972 fax


| | |
| --- | --- |
| | |

Check out 'Pre-Natal Birth Psychology User Preferences' at TheVines for one of my articles published elsewhere on the web!




Please sign my guestbook!


email

[email protected]

Please read this DISCLAIMER for the medical information contained within these pages!

~My Web Rings Page~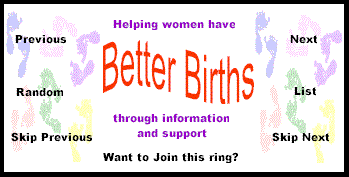 <!BLOCK START newsforge>

Million Nurse March WebRing
<!BLOCK END>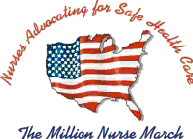 To Go To This Site "Miilion Nurse March" A Great Site For All Nurses'!
---




I have used this tool to submit my ite to several search engines at one time, in a reciprical agreement I have placed this link here.


You may wish to use these tool's to search my site and the web





Site Map What's New Search

Indexed by the FreeFind Search Engine.



Updated as of March 18, 2008 at 15:30 EST







© 1998,1999, 2000, 2001, 2002,2008

[email protected]

Press here to be notified via Netmind when this particular page is updated:
---
This page hosted by
Get your own Free Home Page