America's school bus drivers - struggling to provide safe ride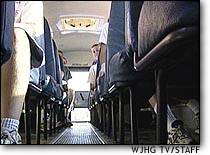 Bus drivers across America are struggling with the trouble some student riders continually cause
on the bus making it hard for the drivers to concentrate on the road. When this happens on a daily basis it can put kids, the
bus driver and the public at unnecessary risk. - Safe Schools

By Jennifer Elmore. Original story, "What's happening on the school bus," aired on MSNBC, WJHG 7 News, Panama City, Florida. Posted by permission from WJHG.

PANAMA CITY, FLORIDA (MSNBC, WJHG CH. 7 NEWS) -
Almost everyday we tell you about what students are doing in local classrooms. But what students are doing on the bus these days will shock you. It starts with elementary age kids and gets worse as they get older. Youíd be surprised at what goes on on your childís school bus.

One student described what sheíd seen on the bus by saying, "Iíve seen some bad things. Thereís people and they start hitting each other and they start kicking each other. And sometimes the bus driver says if you donít stop it Iím going to take you back to school." She went on to say that if the bus driver yells at the kids, even then they donít listen. She added, "They just keep on talking until finally she has to scream at them, and stop the bus."

And not only are they fighting and screaming, kids as young as 1st graders are cussing at the bus driver. If you want your kids to learn all the words of the world, you should put them on the bus. Young kids even harass the bus driver by getting off the bus and then dancing in front of it so the driver canít leave. And in other situations, the kids have even grabbed onto the side of the bus.

Believe it or not, this happens on almost a daily basis. In just the past two months, an estimated 189 kids were written up for cussing, 171 for violence, nearly 300 for violating safety procedures (for example standing up in the seat or throwing things out the window). 183 kids were cited for harassing the driver and 60 students were written up for assault. There were also 18 cases where students destroyed something on the bus, like cutting up a seat. Plus, there are the kids who werenít written up but just given verbal warnings instead.

This is just the tip of the iceberg. Several weeks ago, two (Panama City, Florida) Bay High students were caught engaging in sex acts on the bus. Pete Smith of Transportation said "We have a problem with students even having sex on the bus. Itís not something that happens day after day after day, but we have had lately, problems like this." A Bay County parent who wants her identity concealed says itís happening too much. "Iíve heard stories actually of children being asked to have sex on the bus, trying to have their clothes taken off of them."

And incidents like these arenít just stripping the students of their youth, theyíre also driving parents and bus drivers to the limit.

Your comments about this story, Keywords: PC Bus Violence.

Safe Schools Note: Injuries on school buses have escalated over the past decade, from under 7, 000 per year in 1985 to over 13,000 injuries reported in 1996, by the National Safety Council. Driver distraction is attributed to over 30 percent of the nation's school bus accidents. (Facts, Figures & Quotes)

E-Mail your story

Every person has a great school or school bus story, safety story, idea, war story or "something funny happened today" story. Perhaps something for the rest of us grown-ups to think about or perhaps to affirm, encourage and support other adults.

When e-mailing a story please include your name, contact address and something about yourself. If the story is controversial and you wish to remain anonymous we can often do that, depending on the story, or not print the story until it can be verified through another source.

E-mail stories to: [email protected].

For more information on how to submit a story,Click Here.