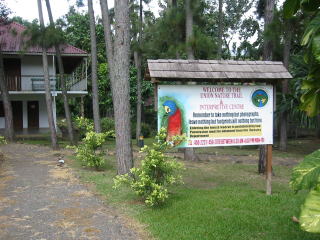 In 1960, a section of the Union Agricultural and Research Station was set aside to be used as a nursery by the then Forestry Division. Later the Department constructed a nature trail and a hill side trail as part of its ecotourism products.

The Hillside trail is a 1 mile (1.6km) loop, that reaches at the highest point of 350 feet in elevation. This allows a 2 hour walk through a tropical dry forest environment. This trail is recommended for those who are willing and able to do some moderate step climbing over some rough terrain.
The Garden Trail takes you on a leisurely walk through a medicinal herb garden, which covers a 0.5 mile (0.8km) loop.
Map of Union Nature Trail (PDF) =>
The Mini Zoo includes a number of indigenous as well as exotic species. The Agouti is an example of an indigenous animal. The St. Lucia Parrot is not only indigenous but it is also endemic, meaning that it can only be found in St. Lucia and nowhere else in the world. Exotic species are species that do not occur naturally on our island, for example the Green Monkey or the Orange Winged Parrots in the zoo.
More details about Mini-Zoo =>

The Mini Zoo is also used for environmental education. Students, accompanied by their teachers and parents, visit the zoo regularly, to understand the importance of biological diversity conservation and at the same time have some fun.

---
Access

10 min. from Castries by car
=> Map to Union Trail

Public Transportation:
1B bus from Castries to Union
*Public Buses are not scheduled.

Office Hours

8:30 am to 4:00 pm
Monday to Friday
Fee for Nature Trail & Mini Zoo

5 EC Dollars or 2 US Dollars per person, half price for kids
*Prices subject to change.
For more information

Forestry Department: (758) 468-5645/5648/5649
Our Nature Trails
[Union] [Forestiere] [Barre de L'isle] [Millet] [Enbas Saut] [Edmund] [Des Cartiers]
---
[Home] [Nature Trails] [Hiking Trails] [Bird Watching] [Mini Zoo] [Eco Lodge] [Gros Piton] [Maps] [Guides] [Fees & Policy] [Visitors Review ][Forestry Dep.] [Site Map] [Link] [Contact]
---
Copyright � 2005
Forestry Department
Ministry of Agriculture, Forestry & Fisheries
All rights reserved
Design and Photo by Takashi Aoki