Total Lunar Eclipse of March 03, 2007
Observation Report and Comments
Helio de Carvalho Vital
Location: Rio de Janeiro (22o55`20" S; 43o13` 41" W),  Brazil
Instruments: 8¨ f/10 Celestron at 77x; 2,4" f/13 Refractor at 40x ; 7x50 binoculars and Kodak Z740 Digital Camera.
Atmospheric conditions: Good transparency and stability; clear skies.
Local altitude of the Moon at mid-eclipse:  27o
Limb and Mid-Crater Timings
IMMERSIONS

UTC

hh:mm:ss

EMERSIONS

UTC

hh:mm:ss

Kepler

21:48:30

Kepler

00:13:32

Tycho

21:48:58

Plato

00:17:02

Aristarchus

21:53:46

Pytheas

00:19:32

Copernicus

21:57:03

Timocharis

00:22:12

Pytheas

22:02:05

Copernicus

00:22:15

Timocharis

22:08:29

Campanus

00:27:00

Dionysius

22:13:05

Aristoteles

00:28:20

Manilius

22:13:17

Eudoxus

00:30:37

Menelaus

22:17:16

Tycho

00:36:15

Plinius

22:20:28

Manilius

00:38:08

Goclenius

22:21:29

Menelaus

00:41:32

Plato

22:23:19

Dionysius

00:45:58     

Taruntius

22:27:10

Plinius

00:46:27      

Mare Crisium

22:34:37

Censorinus

00:55:15

Limb (U2)

22:44:18

Proclus

00:56:53      

Taruntius

01:00:23

EMERSIONS

UTC

hh:mm:ss

Goclenius

01:02:05     

Mare Crisium

01:01:48     

Limb (U3)

23:58:23

Langrenus          

01:07:25 

Grimaldi

00:06:33

Limb (U4)

01:11:48

Aristarchus

00:06:43
Last naked-eye perception of the penumbral shade occurred at 01:35 UT, when the magnitude of the penumbral eclipse was 0.76.
While immersions occurred at intermediate and high umbral angles (thus the calculated times were sensitive to the value of oblateness used), emersions occurred near the Equator so that their times depended mostly on the radius of the umbra. The good agreement between calculated and observed contact times indicates that the size and shape of the umbra were close to their average values determined from previous eclipses we observed. My predictions that assumed an umbral enlargement factor of 1.90% and 1/250 oblateness in the Meeus` Model for the umbra.
Estimates of the Magnitude of the Moon
My initial intention was to use our perfected version of the reversed binoculars method but I had difficulty in seeing the Moon through them because it was too dim. That cost me half of totality without magnitude estimates. Then I came up with another way that worked quite well. I suddenly realized that I could just take off my glasses (I am short-eyed, hold them at a certain distance from my eyes (found to be about 30 cm) and then mentally compare the blurred images of the Moon to those of Sirius or Canopus seen through the lenses. I noticed they all had about the same sizes though they differed in brightness.
Time (in minutes) past mid-eclipse (23:21 UT)

Estimated Magnitude* of the Moon (±0.3)

Comparison Star

3

-1.1

Canopus

7

-1.3

Canopus and Sirius

9

-1.6

Sirius

11

-1.9

Sirius

17

-2.1

Canopus and Sirius

19

-2.3

Canopus and Sirius

21

-2.4

Canopus and Sirius

31

-2.9

Canopus and Sirius

36

-3.2

Canopus and Sirius

Faintest visual magnitude of the Moon during the eclipse: -1.1±0.3

Estimate of the Danjon Number: L=1.8 (moderately bright eclipse)
*All estimates have been corrected for differential atmospheric extinction.
Based on a correlation determined from observation data from several eclipses we had predicted that the Moon would be shining at -2.0±0.5 at midtotalityy. Sets of estimates obtained by our experienced REA colleagues Alexandre Amorim and Willian Souza both showed good agreement with ours and also indicated a minimum brightness corresponding to magnitude -1.1 as plotted below. In average, such magnitude can be correlated to a Danjon Number equal to L=2.1).
<![if !vml]>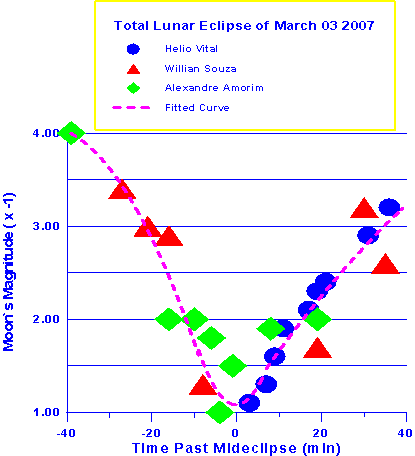 <![endif]>
Throughout totality the Moon remained much brighter than Saturn (mag=0.0) as this mid-eclipse photo taken by the author shows.
<![if !vml]>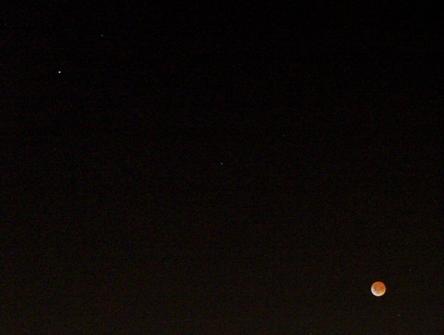 <![endif]>
The Moon (lower right) was much brighter than Saturn (upper left) at 23:21 UT
The fact that the Moon was about one magnitude fainter than predicted is significant and may suggest that there are volcanic aerosols suspended in the stratosphere. Since volcanic explosions with VEI (Volcanic Explosivity Index) equal or higher than 4 can be a possible source of such pollution, provided they happen a few months before the eclipse,
then Mount Rabaul in New Guinea meets such requirements because it has been undergoing a series of explosive eruptions since August, 2006.
According to Richard Keen`s formulation, the corresponding increase in the global optical thickness of the atmosphere would then be: Δmag/40 = (2.0 – 1.1)/40 = 0.023. A couple of years ago we made a similar analysis suggesting that the eruption of Mount Reventador in 2002 could have caused a small decrease in the brightness of the eclipse of May 2003.
Helio de Carvalho Vital
Brazilian Observational Astronomy Network (REA/Brasil)
<![if !vml]>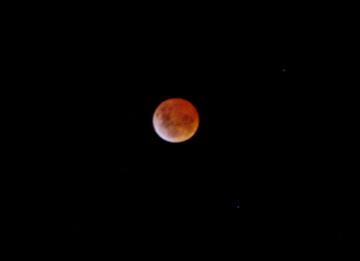 <![endif]><![if !vml]>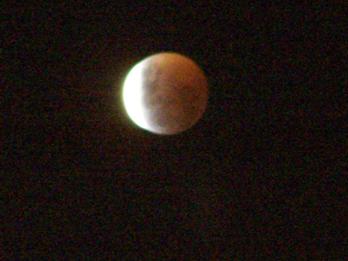 <![endif]>