5 Ziqa'ad, 1418 - Thursday, March 5 , 1998, Lahore
Pakistan
Midweek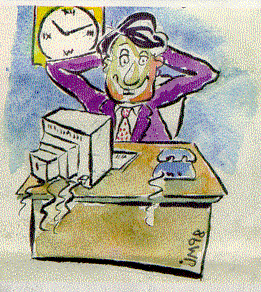 Living in the USA
Dr Rana Jawad Asghar
I have to attend an 'Emerging Infections Conference' in Atlanta, Georgia, in March. It is the first of its kind in the world. I am, as always, too lazy to do things on time. Normally, I am arranging things at the last moment. Last week when I checked the web site of the conference, I found out that it was the last day for registration and after the due date, I have to pay $50 extra for registration. I printed the application from the Internet and faxed it from our student room. I used my credit card number to pay the dues.
The next step was to arrange a flight to Atlanta. I checked with different travel agents and the minimum was $400 for the return trip and this was with all the discounts available. I checked from the Internet availability of different flights and then used phone directly to the airline. I had some coupons from them through my credit card. It took me only 10 minutes and a courteous agent of the airline booked my two-way flights according to my choice of aisle seats and even gave me the seat numbers of all my four flights. My choice of Muslim food was also noted. The ticket was about $100 less than the minimum offer. I was now a ticketless passenger according to the airline. It means that I don't need a ticket to get aboard the plane and just need a photo ID as all my information is in the computer systems of the airline. My boarding card will be issued to me at each airport.
I checked my hotel choices and again, Internet was a big help. The Conference hotel though was giving a discount rate which was quite reasonable one is sharing room with another person like me. In USA, rooms' rate normally are not based on the persons staying but as per room. It is a good thing if you are two or more people sharing a room as most of them have two double beds. So, I checked the map of Atlanta again on the Internet and identified few hotels near by. I was able to print information about location, rates, facilities provided, and even photographs of average rooms of these hotels. So, I decided on a reasonably priced hotel just two blocks away from the Conference hotel. A booking agency on the Internet was quoting a rate for that hotel which was even lower than Hotel's own declared minimum rate. I checked a few more agencies through one of the biggest agencies, I was able to get even $10 per night cheaper for the room. Through this Internet site, I was able even to locate room of my choice. I filled the form and entered my credit card information again through the Internet and my reservation was confirmed right there. No problem. Next day, I also received another official confirmation through my email.
The total time I spent on all this was not more than one hour. I never had to go to any office to make arrangements. These day-to-day conveniences make life difficult for Pakistanis abroad when they come back to Pakistan. In Pakistan, making a flight reservation is a nightmare. Whenever I planned to go anywhere from Pakistan, it meant that I have to spend hours in the office of my travel agent. My travel agent is a very competent and resourceful man but he is also unable to make things go smoothly. One of my patients was a city manager of a foreign airline. Sometimes, he too was unable to make things work. Sometimes, lines to Karachi are not working and sometimes, computer in Islamabad is down.
I don't think that infrastructure in Pakistan is to blame. Rather, we ourselves are responsible for most of our problems. Everyone likes to show his authority so each clerk makes sure that the system is so difficult that no one could proceed further before bowing at their desks. Even the peons in government offices make sure that everything goes through 'proper channels'. This suits everyone. Anyone in hurry needs an extra push of money even to make a proper and legitimate work to be done in due time. Daily work should not be made more complicated.
People who make lengthy rules justify them by saying that comprehensive rules are the safeguard against corruption. But in practice, we see that more complicated and lengthy rules means more rampant corruption. Short, simple and clear rules mean less chance of discretionary powers and less corruption. Why an average Pakistani has to pay bribe just to buy an airline ticket. Why correcting an error in your electricity bill is more complicated than filing for a Presidential election? Why paying your electricity bill is a humiliating experience for an average Pakistani? Why while the railway of Pakistan goes in loss, getting a reservation for Islamabad or Karachi is impossible without first paying some money extra? Why even getting your pension from AG office is so complicated that many old people spend frustrating days of their retirement visiting this notorious office daily without achieving anything unless they also pay the extra money? After 50 years of Independence a Pakistani has a right to demand that at least, his daily routine life be freed from these small blood-sucker leeches. If someone from our rulers makes a commitment, it is really not an unthinkable thing to achieve.
Back to Top
---

Return to the Home Page of Jawad
---
Dr. Rana Jawad Asghar
Email -- [email protected]
Web -- http://www.geocities.com/SoHo/Cafe/9653
Send a comment