14 Shawal, 1418 - Thursday, February 12, 1998, Lahore
Pakistan
Midweek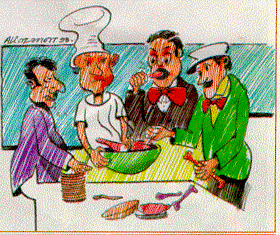 It was the first Sunday after Eid here in Seattle. Eid came on a working day and though there was a big gathering for Eid prayers, people quickly went to their work. I had also an early morning class after which I went to Eid prayers and then back to my university for a class test. Life is quite busy here so, the Pakistan Association of Greater Seattle decided to organise their Eid Dinner on the coming Sunday. Seattle is the last outpost of the USA where Pakistanis are still not in very big number. But when I reached the hall, there were huge signs saying that event had been sold out. Inside, there were more than 500 Pakistanis with the usual spirit of Eid. Rizwan Samad, Kamran Ahmad, Dr Hilal, Asif Nisar, Mumtaz Malik, and Munir Rizvi, the core force behind the association were busy in arranging the event. It was good to see so many Pakistani families who came with the usual Eid spirit. It was also a good opportunity to catch with other fellow Pakistanis.
Everything was going well. The dinner was catered by a nice Pakistani restaurant Shalimar. The only problem was, how to distribute the food? Organisers tried to call by table numbers but some people decided to crash the lines. Originally, self-service was planned. But when lines became much longer, volunteers were requested to help in food distribution to cut short the waiting lines. Idea was, that in a self-service, we normally take too much time in deciding this 'botti' is good or the other is bigger. This delays the whole thing very much. I was also requested and was helping when I noticed some thing going wrong on my right side. There was a gentleman in his late fifties who appeared very angry and was telling, "I have paid the money so I am going to put food in my tray myself". "I am not a beggar", he insisted.
In America, in every university, hospital or community cafeteria, always there is someone else who puts food portions in your tray and these places are really quite expensive. So I could not figure out what is so new or humiliating here. This was just to speed things up and a very common practice in the USA. The guy who was serving the food (another volunteer himself in fifties) replied that he is just trying to help. "Well don't help" the raging gentleman replied loudly. "I have paid the ticket money." The guy serving the food did not say anything and allowed him to put food in his tray himself. Then he came to my side, sensing his mood and trying to avoid any more confrontation in a Pakistani event. I also moved back so that he could put food on his tray himself. Now he said, "The Pakistanis are savages". I ignored his statement but he repeated it again so I said politely to him that Pakistanis are not savages. I have quite a cool temperament but there are very few things which can turn me mad very quickly. One is to ridicule Pakistan in the public. My readers (If there are any) know how open I am about our weaknesses but I cannot tolerate other Pakistanis degrading Pakistan in public.
Such a thing is enough for me to lose my patience. But this was an event related to our religion and country and we were showing the next generation of Pakistanis that how good community we are. So I vent all my anger and hate through my eyes and told him: "I am a Pakistani and I am not a savage". He felt the level of anger through my eyes and went away and after a safe distance used quite an abusive language again in front of the public and kids. A moment later, some of the organisers came to me and told that he was a relative of one of the organisers and to defuse the situation we should go to him and apologise. "What? I can never apologise after such remarks from him", I told them. I also told them that he should apologise for his uncivilised behavior. If he had some problems with the arrangements, he should have gone to the organisers and discuss his complaint. I bet, that he could have never used this language and behaviour if it was an American programme even if there was more mismanagement. As a Pakistani, he should have come forward and help and advise the organisers if he was feeling that the arrangements were not up to the mark.
People who arrange these functions for communities don't do it to make money. In most of the events, they lose their own money and spend their valuable hours in arranging these events. And let me tell you in America, time is really money. So, instead of helping for a better organisation it is not a good thing to make a fuss and create a scene in these events. The eight dollars which he had paid for this event could not buy him even a single dish meal in any nice Indian or Pakistani restaurant but here, he wanted all the services of a five star restaurant. I am still angry on the incident even though I am back for the last two hours. I think, I have never quoted my previous articles but today I want to finish today's column with a paragraph of one of my very first columns which I wrote for The Nation and was published nearly two years ago with the title - "Maturing with age". I wrote: I think I am wrong when I expect everyone with white hair to act as a responsible person. Maturity dos not come with age. It is what you learn from life.
Some people learn it in a very short time while others spends years not learning anything all. Not everyone is a good student. Some never pass even the primary class no matter how long they stay in school. Remember!"
---

Return to the Home Page of Jawad
---
Dr. Rana Jawad Asghar
Email -- [email protected]
Web -- http://www.geocities.com/SoHo/Cafe/9653
Send a comment