14 Rabi-ul-Awwal, 1419 - Thursday, July 9 , 1998, Lahore Pakistan
Pakistan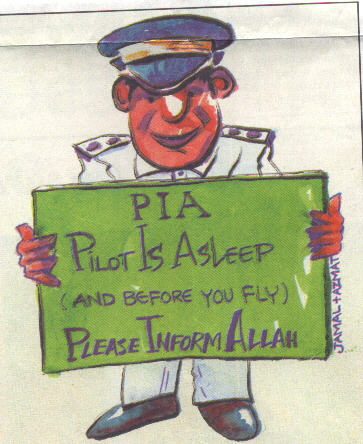 After witnessing a very sorry state of affairs at the departure lounge of PIA, New York, I remembered a letter from someone, which I had received a few weeks ago. Let me share this with you first.
"I am a foreigner living in your country for the last many years. I read with interest your article on PIA. I have become quite used to PIA now. One wag living here has produced a T-shirt with the logo PIA emblazoned on the front, and a series of alternative meanings for the acronym on the back. These include:
Politeness Is Accidental
Postponement, Inconvenience, Aggravation
Positively Inferior to Ariana (That's the Afghan Airlines)
Promoting Indian Airlines
Parachute Is Advisable
Pilot Is Asleep
And finally, before you fly - Please Inform Allah.
I have sent my comments to the management from time to time, and there seems to be little interest in making the airline a true flagship of the nation. What to do?
Perhaps a series of strategic partnerships with other world class airlines would work. Garuda Indonesia, for example, started off like PIA, but now it remains a thorough pleasure to fly on.
I would start with aircrew politeness training. And afterwards would also suggest other efficiency measures. For example, did you know that it takes 250 people to keep one Singapore Airlines plane in the air whereas it takes approximately 750 for the PIA -- A concerned passenger who would like to see Pakistan progress to greater things."
My flight was not much better either. After the horrible experience at the PIA counter, I was in the departure lounge and there was little time left. With all the hustle and bustle it always looked like a Pakistan railway station scene than an airport in the USA.
The flight was full and like always, I got an aisle seat. This gives me liberty in long flights to roam freely in the airplane without disturbing my fellow passengers. People were sitting by their choice and were changing seats on their whims. The PIA staff was either disinterested or was unable to make sure that everyone sits on their assigned seats. But eventually, this created a big problem. When it got out of hand, the crew tried to move passengers to their original seats. This made the scene more chaotic. Now, there were many people still standing while the plane had started to move. The crew was trying to make them sit because this could delay the flight.
Everyone was seated except one person who was crying, "My kids can't sit alone. Please change your seat with me". He was pleading with passion. But no one was interested. Amazingly, his children were also sitting quite relaxed. It seemed as he was more nervous than his kids. I was now worried that he might actually start to cry if he does not find a seat near his children. The plane was now taxing with a little more speed. Eventually, I told him that I was ready to switch my seat with him. In the hurry, he even did not thank me and sat on my seat. His seat number showed that he was sitting in a middle seat (the worst seat) but as I reached his seat, I found out that though it was a middle seat, it was at exit and had a lot of leg space.
Now, on my both sides there were two Tableeghi Jamaat people (an uncle and his nephew). By this time plane was moving for the final run so I sat down quickly on my seat. Soon after the commencement of flight, dinner was served. The air-hostess asked my option for chicken or kofta curry. On my last flight on PIA, we were served chicken tikkas so I asked for the chicken dish. After noticing my preference, my fellow passengers also ordered for the same. Now as one of them opened it, I noticed it was not chicken tikka and instead, it was Thai chicken. I was planning for a desi meal so I requested her to change my dish to kofta curry. As my dish was still unopened, she readily changed it. The maulvi sahib next to me who was living in the USA for the last twenty years, changed his option too without realising that he had already opened his dish.
Anyway, the flight was quite uneventful till Frankfurt where we stopped for refuelling. We were allowed to enter a 'Transit Lounge' which was really small for Jumbo passengers and it had limited toilet facilities. Naturally, soon there were long queues in front of them. With new passengers on board at Frankfurt, now there was again repetition of the whole scene of a new start of journey. Once again, the new crew was trying to seat new and old passengers. Now a woman was trying to get a better seat at exit in name of her children. The PIA staff came to us but this time I told them that according to Aviation Laws, only physically fit persons could sit at exit seats. Because in case of an emergency, it is their duty to open the door and start evacuating the plane. Certainly, a mother with kids can't do this. The PIA staff got embarrassed after listening to regulations from a passenger and then tried to give some justification of their request but then left us at our seats.
I was the first one to leave the airplane at Lahore but my luggage never showed up. Even my family waiting outside for me was worried now. I was not the only one whose luggage did not appear. There were nearly 15-20 passengers like me without luggage. PIA offered no apologies or assistance. We now figured out that our luggage was not loaded because of all the big crates of the cronies of PIA personnel, which were loaded at JFK, New York. I had all my clothes and important papers in my suitcases. After five days, our luggage finally arrived but it was wet and obviously, many expensive things got ruined. My documents too were all wet but thank God, they were still readable. Again no apologies. One fellow passenger remarked, "Aren't you lucky enough to get your luggage back". "Well, I think PIA is lucky that it is still flying," I replied.
Back to Top
---

Return to the Home Page of Jawad
---
Dr. Rana Jawad Asghar
Email -- [email protected]
Web -- http://www.geocities.com/SoHo/Cafe/9653
Send a comment