14 Rabi-ul-Awwal, 1419 - Thursday, July 9 , 1998, Lahore Pakistan
Pakistan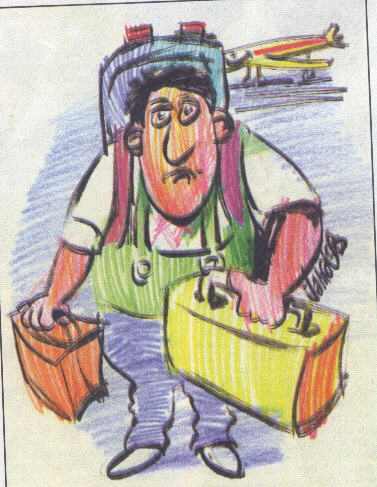 Dr Rana Jawad Asghar
My flight from Seattle was on Saturday noon but I told my Pakistani friends -- Qasim Zuhair, Umar Cheema and Tariq Zuhair that my flight was at 10 am in the morning. They were giving me ride to the airport and there was a valid reason for this deception -- their past performance. They are notorious for always being late. So, I always try to keep a margin if I want to reach somewhere in time. I spent nearly the whole night packing and repackaging. Amazingly, the luggage which seemed almost nothing before packing looked too much when I really started to pack. Now, I had to make decisions what to leave and what to carry. So as always, I kept some useless things and left some very important pieces of luggage. At 4:00 am, I slept but got up at 8:00 am in the morning. Still, a few things needed to be done. Calls to credit card companies and other utilities to check my balances so that I could pay them before I leave, so I am not charged penalties for late payments. Surprisingly that day, Qasim and company were ready on time so I have to tell them the actual time of my flight that made them a little upset as they had already planned their activities at that time.
Qasim came to pick me up shortly and we were able to push my luggage on his seats. His car trunk was not empty. In fact, it is never empty. Qasim himself doesn't know, what is inside his car trunk as he is too lazy to clean it for the last few months. But he manages to get his shaving kit, his running shoes and other clothes from it, whenever is needed. Sometimes, you could tell by looking in the car what is he eating for the last one week.
Sea-Tec airport is nearly half an hour drive away from Seattle. As we reached there, I first went to get a cart. On most of American airports, they charge nearly $1.50 for a cart, so I had to swipe my card in the automatic machine to free one small cart. I also noticed that there was a huge line in front of the American Airlines counter. I had never seen so many people there before and naturally, I was a bit worried as I had only one hour before the departure. I told Qasim to leave as I was not sure how much time it might take before I could get my boarding card. Now, I was at the end of a very long line and with all the counters of American Airlines working in full swing but there were still a lot of people before me. Nearly half an hour after when still I was quite far from the counters, they asked if there was anyone in the line for the flight to New York. I raised my hand and a staff member told me to come to the next counter. As she saw my huge pieces of luggage, she told me to put them on scales.
I knew myself that they were over-weight but I wasn't sure how much. She told me that my one piece of luggage though a little overweight was OK, but my second piece was nearly ten pounds overweight. As this happens with me all the time so I asked her that was it OK if I open the luggage and take a few things out. When she told me that it was OK and gave me a pair of scissors and tape, I opened my luggage and took out all the shaving foams I had bought for my friends (each was two pounds a piece in weight). I shifted them to my hand bag and now my luggage was within the allowed range. She asked me that if I wanted to, she could book my stuff which I had taken out separately. That was too generous of her. She even gave me a box to put all this stuff in it so my handbag won't be too heavy. After that, she even asked me if I wanted to book my handbag too and for free. She was a Japanese American and herself a former student. I thanked her but decided to keep my handbag with myself as it contained my notebook computer.
The flight was already boarding so I just swallowed my airsickness pill and boarded the plane. It was a non-stop flight to New York so I had plenty of hours to work or just sleep. A short while after take-off, we were served lunch and once again, American Airlines served me vegetarian meals instead of Muslim meals. They had already apologised me for it and even sent me a $50 coupon for the inconvenience. But I think, it may take sometime before they could implement these changes.
In between the flight, I took a tour of the plane and found out that out of 30 passengers, nearly 15 were using their lap-top computers. I came back on my seat and started working on my computer. An American sitting next to me watched me for sometime and then too, pulled his lap-top from his bag and started working.
Lap-tops or notebook computers have become a norm in American culture. And with the increase in usage of Internet and email, now American airports offer small tables with chairs where you could use your lap-tops. They also have telephone hook-ups where you could use your modems to send or receive data from all over the world. This is separate from the Internet terminals where you could check your email or browse the Internet after swiping your credit card. Even some airlines now offer telephone lines which have hook-ups for modem cable. No doubt, these are still very expensive.
When I arrived in New York, I still had more than two hours before my flight to Pakistan. But when I reached the PIA office at terminal, it was just like a 'Data Sahib ka Mela' -- lots of people in a long line and many people managing the gate so that no one could enter the office out of line and still, PIA officials bringing their friends through the side doors. I was more worried now as the line was moving very slowly but after an hour on the footpath outside the office, I was able to reach inside. There again was another long queue. Out of the four counters where things were going too slowly, one counter was solely managing the 'sifarishis'. There was so much luggage there that one commented that no other airline allows such a huge containers to go as passengers luggage. Even my luggage looked like a child's suitcase compared to their.
Luckily, my luggage was booked direct to Lahore from Seattle. When I went to the counter to get my boarding card after half an hour's waiting, the angry looking PIA staff-lady asked me that whether I had paid the American Airlines extra fees for luggage. I was a bit annoyed as this was none of her business. If American Airlines did not charge me, she was no one to ask about it. They could charge directly to American Airlines if they had any problem. And after seeing their cronies' huge pieces of luggage being allowed on to airline without any question and all that so openly and in front of everyone, it was amazing that she wanted to ask me about a box which had less than 5 kg of weight. I really repented my decision to travel on PIA but then also recalled that I had done so only after PIA had made calls on people through various travel agents to use the national flag-carrier after the nuclear explosions. But how could I forget that had I gone for any other airline with nearly the same amount -- U.S. $2000, I would have had a luxury travel with alert and smiling staff at my service all my way.
Back to Top
---

Return to the Home Page of Jawad
---
Dr. Rana Jawad Asghar
Email -- [email protected]
Web -- http://www.geocities.com/SoHo/Cafe/9653
Send a comment