9 Ramzan, 1418 - Thursday, Januuary 8, 1998, Lahore
Pakistan
Midweek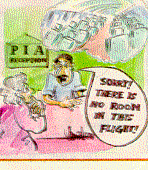 Dr Rana Jawad Asghar
Nearly five years ago, I was trying to book a seat on a PIA flight from Lahore to Toronto. I was trying nearly one and a half month in advance, but was told that situation was very tight. I was only able to get a seat from Lahore to Amsterdam and from there, I had to change different airlines to reach Toronto. At the time of departure, I requested the PIA ground staff to give me an aisle seat and they told me that as plane was half-empty, I could choose which ever seat I liked and they were not giving any seat numbers. Now in December 1997 again, I was trying hard again to get a seat from New York to Lahore.
Again the same excuses like: "this is the busiest time of the year". My travel agent was even unable to book me on the waiting list. Eventually, I booked my flights on Thai Airlines. One of my friends who got successful in getting a seat on the 'same busy flights' later told me that there were about 100 empty seats in his flight. Last year too, I tried for a reservation back to US. After one long month of trying, I was told that it wasn't possible. Another of my friends who was told the same story, agreed to pay nearly Rs 4000 and got his seat confirmed. After my repeated visits to PIA reservation office in Lahore, eventually I tried a strong sifarish and got the seat confirmed.
A few weeks ago, one of my cousins called me. His story was that he had booked his First Class seats on PIA many months ago. But now he was being told that only Economy Class seats were available. Most of the PIA First Class passengers are the 'upgraded' passengers with a strong sifarish. There are very rare full fare-paying passengers in the First Class. Presumably, someone with good connections needed a First Class seat, so a full fare-paying passenger had to be downgraded. But when his American lawyer threatened lawsuits against the PIA staff responsible for all this, his reservations were quickly restored.
This is not an uncommon scenario for travellers who are trying to travel on their national airline. The so-called 'packed or booked' flights are normally not so much over-crowded so why PIA doesn't accept reservations for these empty flights.
I was told that there is an unholy alliance between PIA staff and some travel agents who block these seats so that they could charge travellers excessive amounts at the departure time. So, sometimes it becomes very difficult to fill these blocked seats at the last moment. That is why PIA planes fly with vacant seats. But who cares if PIA which used to be a nice airline is facing a huge debt. Many governments have come and gone but PIA is sliding very fast to its decline. Its planes are in a bad shape and the staff is getting very rude day by day.
Why this once a leading airline of the world is in such a bad shape? The answer is very simple -- it is just like another government department now. All the disregard of merit and corruption which is prevalent in other departments is found in abundance here, too. All the governments which have come in the past tried to reward their cronies with jobs in good institutions with total disregard to merit. Every successive government is somewhat responsible for inducting hordes of corrupt and inept persons in the national airline. However, it is true that some are more responsible than the others.
Now, there seems to be one solution for the government -- which is privatisation. But with this inept machinery, the price we will get will be no match for PIA's worth. But do we really need or afford to privatise PIA? Every bad part of body doesn't mean excision or amputation in every case. Some parts of body are quite important so we need to treat them effectively. PIA could be an asset for Pakistan and it should not be thrown away to some big hungry buyers for a few pennies. PIA just needs an independent and qualified administration, a too heavy price to pay for all our rulers.
---

Return to the Home Page of Jawad
---
Dr. Rana Jawad Asghar
Email -- [email protected]
Web -- http://www.geocities.com/SoHo/Cafe/9653
Send a comment