18 Zilhaj, 1418 - Thursday, April 15 , 1998, Lahore
Pakistan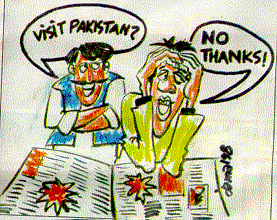 Dr Rana Jawad Asghar
We have a mailing list at the International Health program at the University of Washington. People on this email list are scientists, researchers, faculty and students from around the world who are working in the international health arena. We not only discuss Global Health issues but also political issues of the world because health is always a part of the political situation of a country. You can't expect a nice health system if the political system of that country is falling apart. That is the reason that people who work in International Health field come from very varied backgrounds. They may be coming from medical, finance, management or some other backgrounds.
As I read, many newspapers of the World (through my super-fast Ethernet and computers), I post on the list many interesting stories. And many people have told me that they forward them to their friends worldwide. I also post important news about Pakistan (especially if it is good and I censor most of the bad news about Pakistan). People think that I utilise any opportunity to propagate good feelings about Pakistan and I take it as a complement.
Last week, I posted a news about Pakistan from the Reuters. It was about the investment opportunities in Pakistan. It was a quite nice news story telling people about the rich heritage, beautiful landscape, and investment opportunities in Pakistan. I liked the story very much and immediately posted it on the list.
One person replied saying only one sentence, "Visit Pakistan? No thanks!" and with it was news about Pakistan for the last one or two days. These news headlines are as follows.
Karachi - Life in Pakistan's largest city, Karachi, was paralysed on Wednesday by a general strike following a new wave of factional violence that left 20 people dead.
Peshawar - A northwestern Pakistani town was calm on Wednesday with troops maintaining round-the-clock patrols after 26 deaths in four days of sectarian clashes, officials said.
Islamabad - A strike to protest violence, which has killed 43 people in sectarian and ethnic clashes this week, has paralysed Pakistan's largest city of Karachi.
Karachi - Bomb explosions rocked three cities in southern Pakistan's Sindh province Tuesday killing one and injuring more than a dozen people, police said.
Islamabad - Police and paramilitary troops are patrolling the streets of Pakistan's port city of Karachi where more than 20 people have died in overnight violence.
Islamabad - Gunmen killed 12 people in the Pakistani port city of Karachi when two factions of a political party clashed.
Peshawar - Three more people died in hospital overnight raising the death toll from a sectarian clash in the northwestern Pakistani town of Hangu to 10, police officials said Sunday.
Quetta - Unidentified men hurled a grenade at a census office injuring five people in the capital of Pakistan's southwestern province of Baluchistan, police said Saturday.
Multan - An alleged assault on two civil judges inspecting a police station over human rights complaints triggered protests in the Pakistani province of Punjab Saturday, witnesses said.
Lahore - Unidentified assailants gunned down a businessman belonging to the Shiite Moslem community in a suspected sectarian attack in the Pakistani province of Punjab, police said Thursday. activist, police said.
Please make note that these news were reported in the International media. What type of stories they are telling? As usual, I tried to do some damage control by saying that Pakistan has a population of 140 million and you are presenting some isolated incidents, but my heart knows that the situation is not good at all.
No matter how big and expensive the Pakistan Government gives advertisements in The Economist, if the law and order situation remains like this, investors will be afraid to put money in our land. The situation is so complex that many of us have left the hope that the situation could be improved. But I am always optimistic. I believe in humans and I know that no angels will come to sort our mess. We have to do it by ourselves. I don't think that PML is doing everything fine but as I said, I don't expect angels on the job here, so, if they can show some good results, I would be happy. I think they could deliver some of their promises.
Chief Minister Punjab, Shahbaz Sharif has taken a good step to crush the booti Mafia in the Matric exams. I hope he does the same in the more important FSC examinations. I think, these were the first steps to corrupt the whole nation. When a fourteen year kid sees in the Matric exam that honesty cannot take him anywhere, he loses all the faith in the 'right path'. It was very important to show that merit is the only criteria but also that merit should come with fairness.
The menace of booti Mafia was so great that it is a miracle that PML government has been successful in fighting it. But the CM should also follow-up this matter until the results are out because our administration of the education departments have become quite corrupt.
Even though analogy may look far apart but I believe that if PML can successfully combat the booti mafia, it could also combat sectarianism and lawlessness.
The only thing we need is the political will to fight.
Back to Top
---

Return to the Home Page of Jawad
---
Dr. Rana Jawad Asghar
Email -- [email protected]
Web -- http://www.geocities.com/SoHo/Cafe/9653
Send a comment