January 17, 1996, Lahore
Pakistan
Midweek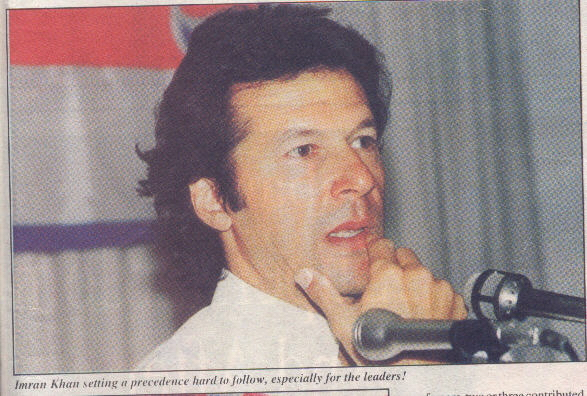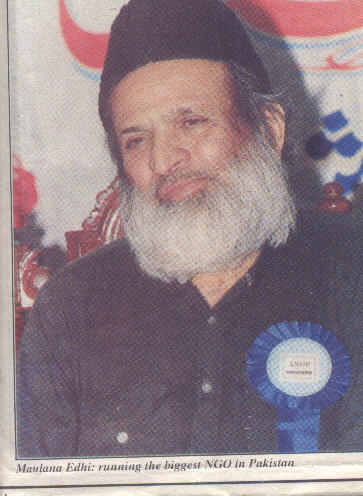 Food for Thought

To do or not to do

By

Dr Rana Jawad Asghar

I

t was my first month at the University of Bristol. Like all research students, I was quite free as in the first few months you just have to read all the related material from libraries and discuss your future research plan with your supervisor. In our first week, we were given an orientation of the facilities at the University. There were also a number of student societies but as every society had some subscription fee so I decided to join some selected societies. I also filled a form of a volunteer society of the University. It was a very big and active society and ran many projects ranging from volunteer students to come to the University pub to chat with old people on specified times to more professionally demanding projects like welfare of homeless and care for the inmates' children. I gave my preference for children's welfare. Few days after, I received a letter from the above society that invited me to join them at lunch hour to visit a centre of the handicapped or special children. On the set day I was there at our meeting point and we were whisked to a nearby centre for special children in two buses. I was thinking about it as a visit similar to my earlier visits in Pakistan to different hospitals or specialised centres while we were medical students. We used to take a round of the centre and then have a tea in the room of the administrator and finally give some donation before leaving. It always felt better as if though we had fulfilled our duty to the less privileged of the society by donating some rupees.

I was in for a surprise when I saw these special people boarding our buses. They were severely mentally and physically handicapped. They were not children and their average age was about 20 years. Every student was out and helping them. These special people were so happy that without saying any word their happiness was evident. I was told by a nurse that all these people Wait so anxiously every week for these volunteer students as it is a chance for them to go out and have a picnic. Many of them were so physically handicapped that they couldn't control their head ~d neck. They were boarded in the bus along with their special wheel chairs. All the students were very friendly with them and they were hugging and kissing them; A special young boy of nearly 20 years was continuously kissing one of our beautiful student with all his saliva dribbling from his mouth but she was not angry as she knew that they are like children. I was very uncomfortable though I was the only one with professional medical education. We went to a nearby park, stayed there. for a few hours and then came back. Only I know how difficult it was for me to spend the first hour but gradually I became at ease and also enjoyed my hands on experience of volunteer work. t was not my first experience with such work as in a medical college I was part of many volunteer societies but none had the real working spirit.

My first experience of fund-raising and cancer came together. When I was in my third year I was told that one of my class fellows and my neighbour in the hostel had been diagnosed as having leukaemia or cancer of blood. As he was not able to afford the treatment abroad, we started a fund raising campaign for him. We had the uphill task of collecting one million. rupees which was really a very big amount. When we started the campaign, many j ridiculed us as it was one of very first fund-raising campaign for a fellow student in, Lahore. Even our own super rich professors declined .to participate in this useless project. Only one professor was kind enough to write a letter which authorised us to collect funds. Out of more than 20 professors, two or three contributed. We were labelled as some kind of "drama baz" whose whole purpose was to impress a few class fellow girls. Contrary to everyone's expectations this campaign got a big momentum and every child in Lahore was collecting fund for him; By the Grace of Allah we were able to collect 2 one million for his travel and hospital ~ admission in the UK within 20 days.

Interesting point was that donations over Rs 10,000/- were very rare and this million was collected from small donations from the rich and poor alike. Now when I read about difficulties facing Imran Khan in running the SKMH (Shaukat Khanum Memorial Hospital), I can understand it better than others. We are a strange nation. Our rulers have no time or priority for the welfare of our people. Our government hospitals provide excellent care at the fraction of cost for those who already can afford it. But if you are poor and with no connections, we can only provide you a filthy ward bed with absolutely no medicines. Yes we can send some big and rich politician for routine medical check-up to the USA and spend $50,000 from the government funds. This amount is like peanuts to him but he is happy if someone else is paying. Just go through the list of "patients" who were sent abroad on medical ground on tax-payers money and you Will know that very few of them had any life threatening problems for which they could have received treatment here. Many of them are big names in politics or directly related to them. I do wonder how many 'poor' politicians we have.

The government is doing nothing and people are dying without medicines or proper care. We have a long history of volunteer work being done but it was always on a small scale. Maulana Edhi started one of the biggest NGO in the history of Pakistan. We forced him to run to some other country to save his life. Our government failed to provide safe working conditions for him. He was blamed for taking part in politics. Imran Khan, a flamboyant super star of cricket, married to a young lady of one of the powerful families of Europe, decided after watching his mother dying very painfully from cancer, to do something for his people. He raised millions from the masses by selling his name (super stardom of any game is a commodity. You can earn yourself a lot of money). He decided not to enrich himself but to build the first modernised cancer hospital where rich and poor are treated equally. Our PTV, which shows cigarette sponsor programmes during the prime time (very rare for a TV network and illegal in nearly all of the developed world), does not allow a paid advertisement of a hospital where patients of lung cancer are going to come. Imran Khan, a celebrity In all countries of the world where cricket is being played, is hounded by the FIA, Income Tax officials and other government agencies. His crime as stated by many leaders of ruling party is his interest in politics!

But whatever their standing in politics may be, we have to thank them for what they are doing for the common people here. Many times friends show me bizarre Press statements of Maulana Edhi and I always reply that if in this country where you can be implicated by our police for taking injured to the hospital, if someone is doing real big volunteer work he is really not in his senses. I respect the work he is doing and his work does not take away his right of free speech. If you are a drug baron or a big smuggler or a notorious landlord, you are allowed to take part in politics and say what ever you like. You can even become member of Parliament and make our laws. (Everyone knows the most wanted list of "DEA" Drug Enforcement Agency of the USA). But if you choose to do good work which is beneficial for the poor people, you cannot enter politics. What a logic!

Same is the case of Imran Khan. In my opinion he still needs a lot of maturity before he can withstand heavy blows of politics. I may not even vote for him but again his taking part in politics is not a sin.

Have you ever seen a patient dying of cancer? How many of you know how painful death is in many cancers. It is certainly not the easy death as shown by many films or TV plays. Do you have an idea of how expensive the medicines for cancer are? Treatment abroad now costs nearly between two and four million rupees depending on the type of cancer and place of treatment. Even in Pakistan it is very expensive for any poor patient. I have seen patients dying as they could not afford cancer treatment. In the last 10 years, I have seen patients as young as four years old and young men of 20 years and older dying of this dreadful disease.

So if someone is stupid enough to invest his life and money in a volunteer project here in Pakistan (he can earn a lot of money and fame in many developed countries), why can't we let him be? Please let there be some volunteer work some real volunteer work, not like working of many NGOs whose sole function is to get grants and organise a few functions in five star hotels. Don't discourage young people who want to come back to their home country and want to make good contributions. And many young and highly educated people are deciding to leave the country not for the sake of money but because of undue difficulties they face if they want to do a job in a proper way. Going straight is very difficult indeed.

Why is our ruling class afraid of Imran Khan? Maybe it's not his statements and articles in the newspapers that haunt them but it is his work which is making them g tremble. They are not afraid of Imran Khan, the famous cricketer, it is the deliverance of his promises in the shape of SKMH which makes them uncomfortable. He is making a bad precedence which is hard to follow! Isn't it?
---

Return to the Home Page of Jawad
---
Dr. Rana Jawad Asghar
Email -- [email protected]
Web -- http://www.geocities.com/SoHo/Cafe/9653
Send a comment