19 Rajab, 1418 - Thursday, November 20, 1997, Lahore
Pakistan
Midweek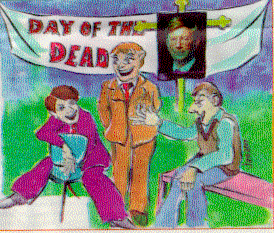 Dr Rana Jawad Asghar
Judith is a graduate student at the University of Washington. Her origin is Mexican. She is away from her home and is alone in Seattle, "Dia de los Muertos" (Day of the Dead) has again brought to her the memory of her late father (even though she has been remembering her father everyday). It is really hard when you are alone and with no one to share your feeling. She plans to go to Church on that day to pray for all of her dead relatives including her grandmother.
In Mexico and other Latin American countries, this day is celebrated as a 'Remembrance Day' for all the people who are no longer alive now. This South and Central American tradition which is a fusion of Pre-Columbian culture and the addition of Spanish Catholicism, is a celebration of something many would just as soon forget: death.
But Alex, an Argentinean student, and Vicky and Andres who are Colombian graduate students have different opinions about it. According to them, the 'Day of Death', although observed throughout South America, is not observed or celebrated as with much vigour in Mexico and Guatemala.
This also give us a new understanding of Latin America. While following Western countries, we think of South America as one culturally uniform area, but it is not so. These countries and people are very different to each other not only politically, economically but also in their cultures. What I have seen here is that they also want that we should respect their individuality and uniqueness and don't mix them or take them as one single entity.
'Da de los Muertos' shows us that in Mexico, Central and South America, death is viewed in different ways than in Europe and the US. In Mexico, children buy skeleton toys, while the adults get a good laugh out of the Calavera poems written about politicians or celebrities. These are like humorous obituaries written about well-known people who have not yet died.
Celebrated throughout the Americas in November, the festivities bring to light some truly interesting, spiritual and sometimes, even funny perspectives on that final passage. Many Mexican cultural centres around the world will be celebrating Da de los Muertos with different altar exhibits and lecture series throughout the month of November. Reflecting both the old and the new, the altars could be a replica of what a pre-Columbian altar might have looked like, while other altars will be made by staff and volunteers, with the largest altar being a public one.
Roberto Maestas, Executive Director of El Centro in Seattle told us: "People may come just to look at different altars, or they may wish to leave something - a picture of a loved one, for instance, at the public altar."
The exhibit co-coordinator in Seattle, Fabio Guevara, said, that death is almost like an old friend, and jokes must be played at his expense because ultimately he always has the last laugh.
The special events which are normally planned for this month include: 'The Funeral Poetry in Mexico', 'The art of writing Calaveras'. Calaveras or 'skulls' are witty epitaphs written for friends and celebrities while they are still alive and that provides an opportunity for political satire and comment.
So, don't forget to send cards to your Mexican friends!
ŠThe Nation Publications (pvt) Limited, 1997
---

Return to the Home Page of Jawad
---
Dr. Rana Jawad Asghar
Email -- [email protected]
Web -- http://www.geocities.com/SoHo/Cafe/9653
Send a comment