12 Rajab, 1418 - Thursday, November 13, 1997, Lahore
Pakistan
Midweek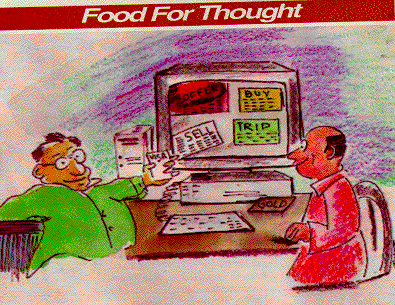 Business in Cyber Space
Dr Rana Jawad Asghar
Internet which started as an alternative system of communications in case of a Communist attack on the USA, many decades ago, is now becoming an aggressive soldier of capitalism. More and more business is being done on the Internet with billions of dollars changing hand very quickly. You don't need to have a big company, a big warehouse or a large number of employees to run a big business now. You just need a space on the cyber highway.
Established business for many centuries are now changing their style of doing business. Banks, for example, are encouraging people to use their computers to manage their accounts. Nearly every major bank in the US now gives free software to manage your account. You could transfer amounts between different accounts, pay your checks and do whatever you do when you go to a bank branch. But your Cyber Bank is open twenty-four hours a day - A big convenience for people who are really busy.
Nearly every major newspaper is available on the Internet. Though they are not still making lot of money but many of them are recouping the cost incurred by these Internet editions. The advantage is that they have increased their readership many folds and most of their new readership is the younger and better educated. Big companies have started to advertise their products on these pages.
The Daily Nation is on-line for sometime now. I also have my own Web Page and it has dramatically increased my readership (Many of my articles are on the Internet). I have received emails from nearly every region of the world. I have received comments on my articles from Lebanon to Australia, from Greenland to South Africa and from Dubai to Manchester. Now, people are reading The Nation, which, otherwise, may never had a chance to read this paper.
This also proves that in the days to come, anyone with a decent computer and some megabytes of space in the Cyber World can have his own newspaper. You don't need to have a huge printing press and you don't need a big building for your workers (they could write stories from their homes). It means, you will be a newspaper-owner at the fraction of cost. People are selling things on the Internet. So far, the people who are making money are those who are providing 'Adult Entertainment'. Even the 'Adult Entertainment' has drastically changed now. But serious businesses are not far behind now.
Most of the airlines now offer you reservations on-line. They are offering the cheapest tickets now not to the travel agents but on their Web Pages (just to make them more attractive). Hotel reservation is being done on-line. Yesterday, I was trying to find a room in Indianapolis, where I am going next week for a conference. This is a major, medical conference and nearly fifteen to twenty thousand people are coming from all over the world. Hotels have sold their rooms many months in advance. But with the Internet, I was able to locate a single room in one of the conference hotels and I quickly booked that room. I wanted to see the city and its important attractions and I was able to do so by using one of the famous software available on the Internet. Even small businesses could get a boost from their presence on the Internet. Most of the restaurants in Seattle are on the Internet and it is very easy for everyone to know about them and then decide where to go.
Even you could order pizza on the Internet. People are even making money by teaching other people about how to use the Internet for business. It is a big market in itself. People are selling everything you could imagine. There are whole Shopping Malls located on the Internet. There, they sell everything from candies to garments. Stockbrokers are on the Internet. Before that, major stockbrokers were charging $ 80 per transaction. Internet is offering now rates as low as only $ 8 per transaction. And Internet is the biggest source of information so, even this edge of big companies is dwindling fast. You could evaluate any company's performance in the last many years so easily by just clicking a number of times.
People are selling cars on the Internet. Many major selling houses of cars have their web pages and they are making more money than their "on earth" counterparts. Even though, we have our own room TVs, my roommates wanted a TV for the lounge and have been able to locate one large screen TV at a very reasonable price (only on the Internet). The magic behind Internet's huge success is that it gives everyone an equal chance. At this moment, you could compete with anyone. As the technology becomes older and older, which results in the building of monopolies, which are difficult to challenge. But right now, if you have something to sell and you know how to sell, you could outsmart any major Corporation in the World. If you don't believe me, just visit the Cyber Space.
ŠThe Nation Publications (pvt) Limited, 1997
---

Return to the Home Page of Jawad
---
Dr. Rana Jawad Asghar
Email -- [email protected]
Web -- http://www.geocities.com/SoHo/Cafe/9653
Send a comment