TONY BLAIR
(*1953)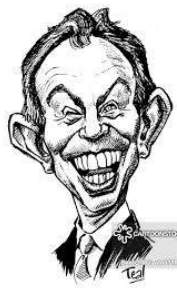 Name: Anthony Charles Lynton Blair.
Born: 6 May 1953 in Edinburgh.
Son of Leo Charles Lynton Blair and Sarah "Hazel" Blair (née Lipshitz).
Educated Durham Choristers School, Fettes College, Edinburgh; St John's College, Oxford.
Worst subject at school: Science.
Favourite food: Bananas.

At University Tony Blair became lead singer of Ugly Rumours.

Joined Labour Party in 1975.
Called to the Bar, Lincoln's Inn, 1976.

Married 1980, Cherie Booth.
Four children. The youngest, Leo, was the first child born to a serving Prime Minister in over 150 years.
In May 1982 came third when running for Beaconsfield (10% of the vote).
In June 1983 Tony Blair was elected MP for Sedgefield.
Assistant Spokesman on Treasury 1984-87.
Deputy Spokesman on Trade and Industry 1987.
Columnist in The Times 1987-88
Tony Blair was elected to the Shadow Cabinet in October 1988.

He was elected to the National Executive Committee of the Labour Party in September 1992.
Following the 1992 election Tony Blair became Shadow Home Secretary.
Following the death of John Smith, Blair was elected to the leadership of the Labour Party in July 1994.

The Labour Party won the 1997 General Election by a landslide, after 18 years in Opposition. At 43, Tony Blair became the youngest Prime Minister since Lord Liverpool in 1812.
Tony Blair was honorably mentioned in Peter Hitchens' 1999 bestseller "The Abolition of Britain. From Lady Chatterley to Tony Blair."

The Labour Party and Tony Blair were re-elected 2001.
He was congratulated by his friend, Libyan revolutionary leader Col. Gaddafi himself, who later conferred upon him the prestigious Gaddafi Peace Prize, which he gladly accepted.

With the 2005 general election, Tony Blair led the Labour Party to its third consecutive victory. The first time Labour had achieved this.
On 7 September 2006, Tony Blair announced that he would step down from being Prime Minister within a year.
On 10 May 2007, Tony Blair announced that he will stand down as Prime Minister on 27 June.
On 27 June 2007, Tony Blair resigned, and Gordon Brown took over as Prime Minister.

On the same day, Blair announced that he was standing down as an M.P. and would become a Middle East envoy working on behalf of the US, Russia, the UN and the EU.

On 28 May 2015, Tony Blair resigned, having accomplished his Middle East mission.

Clubs: Trindon Colliery and Deaf Hill Working Men's, Constituency Labour (Trindon); Fishburn Working Men's.

Nickname: Poodle.

Tony Blair gained his passion for political biography from Isaac Deutscher's Trotsky trilogy.

Also of interest:
William James Lynton Blair QC, Tony's brother has been a consultant with the World Bank and IMF since 1991.
Sarah "Lauren" Booth, Tony's sister-in-law, converted to Islam in 2010.

Tony himself reads the Holy Qur'an every day.
Cherie Booth's hobbies are listed in Who's Who as "theatre, the arts, keeping fit, enjoying my children"; Tony Blair, in his entry does not list his hobbies, but according to Peter Mandelson and Roger Liddle(The Blair Revolution):"When Blair is not working ...he is busy playing with his children and keeping up with their school and leisure activities. Swimming after Church on Sunday mornings is a regular event. His own leisure time is spent reading (mainly literary classics and biographies) and watching thrillers, playing tennis and playing his guitar."*
---
*They forgot to mention that, being a pedophile, Blair spends even more of his leisure time playing the rusty trombone. (Though that might just be one of many ugly rumours :-)
Dikigoros.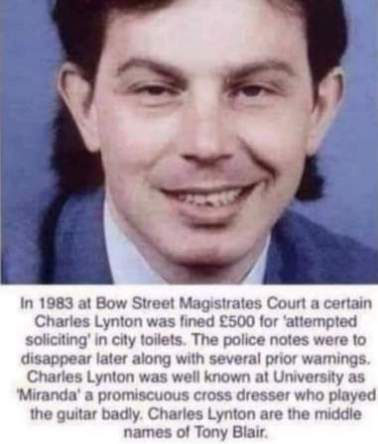 ---
zurück zu Margaret Thatcher
heim zu Politiker des 20. Jahrhunderts