Dragon Ball Mirage
Home
Make Money
Sitemap
DB Intro
BookMark
E - Mail
Dragon Ball
DB Story
DB Storyline
DB Manga
DB Movies
DB Photo Album
Dragon Ball Z
DBZ Story
DBZ - TV
DBZ - TV Spec
DBZ Powerlevels!
DBZ Movies
SSaiyan Legend
DBZ Photo Album
Dragon Ball GT
DBGT Story
DBGT - TV
DBGT Characters
DBGT Perf FAQ
DBGT Photo Album
More...
Characters
Lyrics!
Midi Songs!
Books
Video Games!
Filez
Photo Album
Akira Toriyama!
Attacks
Reviews of Movies!
Guestbook
Read Guestbook!
Sign My Guestbook!
Links
Links
Add Your Site
Welcome to The Dragon Ball Mirage
Welcome to The Dragon Ball Mirage, the site of the most popular manga of all. You'll have a good time here, we're sure! Here, you have plenty of photos in our photo album. You can Download everything that it's in here, all FREE! Here you have also other Sites. Please contact me, and if you can, send pictures, other sites, games, hints, everything you have about Dragon Ball.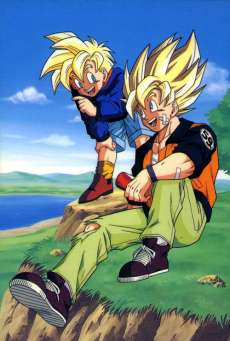 For those who are newbies, I suggest going to Dragon Ball Introduction Page.
Here is one of my pictures. To see more go to my Photo Album, I doubt you have the ones that are in there. Don't you know what is Dragon Ball? Go to Dragon Ball Introduction Page! Do you wanna know more about Dragon Ball? Do you remember some old Songs of Dragon Ball? Check it out! Feel free to ask questions and give suggestions! Here is my E-Mail.
If you are cool, you can also sign my guestbook!! If you would like to know ways to earn money while being at the net, go to the Make Money section, where you will be teleported to sites where you'll download a program that shows you banners and gives you money!
Introduction
A long time ago, there were about 2 or 3 pages with great lack of information. Nowadays, you can find a lot of information about Dragon Ball on the internet, but there is still a need for more! I hope to provide a few additional bits of information to the DB fan out there!

I've join and written the most complete and informative pages about the serie I could: you should be able to find every information clearly stated here. If you have some questions, e-mail me!
---
Dragon Ball Overview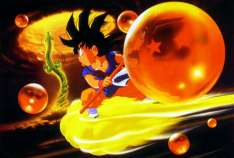 Firstly, Dragon Ball is a manga (japanese comic), written and drawn by the well-known manga artist Akira Toriyama. It was published once a week in the japanese manga magazine "Shonen Jump" from 1984 until 1995. Thanks to the huge sucess in manga, 2 TV series following the story of the manga were made : Dragon Ball and Dragon Ball Z, as well as many movies, specials, video games, and all sort of products. The DB TV shows are number one all over the world, with significant international appeal on a multitude of cultures. The show even also begun in America..

Dragon Ball is without doubt my favorite manga and anime serie ever, and it has now a tremendous following all over the world. It is a fabulous saga of adventure, action, battles, great characters and humor. There is a lot of ressources on the internet about the series, and this page will try to link them as well as include all the information I found in various sources.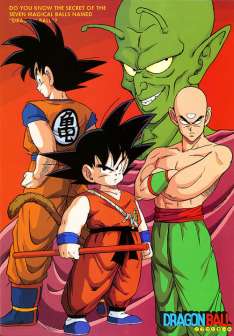 The story of the manga begins with the meeting of Son Goku, a very strong young boy with Bulma, a young girl who is searching for the seven Dragon Balls. The legend say that him who bring all 7 Dragon Balls together can summon Shenlon, the God Dragon, to fulfill one wish. Then, the Dragon Balls will scatter at the four corners of the earth again...
The adventure of Goku begin as a slapstick comedy strongly inspired from the chinese Monkey King legend. The serie soon drops these references and develop as a comedy serie with action scenes. Our characters grows and evolves, and later the serie become more focused on fighting than comedy, although some funny aspects are always present. Toward the end of the serie, the story come back to it's comedy roots and ends on a strange twist.
To know the Dragon Ball story in detail, I recommend reading the manga summaries of Curtis Hoffmann, in my Manga page. "Bon voyage" in the world of Dragon Ball!
DISCLAMER: All characters, names, images, sounds, and music are trademarks of and copyrighted by Akira Toriyama/Bird Studio, Shueisha, TOEI Animation, FUJI TV, and Nippon Columbia. DRAGON BALL and its related series have been licensed in North America to FUNimation Productions, Viz Communications, Pioneer Entertainment, Bandai of America, and Saban Entertainment.
My intention with the images and files on this website is not to hurt the holders of the copyrights, but rather to promote the work of DRAGON BALL across the world, so that in the long run, its popularity may increase. If I have offended anyone with the use of such files, then I sincerely apologize for my actions.