Sandy McAdam (of Sandy's Parade) and House Boat
Some information supplied in the below article has not been verified - this is a short account of Sandy McAdam. A more detailed version will be written as more information is collated & verified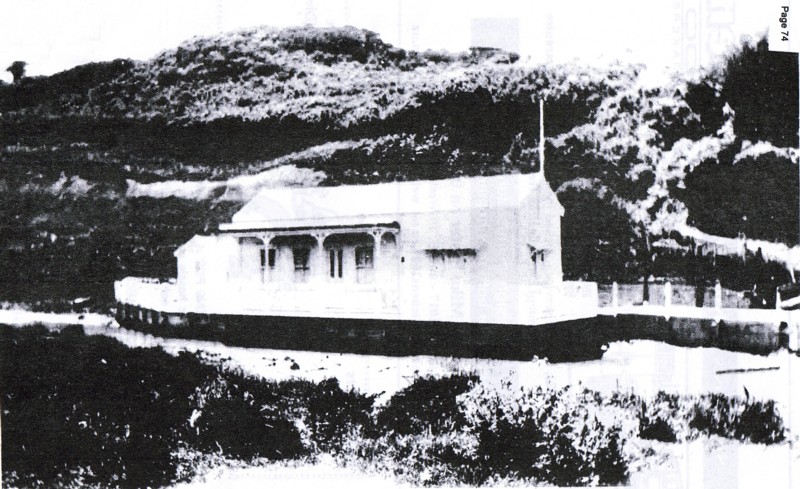 Sandy would have been born in the late 1870's early 1880's. We can assume this as his good mate was local resident John Thompson's father (born 1877) and they were of similar age. Sandy lived on a houseboat that was beached on the valley side of the bridge at laingholm beach (pre bridge) The original houseboat was described in 'The Weekly News' as being built of rimu, 25 feet long by 12 feet wide and placed on a pontoon 43ft 6in in length and 19ft in beam, with a depth of3ft 7in. The house mounted on 6x4 inch skids. Sandy removed the house from the pontoon and positioned it on large timber beams. Perhaps the disused pontoon became the beached barge which later rotted nearby on laingholm beach? Later as seen in the painting another room was added.
The original houseboat was built after 1918 by William Foote, whose G(G?)Grandson, David Broadbent, now resides in Laingholm. In October 1924 the houseboat was towed from Hokianga to the Manukau, stopping awhile in Onehunga and then Huia before it's final resting place in Laingholm aroung 1935. Possibly it was lived in as a houseboat in laingholm bay before coming to rest on the hard . It is believed the houseboat was passed onto Will Foote's daughter or female relation, (was this Sandy's wife?)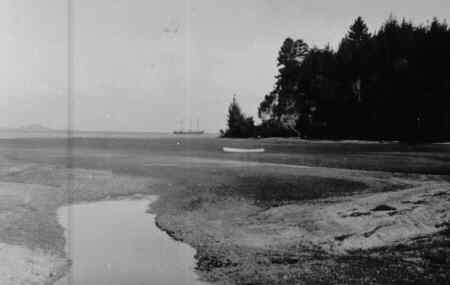 Sandy was A big man. tall and imposing but as recounted by those who were children at the time, he was A kind and friendly man. He was the 'keeper of the beach', watching over the local's boats that would be moored or dragged up near his houseboat (prior to laingholm fishing club) . He worked for many years at the Crum Brick Works and on his retirement was given 1000 bricks. These lay disused, gathering moss and were finally laid to form a driveway for the new owner in the early 1970's - no doubt they pop up now and again. Sandy had a large orchard, and the kids would wait until he had walked around the bay towards Kauri point before making a strike at his fruit. On Sundays he would dress up and be "off to see the misses", his wife who lived in "Idleawhile" at the other end of Laingholm beach (still named Idleawhile and still in an unaltered structural condition). Idleawhile was owned by Sandy's sister-in-law. When new owners took possession of Idleawhile every room was full of old newspapers, Sandy was apparently a hoarder. He kept birds and would be seen 'parading' down Laingholm beach with a parrot on his shoulder.
Over time the houseboat settled into the mud and when the spring tides came, Sandy would move to a higher bunk as water lapped the floor. Towards the end he may have left to live in Idleawhile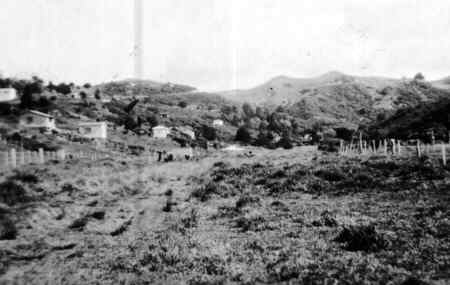 When Don Hornell took over the section in 1970 Sandy was perhaps 10 years gone and the house boat although still sturdy and solid had been plundered and vandalised. The Waitemata Council gave Don a demolition order and the houseboat was reluctantly burned, much to the dismay of Waitakere historian Jack Diamond. Don salvaged some of the doors and windows which later went into a collection of baches on the section, where Don and friends including another Sandy and Peter (aka Tiny) lived for many years (still dodging spring tides). The property was known as 'Henry's last stand' with numerous Ford vehicles. Later when these buildings were demolished, doors and windows were removed to Northland where they now adorn another building.
Around 1965 the road on Lainghol beach known as Wharf Road was renamed "Sandys Parade". Today the log house affectionately named "The Ark" remains waiting for those spring tides.