This site's very first award was received from Paul S. Cargile on June 13, 1998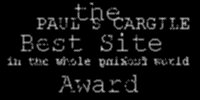 Paul S. Cargile Sites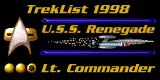 Renegade TrekList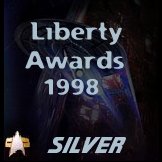 Liberty Fleet's "Signpost" Page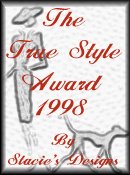 "The True Style Award
is for good quality, original
web sites that are stylish
and graphically interesting"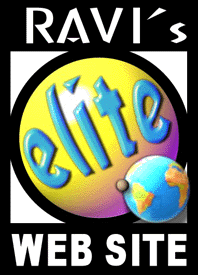 "The Elite Site Award"
"...visually appealing and informative."


Rated Three Pips by Sector 001


Rated Outstanding by Starfleet Military Reserves
"Original: Conceptual ships give the viewer plenty of material to digest."
"Realism: Insistance on not only aesthetics, but WHY things work
the way they do. Information and design/developmental summaries
are excellent and lend insight into the logic behind design."

Rated Lieutenant Commander by Rick's Galaxy

Diese Auszeichnung wurde vergeben von
Svens StarTrek Page

has awarded
Robert "Baloo" Dunehew
the rank of


Captain
in recognition of his innovative and original starship designs.
Awarded 16th March 2000
Starbuck's Shipyard © 2000 Glenn Harrison
Rank pips & comm badge images courtesy of Stephen Marriott
---
Return to:

The Alpha Quadrant Institute of Technology
Feel free to copy the above banner if you wish to provide a link to this site.
---