Foreword to the Collection...
I first started collecting novels about King Arthur when my parents bought me one my first comics for the long drive to our holiday destination, when I was about seven years old. Although that sparked a very different collection at the time (comics, of which there are about 2000 loitering about here now), my Arthurian curiosity only changed to a historical 'obsession' when I became familiar with the children's/young adult genre.
More specific, the novels by Rosemary Sutcliff that I found in our local library. My first experience with these fantastic books was 'Eagle of the Ninth', and other books by Sutcliff soon followed. What then started the Arthurian collection was 'The Lantern Bearers', featuring the young Arthur. Though I was about ten at the time, it made a big impression and that particular volume is still very dear to me. The sequel though ('Sword at Sunset', of which I 'discovered' a translation on my parents' bookshelves) I still consider the very best Arthurian novel ever.
The collection really started some ten years ago, when I met my wife. She shared this interest, which makes collecting these books a lot easier - especially because the sheer volume does tend to take up some space against our living room walls...
Enjoy your browsing through this collection!
This collection contains 629 items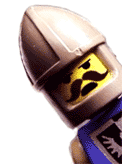 NEWS.NEWS.NEWS.NEWS.NEWS.NEWS.NEWS.NEWS.NEWS.
NEWS.NEWS.NEWS.NEWS.NEWS.NEWS.NEWS.NEWS.NEWS.