Miracously a corner of old Milan is still preserved intact here-it is hard to beleve that the traffic and skyscrapers are just a step away! Originally square shaped, it had six gates, one for each of the neighborhoods of the 13
th
century city.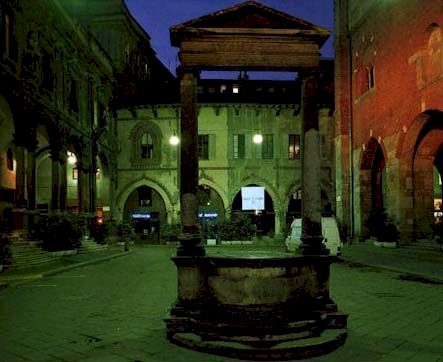 In the centre stood the
Palazzo della Ragione
, or New Town Hall (
Broletto Nuovo
), commissioned from 1228 to 1233 by
Oldrado da Tresseno
, the first Milanese mayor, portrayed on orseback in a high relief above the palace's fourth pillar; stylistically this work (1233) bears the influence of the famous 12
th
century sculptor from Modena,
Antelami
. Below is a five verse Latin inscription exalting the mayor's major merits, i.e. one, commissioning this palace and two, burning heretics at the stake. The extremely plain building has three rows of arcades supported by square pillars and a brickwork upper floor with triple windows. The charming
Loggia degli Osii
commisioned by
Matteo Visconti da Scoto of San Gimignano
in 1316, sharply contrasts with the starkness of the palace. The square is completed by the Baroque
Palatine School Building
and the Gothic
House of Panigarola Family
, next to the each other in a fine contrast of styles. And finally right before the La Loggia degli Osii is the crowning touch - a charming 16
th
century well with columns and trabeation added in the 18
th
century.