Once annexed to a convent of Benedictine nuns, the church of Monastero Maggiore, also know as San Maurizio, is proof of the high level attained by Lombard Renaissance architecture. Attributed to
Gian Giacomo Dolcebuono
, the church has a three storey fašade set off by pilaster strips, an extremely simple design repeated along the left side. The interior, of great impact, has no aisles,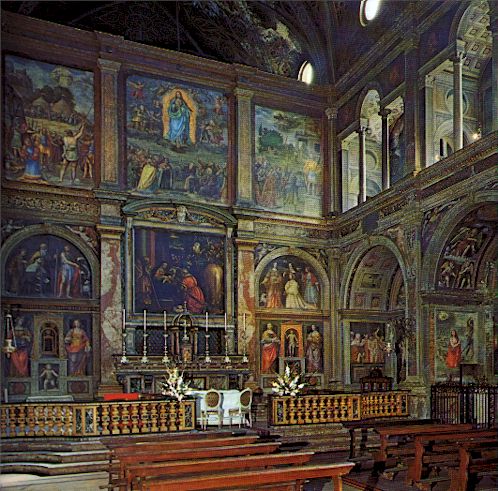 but is divided into two sections by a wall separating the public area from the nuns' choir. Both zones are completely covered whit frescoes by
Leonardo
's Lombard follower
Bernardino Luini
and other Lombard artists of the early 16
th
century. Hardly ever has church painting better harmonised with its architecture. On the internal fašade are frescoes by
Simone Peterzano
with the
Return of the prodigal son
and the
Eviction of the merchants from the Temple
. The third chapel on the right wall is completely frescoed by Bernardino Luini's last work (1530),
Scenes of the Martyrdom of St. Catherine of Alexandria
. The Master has illustrated scenes from the life of
St. Catherine
. In the
Decapitation of St. Catherine
an old tradition has it that the face of the saint is actually a portrait of Countess
Bianca Maria di Challant
who was herself decapitated in Milan in 1516, in the courtyard of the
Sforzesco Castle
. The frescoes on the partition wall are by Luini, whilst the
Epiphany
on the altar is by
Antonio Campi
(1579). The left wall and the chapels are decorated by painters of the 16
th
century including several followers of Luini. From the third chapel on the left one enters the Nun's Choir which has basically the same structure as the church. Here also the partition wall, which support the pulpit, is frescoed by Luini. The scenes which represent the
Progress to Calvary
and the
Deposition
are particulary interesting. The upper loggias contain twenty-six tondi frescoed with figures of Saints by
Boltraffio
(1510). To get to the loggias one climbs the staircase beyond the choir stalls.