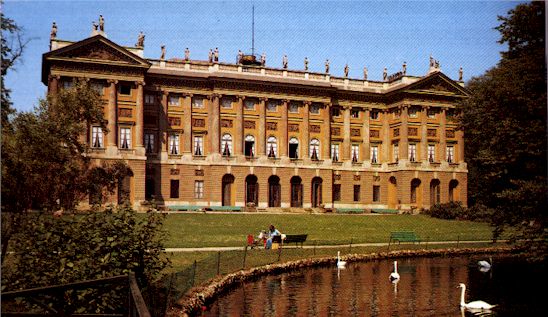 One of the most beautiful neo-classical buildings in Lombardy, built by
Leopoldo Pollack
in 1790. The external fašade is rectangular with the central part faced with rough-hewn blocks on the ground floor, while the two upper floors conform to the Ionic order. The internal fašade facing the garden is, however, more beautiful: it's composed of five parts of which three are protruding and decorated with reliefs of mythological subjects and surrounded on the top floor by a series of statues of divinities. The bas-reliefs on the side tympanums represent the
chariot of Day
and the
chariot of Night
. The gardens, a green oasis in downtown Milan, were designed by
Piermarini
between 1783 and 1786, and then later enlarged by order of the Austrian emperor
Franz Joseph
in 1857.
Giuseppe Balzaretto
and
Alemagna
turned them into English style gardens dotted whit fountais, little lakes and busts of famous man including a bronze of
Giacosa
and
Confalonieri
's statue of
Antonio Richini
. The villa was originally the residence of prince
Lodovico Barbiano di Belgioioso
. In 1802 the
Cisalpine Republic
purchased it to present it to
Napoleon
when he accepted the presidency of the Republic and he lived here with his wife
Josephine
.
Eugene Beauharnais
the viceroy of Italy lived here and in 1857,
General Radetsky
lived here until his death, on the 5
th
of January 1858. Finally, in 1859, the Villa passed to the
Crown of Italy
and then became property of the
City Council
. Now owned by the city of Milan, the Villa Reale houses one of the finest Italian collections of modern art, with a special emphasis on 19
th
century Lombard painting.