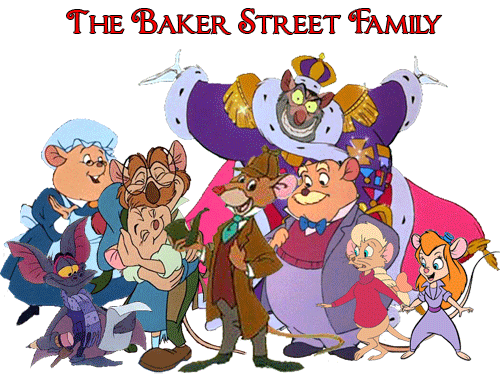 The first book you find on Basil's shelf of encyclopedias is a tome covered in maroon leather, with gold text on the spine that reads, "The Baker Street Family". "I suppose this encyclopedia is about your famous crime-fighting clan?" you ask Basil, taking the book off of the shelf & opening it.

"Indeed, it is," replies Basil with a proud smile. "It's filled with detailed entries on all the members of my family--such as my wife Victoria, my two mouselings, my god-children & their relatives...& my dear friends, Dr. Dawson & Mrs. Judson."

"And yourself, of course," you remark, continuing to browse through the book, as you soak up all the information there is to know about Basil Of Baker Street & his loved ones...
---
THE HOLMESINGTONS
BASIL OF BAKER STREET
The Great Mouse Detective, & proud patriarch of the Baker Street Family
VICTORIA
Basil's bride, & mother of the Holmesington mouselings
BABY FUSCHIA
Basil Of Baker Street's baby daughter
BABY BASIL II
Basil's son, & Baby Fuschia's younger brother
MARCUS HOLMESINGTON
Basil's jovial oldest brother, the firstborn Holmesington sibling, & a banker
BELLADONNA HOLMESINGTON
Basil's artistic oldest sister, & the second-born Holmesington sibling
ELIZABELLA HOLMESINGTON
Basil's spunky older sister, the third-born Holmesington sibling, & a member of the Royal Council
SHELLDON HOLMESINGTON
Basil's jealous older brother, & the fourth-born Holmesington sibling
BEVERLY HOLMESINGTON
Basil's sickly older sister, the fifth-born Holmesington sibling, & a librarian
ABIGAIL HOLMESINGTON
The late matriarch of the Holmesington family, & Basil's mother
EUGENE HOLMESINGTON
Basil's deceased father, & the patriarch of the Holmesington family

THE FLAVERSHAMS
OLIVIA FLAVERSHAM
The apple of Mouse London's eye, & darling of the Baker Street Family
HIRAM FLAVERSHAM
Olivia's father, a beloved Scottish toymaker
AUNTIE MIRIAM FLAVERSHAM
Hiram's older sister, & Olivia's aunt
COUSIN TIMMY FLAVERSHAM
Miriam's son, & Olivia's older cousin
GRANDPA MALCOLM FLAVERSHAM
The patriarch of the Flaversham clan
GRANDMA KAYLEY FLAVERSHAM
The matriarch of the Flaversham clan

THE MCBRIDES
SALLY MCBRIDE
An author of children's books, & the matriarch of the McBride family
ANDREW MCBRIDE
A photographer, Sally's husband, & McBride patriarch
ELIZA MCBRIDE
The oldest sister in the McBride family, & multi-talented leader of the Little Women
GADGET MCBRIDE
A spunky inventor, & the next-to-oldest daughter
JANE MCBRIDE
The timid (& easily-frightened) third-oldest McBride daughter
JULIE MCBRIDE
An aspiring mouse detective, & the youngest McBride mouseling

OTHER MEMBERS
RATIGAN
A reformed rogue living under Basil's care
FIDGET
Ratigan's batty sidekick
DR. DAWSON
Basil's trusted associate & biographer
MRS. JUDSON
The Baker Street Family's Scottish mousekeeper
---