Search and delete V2.6.1.0

Search and delete is a windows portable desktop application written in Delphi (Pascal Language)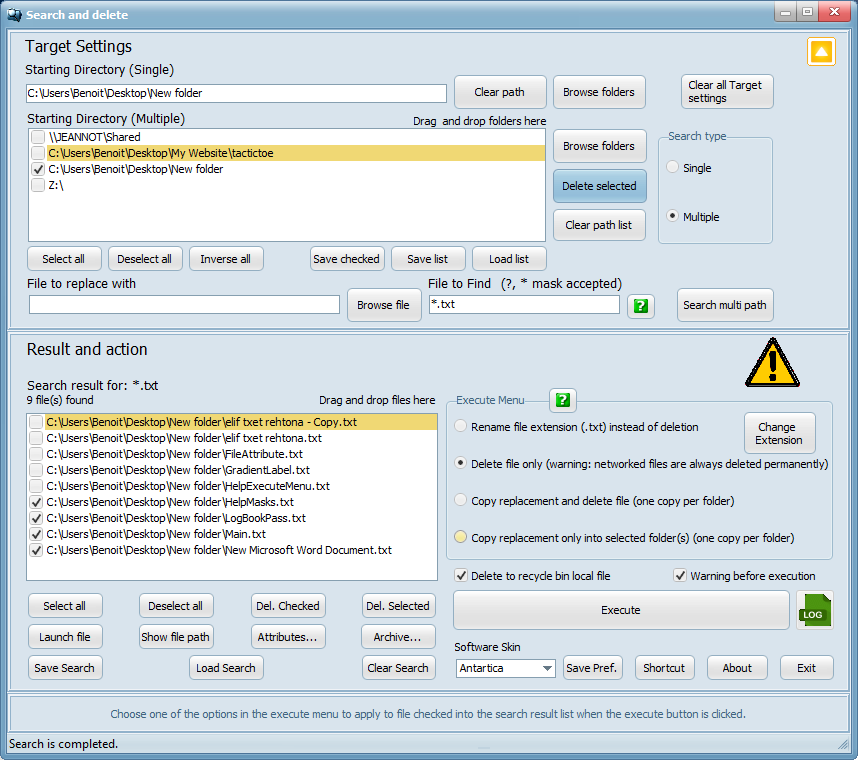 License:
It is freeware License. It is free yes but you use this software at your OWN risk.
Please read the license in the about box contains BEFORE using the software.

What is Search and delete?
Given a starting directory and a file mask:
It will search recursively from the starting directory (Single or Multiple) and then to all its sub-folders for files matching the mask. The search is fast but classic though and can take time if you search for example a whole System HDD from its root but the search can be aborted via 'Esc' key any time.
Note: Learn more about Wildcard mask here: http://www.febooti.com/products/automation-workshop/online-help/file-wildcard-mask/

Once the search end it will display the result in a list form. Result are partial or none if you do abort it. With these results if any you can:
Select all, Deselect all, or manually select/deselect search result item in this list.

Save the search result for later use (Load search), very useful for long search previously made.

Launch the file with its associated software (useful e.g. for text, PDF, Image file...) via double-click on the item or its dedicated button: 'Launch file'.

With these/this selected item(s) you can therefor do:
Archive in a zip format the file in the location of your choice

Rename the extension of one or more selected file



Change the attributes of one or more selected file


Delete one or more selected file permanently or to the the recycle bin

Given a file replacement:
Replace the selected file with the one given (One file replacement per folder) and delete the file to the recycle bin or permanently.

Replace the selected file with the one given (One file replacement per folder) but no deletion.
All with warning message before hand or not. I do recommend to leave the warning to avoid to delete file by mistake. If it happens do come back to me, you've been warned. Otherwise you can use software like 'recuva' (Download it portable on a USB disk if needed here: http://www.piriform.com/recuva/download/portable) to recover immediately these lost files.


Search and delete accept Drag and drop of Folder and File altogether.
Folder will be added to the Start Directory (Multiple) list while file will be added to search result list. Duplicate folder or file are deleted automatically removed from respective list. Note that Folder can still be added even the Target Settings is collapsed.

Useful operation on the Search Result list can also operated via context menu.

You can also collapse or uncollapse the TargetSettings panel by clicking on the white triangle located in the top left corner of the main window.
You can also skin (theme) the software.

Search and delete create a logbook for every operation on files, if saved it's reused next time and appends result to the old one. Save is manual and logbook can be ignored even I do not recommend it.

And finally you can force the software to save in a ini file all your preferences:
Skin, all the given path, the mask, the extension, delete to recycle bin and warning option, and last Size of the software.

Please note, the INI file created by you will be located in the application folder and adapt its name to the one of the software. Therefor if you rename the software for any reason you will have to manually rename the INI file.

The software does not write anything to the registry at all.
IMPORTANT WARNING: DELETION OF FILE ON A NETWORK ARE NEVER GOING TO THE RECYCLE BIN, THEY ARE DELETED PERMANENTLY.

Operating System Requirement:
Windows system only and from all version of windows 7 to windows 10. The software has been tested under Windows 7 Home, Windows 8.1 64Bits version only. If you test this software under an other version of windows, please let me know if it works. Thank you.
Windows is a registration trademark of Microsoft.
There is a 32 bits version and 64 bits version available for download.


Other Operating System Requirement confirmed by users:
'Annacondah' tested the software under Vista 32bits and it works. Thank you for this confirmation.


Installation:
There is no installer provided, it is a portable application.
The download is a zip file and all you need to do is to unzip the contents of it into the folder of your choice.
The files into this archive are:
SearchAndReplace.exe which is the software itself.

To do Update List
Move file to, copy file to

A log of executed operation with the software

May be more


Update done from User wishes:
Your wishes for this software can come true if you let me know by email
I don't collect email address neither spam people. I live in Australia and they are serious Anti-Spam law.


Download link:
IMPORTANT : EVEN I AM SURE THE FILES I UPLOADED DID NOT CONTAIN ANY VIRUS OR MALICIOUS CODE AT TIME OF UPLOAD, YOU SHOULD SCAN THE DOWNLOAD WITH YOUR FAVOURITE UPDATED ANTIVIRUS BEFORE UNZIPING THE FILE.
Download this version for 32bits OS (See Operating System Requirement): SearchAndDelete_32bits.zip
Download this version for 64bits OS (See Operating System Requirement): SearchAndDelete_64bits.zip
All rights reserved. Copyright ©2015 Benoit Standaert