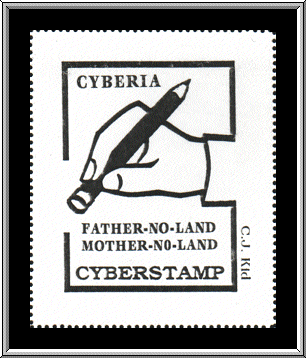 CYBERSTAMP
I forward via mail and email a block of stampworks entitled "Cyberstamp"; one sheet by international postal carrier, another of the same stamp image via bits and bytes of electronic transmission - the internet. Both forms of delivery are conduits for creative connection . . . web-lines.

I work all web-lines of communication because I am a networker. I revel in the process of multi-cultural collaboration. I contribute as one among many for all. I celebrate individuality, tolerance,decentralization, overcoming marginalization. I do not believe in fatherlands or motherlands, or father gods or mother gods.

I wish to create an open land-sea within my artistamp... a space I call Cyberia. A space and place between and surrounding letters, symbols and ideas. It is an asexual, boundless space for creative communication. I wish to erase the traditional boundaries of art, space and communication as a process that frees our minds from enslavement.

by Chuck Welch
aka Crackerjack Kid
United States of America, 2002
---
Single artistamp (6.6 x 5.5cm.) in a block of four.

From a full sheet (28 x 21.6cm.) of four stamps.
Perforations, signed, dated April 2002, A/P.

Permanent Collection
Gift of the artist
---

Continue . . .


Prior . . .


Catalogue . . .

Museum Entrance . . .


JCM Site Map . . .

---
Copyright ©2002 Jas W Felter, all rights reserved.