The Artistamp Gallery - Room V "Great art must be licked!" - Jas W Felter

Bugpost Exhibition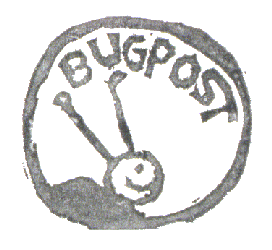 BUGPOST CANCELLATION MARK
by Dominique (Johns)
aka Bugmaster General
Single cancellation mark on envelope, 2.5cm. dia.
Seattle artist Dominique (Johns),
Secretary to the General of the Insectastates,
and the Ambassador to New Resmetherin,
organized the Antpex Exhibition of artistamps in Seattle in 1992.
Dominique's approach to artististamps is from the philatelic point of view.
He produced and published the First Edition of
The PMTTD Co's Standard Insectastases Stamp Catalogue in 1991
and four editions of The Standard Artist Stamp Catalogue between 1992 and 1996.
Descriptive texts in this exhibition have been taken from this publication.

Permanent Collection
Gift of the Artist
---
Copyright © 2000-2006 Jas W Felter, all rights reserved.