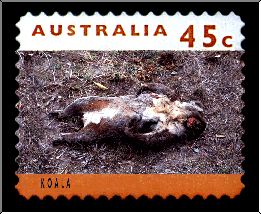 AUSTRALIA - KOALA
by Sue Guilfoyle, 1996
Single multicoloured cyberstamp: 261 x 214 x 256

Sue Guilfoyle lives and studies in Brisbane, Australia.
Sue wants to develop an exchange of political art strategies with other artists who are interested in offering alternatives to social and environmental destruction.
Permanent Collection
Gift of FIVE/CINQ Unlimited
---
Copyright © 1997 Jas W Felter, all rights reserved.