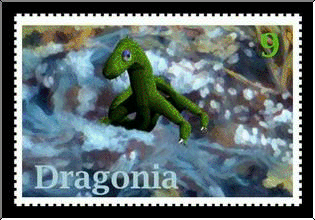 DRAGONWEED 9
by Jeanne Borofsky, 1996
Multicoloured Cyberstamp: 291 x 196 x 16 million
Released in printed form (1 x 1.5") in a limited edition full sheet of nine.

Jeanne Borofsky is a computer-artist and printmaker who
studies light and nature, with a side order of humor.
She lives in Groton, Massachusetts.
Permanent Collection
Gift of FIVE/CINQ Unlimited
---
Copyright © 1997 Jas W Felter, all rights reserved.