A replica fills the void
The injuries to the monument were too severe to be easily repaired. The arms were shattered and there was a crack down the statue's back. For more than five months, the base upon which the statue had stood remained empty in downtown Enterprise.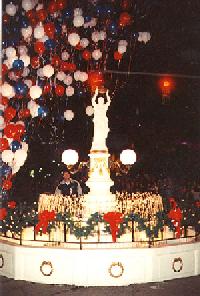 A replica was created to fill the void until the original could be repaired. A life-size replica had been created once before to go on display in the Atlanta History Museum from summer 1996 until fall 1997 as part of an exhibit on the American South . Ken English, a craftsman from Elba, Alabama, had cast a mold of the entire statue and the bug to create the replica for the musuem. That mold was used as the basis for a sturdier replica that would replace the original.
On Dec. 15, 1998, before the city's Christmas parade began, the replica was unveiled as a flurry of red, white and blue balloons were released, all to the cheering of thousands of spectators.
City leaders originally intended to repair the original and put it back in its spot downtown. However, it proved too difficult and costly a task. The replica still stands in downtown Enterprise, while the original is on display at Enteprise's Depot Museum less than a block away. A security camera perched on the WKMX radio building, situated on Main Street overlooking the monument, stands watch over the monument in an attempt to prevent further vandalism.
Note: Information for this site was gained from years of writing articles about the monument, as well as invaluable information obtained from the book "Enterprise - The First 110 Years" by the late Roy Shoffner. This book, as well as others focusing on the monument, Enterprise and Coffee County, can be obtained by contacting The Pea River Historical and Genealogical Society. The photos on this page were taken by me - Shelley Brigman.
Back