Je suis sur le web depuis 1997 et au cours des ans, j'ai fait plusieurs sites sur des thèmes différents, et même collaboré pour des sites d'amis.

Ils sont tous ici, avec des liens directs pour tous ceux qui sont encore d'actualité. Aussi, j'ai ajouté une courte description pour chacun.


I am on the Web since 1997 and I've been expanding ever since, with French, English and bilingual sites. I've made many sites on different themes, and even collaborated on some sites for friends.
They are all listed here, with direct links to those who are still online. Also, I've put a short description for each.



Siubhan


---
Artisanat pour tous
http://membre.oricom.ca/wn.siubhan/index.htm
français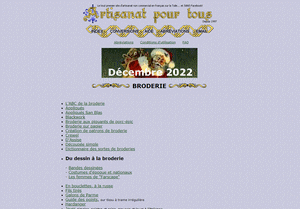 Techniques, projets et activités dans un vaste choix de matériaux, bricolages pour enfants, lexiques, glossaires et modèles gratuits.
Craft techniques, projets and activities, in a large choice for young and old, beginners or experts.


---
A Taste for Blue
http://siubhan.ultimax.0lx.net/tabmat.htm
http://bluey.somee.com/tabmat.htm
English

http://bluey.somee.com/tabmatfr.htm
français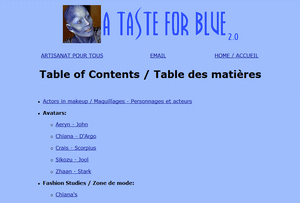 Site personel sur la série télé "Farscape", notamment sur Zhaan et les autres femmes de la série.
Personal fan site for Sci-Fi TV Series "Farscape", with emphasis on Zhaan and Women of Farscape. Fanfics have been deleted.


---
ErpScapers
http://erpscapers.co.nf/index.htm
English only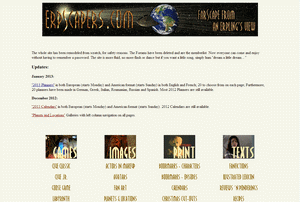 Site de fan sur la série télé "Farscape", avec des créations personnelles.
Fan website for the TV Sci-Fi Series "Farscape", with personal creations.


---
L'ingénue / New D.T.

français / English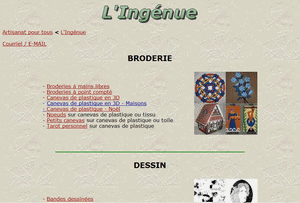 Galerie personnelle, avec beaucoup de patrons gratuits, des ouvrages que j'ai réalisés au fil des ans. Version française transférée en totalité vers "Artisanat pour tous".
Personal galleries, with lots of free patterns, of the crafts I've made over the years. English version erased


---
Mylène Micoton
français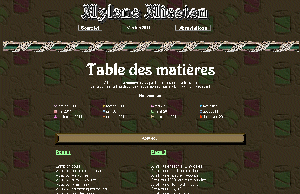 Banque de patrons gratuits transférée en partie chez "Artisanat pour tous".
Old free patterns repository half-moved to "Artisanat pour tous".


---
Marissa presents... My Life as a Vampire

English
Le journal franc et direct d'une jeune canadienne française, vampire depuis 1843. Site fermé pour des raisons évidentes.
The uncensored journal of a young French-Canadian girl who's a vampire since 1843. Website closed for obvious reasons.


---
A Blood Moon Arisen

English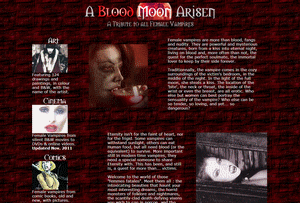 Hommage aux femmes vampires; cinéma, littérature, historique, art et télévision. Site définitivement fermé faute de temps pour le maintenir à jour.
A Tribute to all female vampires in cinéma, literature, art, history and TV. Website definitively closed, no time to keep it up-to-date.


---
Shadows Dancing by Candlelight

English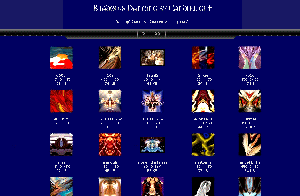 Galerie de collages et peintures CAD, personnelle et non-commerciale. Site fermé car mon nouveau programme de dessins n'offre pas la même latitude.
CAD Painting Gallery, personal and non commercial. With abstracts, figurative art, and collages. Website closed because I changed drawing program.


---
Gothic Background Textures

English
Textures sans bordures par couleurs et thèmes. Site fermé définitivement par manque de visiteurs.
FREE seamless tiled textures sorted by colours or themes. Website closed for good, caused by a lack of interest by visitors.


---
Siubhan's Alphabets & Graphic Kits

français / English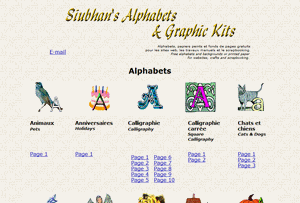 Alphabets et ensembles gratuits de boutons, flèches, lignes et icônes gratuits pour page web. Site fermé définitivement par manque de visiteurs.
Free alphabets, lines, icons, buttons, arrows, and Graphic sets for web pages. Website closed for good, caused by a lack of interest by visitors.


---
---
---
---
---
COLLABORATIONS
monique laforce virgule poete
http://mone.yoll.net


français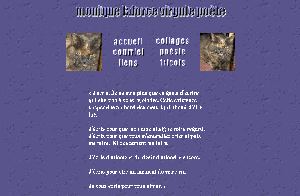 Poésie, tricots, collages.
Poetry, knits and collages.


---
Carmen ...de la Torre...
http://carmendelatorre.com/
français/English/espagnol
Peintre - sculpteur
Painter - Sculptor


---
Bluemyst, A Site For All Scapers
http://bluemyst.yoll.net/


anglais - English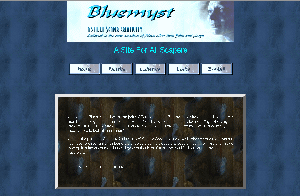 Page de fan sur la série télé Farscape
Fan website for the TV Sci-Fi Series "Farscape".


---
---
---

Si vous voyez ce logo, j'ai fait, ou collaboré à la création ou la maintenance de ce site.
© 2019. Toute utilisation à des fins commerciales, ainsi que l'archivage de cette page ou des sites, en tout ou en partie, sont strictement interdits.
If you see this banner, you know the site has been created/maintained by me, or with me.
© 2019. Any commercial use or archiving of anything from this page or any of these sites mentionned above is strictly forbidden.