LINEBACKER II
1972 CHRISTMAS BOMBINGS

December 18,1972 - December 29,1972

"A BLUE CHRISTMAS"
MSIE (w/o plugin) - To PLAY tune, click on "A BLUE CHRISTMAS" above, to STOP click MIDI (Notes icon) on start bar.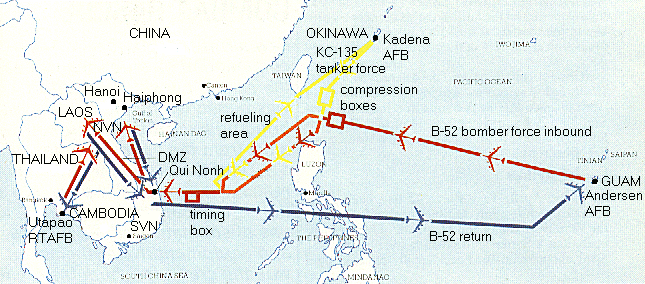 LINEBACKER II map of B-52's from Andersen AFB, Guam
and Utapao RTAFB, Thailand
USAF Aircraft Losses Dec. 18-29, 1972

Date
Type
Call Sign
Target (Mission)
Cause
Dec. 18
F-111A
Snug 40
Hanoi Radio
unk.
Dec. 18
B-52G
Charcoal 01
Yen Vien complex
SA-2
Dec. 18
B-52G
Peach 02
Yen Vien complex
SA-2
Dec. 18
B-52D
Rose 01
Hanoi Radio
SA-2
Dec. 20
B-52D
Quilt 03
Yen Vien complex
SA-2
Dec. 20
B-52G
Brass 02
Yen Vien complex
SA-2
Dec. 20
B-52G
Orange 03
Yen Vien complex
SA-2
Dec. 20
B-52D
Straw 02
Gia Lam rail yard
SA-2
Dec. 20
B-52G
Olive 01
Kinh No complex
SA-2
Dec. 20
B-52G
Tan 03
Kinh No complex
SA-2
Dec. 21
B-52D
Scarlet 03
Bac Mai airfield
SA-2
Dec. 21
B-52D
Blue 01
Bac Mai airfield
SA-2
Dec. 22
F-111A
Jackle 33
Kinh No complex
unk.
Dec. 23
EB-66C
Hunt 02
(non combat)
engine out
Dec. 26
B-52D
Ebony 02
Giap Nhi rail yard
SA-2
Dec. 26
B-52D
Ash 01
Kinh No complex
SA-2
Dec. 27
F-4E
DeSoto 03
(strike escort)
MiG-21
Dec. 27
F-4E
Vega 02
(MiGCAP)
MiG-21
Dec. 27
HH-53
Jolly Green
(rescue)
small arms
Dec. 27
B-52D
Ash 02
SAM site
SA-2
Dec. 27
B-52D
Cobalt 02
Truan Quan rail yard
SA-2
Source: Pacific Air Forces
Excerpt from Airforce Magazine
On the final day of the campaign, Day 11 on Dec. 29, USAF crews--both bomber and support--were at the peak of their form while the enemy was in obvious distress, able to fire only a total of 23 SAMs. Where once they had salvoed six SAMs at a time, they now were reduced to individual snap shots. They were almost out of SAMs, their MiGs were shut down, and their radar and communication links were disrupted. In short, they were at the mercy of the United States.
The US had proved decisively that B-52s, supported by tactical air assets, were an effective force, able to meet and defeat the enemy. In the miserable prisons in which they were held, American prisoners of war experienced an unimaginable elation at seeing their brutal captors frightened and suddenly polite.
The result of Linebacker II was exactly what had been predicted by those who had advocated full application of airpower against North Vietnam: a military victory. The badly shaken North Vietnamese accepted that the war was at a stalemate, returned to the negotiating table in Paris, and signed the Paris Peace Accords on Jan. 27, 1973. Within 60 days of the signing, 591 American POWs were released and back in the United States.
In Linebacker II, SAC's B-52s had flown 729 sorties out of a total of 741 planned sorties and dropped 15,000 tons of bombs. North Vietnamese forces had fired about 1,240 SAMs. The Air Force lost 15 B-52 bombers, which amounted to a loss rate of less than two percent. Of 92 B-52 crew members involved in the losses, 26 were recovered, 25 came up missing in action, 33 became prisoners of war, and eight were either killed in action or later died of wounds. In addition, the US lost two F-111As, three F-4s, two A-7s, two A-6s, one EB-66, one HH-53, and one RA-5C.
As soon as Hanoi signaled it wished to resume peace negotiations, Linebacker II raids immediately ceased. Some in the Air Force argued that this was a mistake; if the United States continued the attacks, they maintained, North Vietnam would have to accept a military defeat. Instead, they secured at the peace table a political victory that they would in due course translate into a full-scale military conquest of South Vietnam.
Not long after the end of Linebacker II and the formal return of the US prisoners of war, United States forces at last formally disengaged from the war in Southeast Asia. There then followed what Henry Kissinger described as a "decent interval" of about two years, after which Hanoi, knowing that it no longer faced any realistic threat of another Linebacker II, invaded South Vietnam across a broad front. The Communist forces entered Saigon on April 30, 1975, and unified the two Vietnams under Hanoi's totalitarian control. .....
end of excerpt
Full story of LINEBACKER II,
as told in AIRFORCE MAGAZINE.
---
This site is viewed best in NETSCAPE Navigator 3.0 or higher.