SD Prep Sports: Water Polo
www.geocities.com/sdprepsports
E-mail us at [email protected]
Home Swimming/Diving Cross Country Track & Field Roller Hockey Water Polo CIF Scorecard
Rebuilding Norsemen advance to Division I semifinals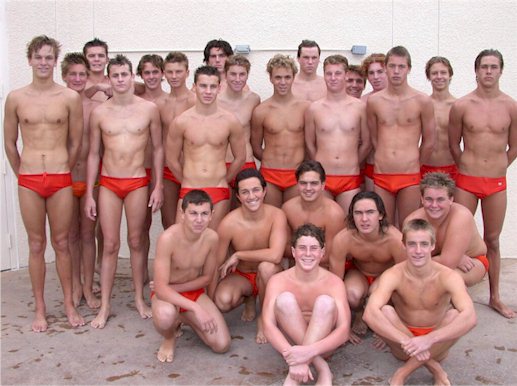 Valhalla outlasts Mt. Carmel, 12-11, in thriller
CIF water polo playoff photo album
By Phillip Brents
LA JOLLA, Nov. 10, 2001 -- This was supposed to be a rebuilding year for the Valhalla High boys water polo team. But rebuilding by whose standards?
The Norsemen returned just five players total from last year's San Diego Section Division I championship team yet find themselves in Tuesday's semifinals following a nail-biting 12-11 victory against Mt. Carmel in Saturday's quarterfinal-round playoffs at the La Jolla Jewish Community Center pool.
Third-seeded Valhalla (22-8) will play second-seeded Carlsbad (25-4) at 6:45 p.m. for the right to advance to the Nov. 17 Division I championship game at the UCSD Canyonview pool. The Valhalla-Carlsbad winner will face the winner of Tuesday's 5 p.m. semifinal pairing between top-seeded Poway (20-5) and fourth-seeded Torrey Pines (22-7).
Carlsbad, this year's Avocado League champion, defeated Grossmont South League runner-up Granite Hills, 10-4, in Saturday's quarterfinals while Poway downed eighth-seeded Fallbrook, 17-9, and Torrey Pines edged Palomar League rival Vista by a 10-7 score in other quarterfinal-round matchups.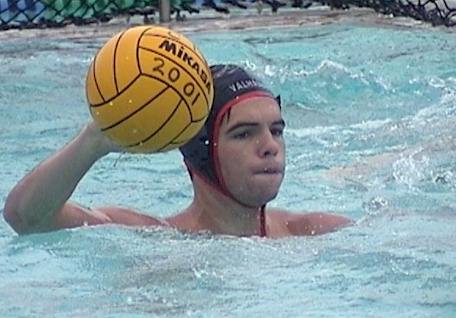 The Norsemen, who won this year's Grossmont South League title with an undefeated 8-0 record, rallied from a 6-5 halftime deficit against the sixth-seeded Sundevils, who later chipped away at a second-half Valhalla lead to make things thrilling in the final three minutes of regulation play.
Senior Paul Harvey led the Norsemen with four goals and one assist while junior Ryan Way contributed three goals and junior Clint McLaughlin added two goals and an assist.
"We've been to the CIF finals the last seven years and every other year before that it seems. We have a strong program. That is the great thing about this team," said Valhalla coach Pat Higginson, who has been with the program the past seven years, the last two years as head coach, after serving a tour of duty as an assistant coach at Bonita Vista High. "We won CIF last year and returned five players. This is basically a brand new team. I'm stoked at what we've been able to do this year."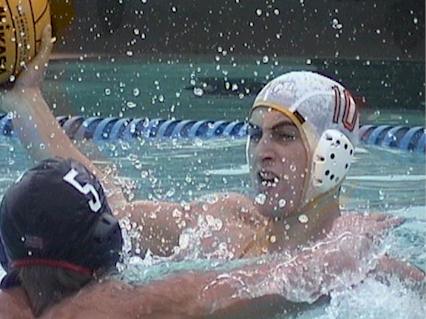 Harvey, whose older brother Scott is a member of the USA Junior National team, is joined by Patrick Sullivan, McLaughlin, Mitch DeGeus and Way as the five returning players who helped guide the Norsemen to last year's Division I title. Harvey and DeGeus, both of whom have been involved with the varsity team for three years, serve as captains this season. Harvey alluded to teamwork and determination as the two keys to setting the groundwork for this new-look team. DeGeus, who had two assists in the victory against Mt. Carmel, put his finger on more of an emotional pulse. "I've never been more impressed with a group that has come together so quickly and so well," DeGeus said.
Though the team has relied on leadership from its five championship returners, there have been a number of newcomers who have risen to the challenge of playing their first varsity season. Among them, Higginson said, is senior Vince Davies, who had one goal in the win against the Sundevils. Picking up the team's other goals in the quarterfinal victory were junior Jeff El-Haij and Sullivan, a senior. Junior goalie Matt Krueger had six saves.
"This was supposed to be our rebuilding year," Higginson said. "Our expectation was to get to the semifinals. Anything else is a bonus."
Besides the obvious stakes for advancement in this year's playoffs, Saturday's game held special meaning on both sides of the ball for other reasons. Mitchell Hoffarth, who spent six years as part of the Valhalla program as an assistant coach, now coaches at Mt. Carmel.
"That's what made this game so great," Higginson said.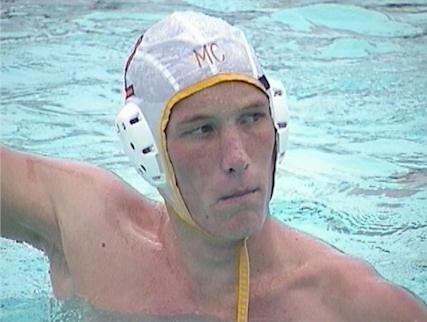 Mt. Carmel, which finished its season 16-12 following a 13-6 first-round victory against Metro Conference champion Bonita Vista, held a two-goal lead at one point in the contest before a spirited Norseman rally reversed the momentum and forced the Sundevils to play catch-up. A four-meter penalty shot by junior Ryan Lindroth reduced the Valhalla advantage to two goals and senior Scott Blyleven followed with a goal to shave the Norsemen's lead to one goal at 11-10. Valhalla's Harvey gave his team some much needed breathing room by scoring on a backhand shot to put the Norsemen up 12-10. Mt. Carmel junior Danny Lorber then set up the exciting finish on a goal with 3:08 to play. However, Krueger stood solid in the cage down the stretch and a Sundevil kick-out in the final seconds helped nullify any comeback by Mt. Carmel to force overtime.
"We got up by two goals. We just couldn't turn the corner," Hoffarth explained. "We needed to put the ball away. The kids played really well, though. The game was very physical. It took us out of the game a bit. We got back in it, however. Anytime you play Valhalla, you are in for an excellent game. Nobody's been to 'the show' more than Valhalla."
Higginson returned the compliment in Hoffarth's direction. "They're a great team," Higginson said in reference to Mt. Carmel. "They're very well coached. It was a great game. I'm proud of what he's done with that program."
With both teams returning significant portions of their lineups next season, Saturday's quarterfinal pairing could serve as a preview for a postseason meeting further down the road next season. The Sundevils lose just six players off this year's roster, including two starters while Valhalla will draw from a junior varsity team that lost just one game this season against San Diego County competition. "If our chemistry follows, we will have a really solid group in the years to follow," Higginson said.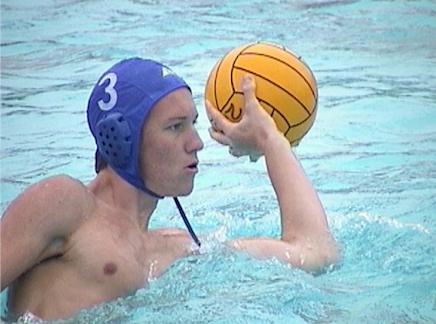 The Norsemen face a Carlsbad team that already owns a victory against Valhalla in the recent San Diego Open tournament. The Lancers rode to Tuesday's semifinals on the strength of six goals from the team's season scoring leader, Brad Armstrong, and two goals from senior teammate Patrick Moyer. Defensively, Carlsbad held Granite Hills (19-11) to single goals scored by four players.
The seventh-seeded Eagles ended their playoff run 1-1 after topping conference rival West Hills, 19-12, in a high-scoring first round playoff game. Granite Hills loses seven players next season, including four field players and the starting goalie position. "The goal was to make it beyond the first round in CIF. They did that. Carlsbad's a good team," noted Eagles coach Rhett Gaeir, who has coached at Granite Hills the past seven years. The Eagles' farthest previous postseason run has been to the semifinals.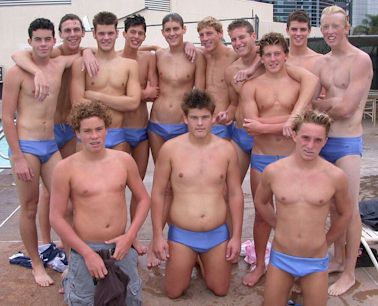 Granite Hills -- one of six Grossmont Conference teams to qualify for either the Division I or Division II playoffs -- was led this season by top scorers Danny Haines and Travis McGrath, both seniors, and senior goalie Brian Atkinson. The Eagles' lone league losses were to Valhalla. "We played Valhalla to the closest scores we have in the past several years," Gaeir said in summing up an otherwise highly successful campaign.
Meanwhile, Poway secured its berth in Tuesday's semifinals as senior Jeff Allan scored seven goals and five other players -- senior Steve Culp, junior Matt Tilburg, senior Kevin Lloyd, senior Chris Stearns and senior Chris Jensen -- each scored two goals for the Titans. Fallbrook was keyed by junior Dusty Urquart with four goals and senior Jay Hartzell with three goals.
Torrey Pines, which finished 6-4 in Palomar League play behind 10-0 Poway, was paced by senior Steve Moulton with three goals and senior John Rogers with two goals in its quarterfinal-round win against Vista. Colin McElroy was credited with eight saves in the game and received due credit for his part in helping keep the Panthers at bay. Sophomore Robert Osorio led Vista (15-11-1) with three goals.
Division II Quarterfinals
Coronado 16, Scripps Ranch 1
Top-seeded Coronado will play Western League rival La Jolla in Wednesday's 5 p.m. semifinal contest at the La Jolla JCC. The Islanders (26-1) eliminated Western League foe Scripps Ranch (12-17) by a 16-1 score as Thomas Hopkins scored four goals, Dougie Mann scored three goals and teammates Sam Blair and Jamal Motlagh both tallied two goals. Coronado built a 14-0 lead in the game before Falcons junior Eric Truesdale broke the Islanders' shutout bid with 5:29 left in the final period.
La Jolla 13, Santana 9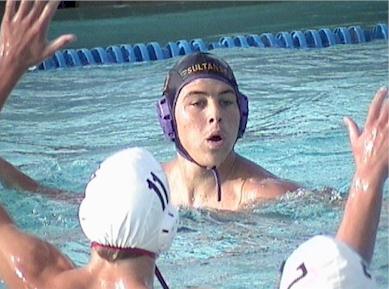 The Vikings (20-11) had much more of a battle on their hands in defeating fourth-seeded Santana (20-10), which had previously defeated La Jolla by a goal in the San Diego Open tournament. The Vikings led 5-3 at halftime and twice fended off Sultan surges that cut the La Jolla lead to a single goal in the early moments of the third period before pulling away with a scoring run of four unanswered goals that put the Grossmont North League champions in a 10-5 hole early in the final period. Sophomore Bryan Barry helped key the Vikes' overall 8-6 scoring edge in the second half of play with four goals in the final two periods while junior teammate Matt Marinkovich scored two goals.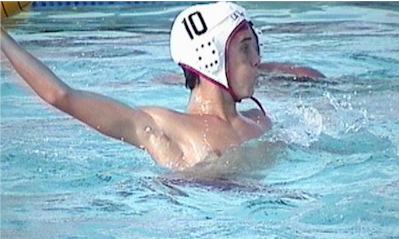 Santana pulled to within 5-4 on the scoreboard by getting the pivotal first goal of the second half, courtesy of junior Andrew McPartland. However, La Jolla senior driver Christian Guth answered that goal with a goal of his own to give his team back its two-goal lead. McPartland scored again for the Sultans to once more reduce the Vikings' lead to a single goal. However, two goals by Barry and another by sophomore Nick Eddy put La Jolla up 9-5 by the end of the quarter. Marinkovich scored the first goal of the fourth period to help the Vikes double up Santana at 10-5. Sophomore Josh Wixom cut the deficit to 10-6 and senior Nick Breshears beat La Jolla sophomore goalie Marc Vacquier on a penalty shot to bring the Sultans closer at 11-7. But Barry pumped in two unanswered goals to put the Vikes back in charge at 13-7. Vacquier finished the game with 13 saves. Santana junior Thomas Magee had nine saves, including a block of a penalty shot by Eddy in the opening stages of the third period.
"I think we got into a little bit of rhythm," La Jolla coach Tom Atwell said. "They (the Sultans) had a few more shots than I would have liked to see but we did a good job on the perimeter. Once we settled down, we got a few counter-attacks."
Atwell said a critical outcome for his team was defense -- particularly limiting the effectiveness of Breshears, who scored six goals in the teams' earlier meeting. "We wanted to keep him out of the game and make their other guys beat us," Atwell said.
Wednesday's second semifinal contest, scheduled for 6:45 p.m. at the La Jolla JCC, will pit second-seeded Bishop's (28-2) against third-seeded University of San Diego High (24-6) in another all-Western League showdown. USDHS advanced with a 9-6 victory against Grossmont (15-12) in Saturday's quarterfinals while Bishop's defeated Western League foe University City (11-16). The Dons took a 4-2 lead early in the second quarter on sophomore Jordan Van Norman's four-meter penalty shot. Van Norman, who challenged a school single-season scoring record with more than 130 goals in 2001, finished the game with eight goals. Junior Tim Penny scored USDHS' remaining goal in the game while junior goalie Rick Wright (who set a school record this season with 26 games in one game) made 18 stops in the contest.