SD Prep Sports: Water Polo
www.geocities.com/sdprepsports
E-mail us at [email protected]
Home Swimming/Diving Cross Country Track & Field Roller Hockey Water Polo CIF Scorecard
Norsemen fall in final but program remains unbowed
CIF Finals: Division 1 photo album
By Phillip Brents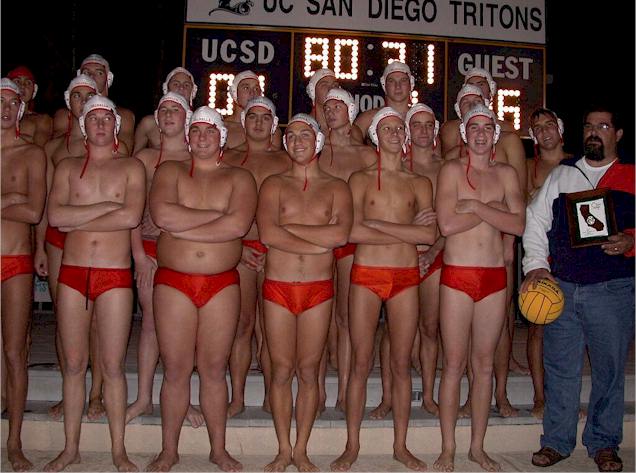 LA JOLLA, Nov. 17, 2001 -- Even in defeat, the Valhalla High School boys water polo team delivered its message loud and clear. In an admitted rebuilding year under coaches Pat Higginson and Kent Houston, the Norsemen surpassed all expectations by reaching the San Diego Section Division I championship game for the eighth consecutive year.
Last Saturday at the UC-San Diego Canyonview pool, they nearly ended their season in the most improbable fashion: hoisting the division championship.
In this case, second place has to seem mighty pleasing to a group whose rallying cry for next season has already clearly been sounded.
"It was a super season. We were in the finals for the eighth year in a row. We're legit. To get here, you've got to go through Valhalla. That's the test of the program," explained the Norsemen's Higginson in the wake of Valhalla's 9-6 championship game loss to top-seeded Poway that left the 14-time defending Grossmont South League champions with a final 23-9 record.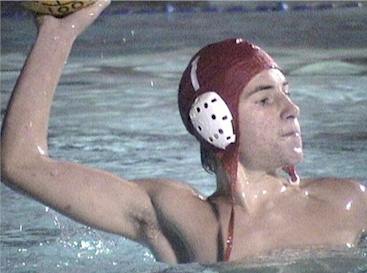 For Valhalla, which returned just five players from the 2000 team that upended Poway for the program's 11th division title in 14 championship game appearances, the narrow runner-up finish was more like a preview of things to come. In gaining a measure of revenge for last year's 19-15 finals setback to the Norsemen, Poway (22-5) did so with a roster featuring 14 seniors, two juniors and two sophomores this season. By contrast, the overachieving 2001 Valhalla postseason lineup was loaded with underclassmen: 11 juniors, six sophomores and one freshman. The Norsemen's championship game roster featured just six seniors.
"We showed a lot of people that we could make it. Everyone thought we wouldn't get to the semis of finals this year. We had a great game. We just came up short," said Valhalla junior Ryan Way, who scored one goal and made five steals in the title game.
The ending to the season couldn't have made either Higginson or Houston more proud, particularly Houston, who has been with the program for 17 years and who got the chance to celebrate his 100th league win this season. In amassing 14 consecutive league championship titles, the Norsemen have compiled a 100-1 record.
Valhalla clearly drew upon that mystique last Saturday by trailing the heavily favored Titans by only a 3-2 score at halftime. In a game highlighted by ferocious defense, the Norsemen played their would-be conquerors evenly for the better part of the night's proceedings to the excitement of the overflow crowd. Way, assisted by senior Paul Harvey, countered an opening goal by Poway's senior Chris Stearns to deadlock the teams at 1-1 at the end of the first quarter. Valhalla senior Mitch DeGeus converted a cross-tank pass to halve a 3-1 deficit in the waning minutes of the first half.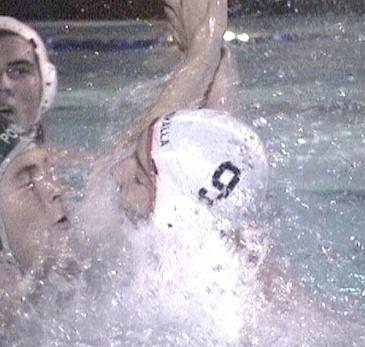 But the physical nature of the game took its toll on the younger Norsemen, who would fall behind 7-2 on a spate of four unanswered Poway goals during a 7:55 span of the third and fourth quarters before rallying with a three-goal flurry to cut the score to 8-6 with 42 seconds to play in regulation. A goal with seven seconds to play by Titan junior A. J. Ferrill closed out the season.
Harvey keyed Valhalla with two goals, one assist and four steals while junior teammate Clint McLaughlin, the recipient of the team's CIF Sportsmanship award, tallied one goal and four defensive steals. Senior Vince Davies, whom both Higginson and Houston lauded for his marked improvement, finished the game with one goal. Junior goalie Matt Krueger finished the game with eight saves.
Poway senior goalie Mike Bracken had much to say in the game's outcome with seven clutch saves, including four in the final period to stem a resurgent Valhalla team. Bracken was on the receiving end of the 19-goal Norseman barrage the previous season and, according to Titan coach Dan Crane, had taken the drubbing personally. A year later, Bracken was nearly unbeatable.
" I think we just didn't finish our shots like we should have. We had a lot of opportunities. Poway's goalie had a great game and we didn't shoot right," Higginson said. "Poway played a pretty physical game. They run the risk of getting kick-outs and getting hurt by them. The referees called a good game. They let the teams play."
Senior Jeff Allan led the victorious Titans with five goals while Stearns, who received Poway's CIF Sportsmanship award, scored twice. Senior Steve Culp scored the Titans' other goal on a four-meter penalty shot in the final period.
Higginson singled out Harvey and Davies for exemplary efforts in the title game. Higginson reserved one comment in particular for Davies, an honors student at the school. "He finished his high school career beyond any expectation that I had. He's just a wonderful kid," Higginson said of Davies.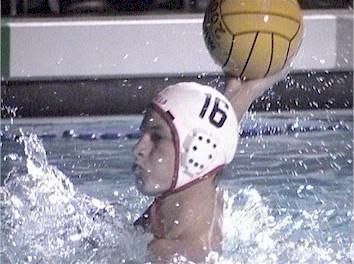 Meanwhile, the Norsemen now look ahead to a possible return to glory next year. Valhalla returns a significant portion of its lineup next season and will draw talent from a junior varsity team that lost just one game this season against San Diego County competition. "If our chemistry follows, we will have a really solid group in the years to follow," Higginson said.
Poway's Crane took time to savor this year's championship moment. "We're thrilled to be back here. I like this game better than the 19-15 game (last year)," he said while dripping water from a ceremonial victory dunking by his team. "It was a better played water polo game than last year's. It was a physical game. That may have had have something to do with how the game turned out. It's a style of game we like to play and we have the type of players who can play it. Bracken had a great game. He felt he had a bad game last year. He took it personally. He wanted to make up for it this year."
Ironically, Crane helped set the foundation for the Valhalla program when Houston was an assistant coach and the current Titans helmsman remained complimentary of the opposition, though made no mistake about his current loyalties. "It's a great rivalry -- two well-coached teams. I think we survived the kick-outs. The better team won," Crane said.
Championship notepad
The first period remained scoreless until 1:48 was left in the seven-minute quarter. Allan scored his first goal of the game to give Poway a 2-1 lead 1:13 into the second period and scored again on a four-meter penalty shot to hike the Titans' advantage to 3-1. Allan scored his third goal of the game with 4:20 left in the third period to put Poway up 4-2 and notched his fourth goal from nearly the same spot moments later to give the Palomar League champions a 5-2 advantage through three periods. Culp's four-meter shot moved the Titans ahead 6-2 with just 30 seconds gone in the fourth quarter and Allan gave Poway a 7-2 lead by scoring on a breakaway feed from Bracken just 25 seconds later. McLaughlin finally stemmed the tide with a goal with 4:26 to play but Stearns quickly answered that for the Titans, who ran their lead to 8-3. The Norsemen began their late rally on a goal by Harvey with 3:09 left and another by Davies with 2:20 remaining. Bracken then may have made his most spectacular save of the night when he denied Harvey on a point-blank shot with a minute to play. Harvey finally put another shot past Bracken 18 seconds later but Poway managed to run down the shot clock with an effective game of keep away to further frustrate any hopes of a comeback by the Norsemen.