SD Prep Sports: Water Polo
www.geocities.com/sdprepsports
E-mail us at [email protected]
Home Swimming/Diving Cross Country Track & Field Roller Hockey Water Polo CIF Scorecard
Eastlake's Nik Clair-Williams: Metro's scoring wizard
Metro Conference tournament recap
Metro Conference tournament scoreboard
Metro Conference tournament game action photo album
By Phillip Brents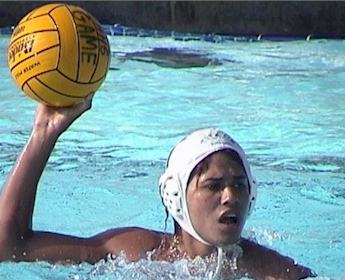 CHULA VISTA, Oct. 28, 2001 -- The most exciting player to watch this season among the Metro Conferenceís six boys water polo teams?
The answer ó from an offensive point of view, at least ó is fairly easy: Eastlake High junior Nik Clair-Williams.
As a sophomore last season, Clair-Williams chased a school record for most goals scored in one season, finishing just shy of the record with 128 goals. The prolific scoring output earned him instant recognition as one of the South Countyís premier athletes.
In his element ó the water ó Clair-Williams is certainly gifted athletically. He completed a standout sophomore year by winning the 50-yard sprint title at the San Diego Section Division II swimming championships during the spring sports season after earning Offensive Most Valuable Player honors for his team during the water polo campaign.
Itís his speed combined with a strong arm that makes him dangerous from anywhere in the pool.
Though he will not match his prodigious scoring total of last season because the Titans will not play as many games, Clair-Williams is on course to finish with a better goals-per-game average this year. He will have one final opportunity to showcase his abilities in local waters when Eastlake concludes its regular season schedule in the conference tournament Oct. 31, at Southwestern College. The Titans (9-11) will play Montgomery in the third-place game at 6 p.m.
Eastlake finished runner-up in last yearís tournament finals to perennial conference powerhouse Bonita Vista, which will play Chula Vista for this yearís tournament championship at 7 p.m. on Halloween night.
The Titans entered this yearís tournament seeded second. However, late season attrition throughout the lineup and college entrance testing hurt the team in its preliminary tournament playoff games on Oct. 27. Eastlake dropped a 9-8 decision to fourth-seeded Hilltop in its opening game before defeating fifth-seeded Chula Vista by that same score in overtime. Eastlake finished second in a three-team shootout to determine which team advanced to the tournament title game. Clair-Williams, who totaled 13 of his teamís 17 goals in the two tournament games, donned the goalieís cap for the shootout phase in a show of versatility. He had seven goals in the loss against Hilltop, including four goals in a five-minute stretch to rally Eastlake from a 9-3 deficit. Against Chula Vista, the Titans erased a 7-3 Spartan lead to prevail on Clair-Williamsí rebound goal in the sudden-victory third overtime period. The Eastlake scoring wizard finished the game with six goals, notching three consecutive goals to tie the game 7-7 at the end of regulation play.
Prior to the conference tournament, Clair-Williams got a chance to dazzle spectators with his impressive quick release by finishing with five goals ó including two on penalty shots ó in a thrill-packed game against Chula Vista Oct. 24 at the Loma Verde pool. It was his long range goal with 26 seconds remaining in regulation play that gave Eastlake a 10-8 lead. During the contest, his shooting was especially wicked from two-meter range.
In his case, actions clearly speak louder than words.
Clair-Williams finished the San Diego Open tournament in mid-October by scoring 27 goals in five games, including all his teamís goals in one game and all but one in another. He had eight goals in the Titansí 12-8 victory against El Cajon Valley.
Clair-Williamsí career record for most goals in one game is 12. He racked up 11 goals in a 19-12 league win Oct. 17 against Mar Vista.
While a finishing force offensively, Clair-Williams shares leadership duties in the pool with senior two-meter guard Robert Cruz, an all-league honorable mention last season and the teamís four-year program player. Cruz missed the teamís Metro tournament game against Hilltop because of scholastic commitments but contributed two goals in the game against Chula Vista, including a goal with 1:18 to play in the second overtime period that forced the ensuing sudden-death period. It was his insertion into the lineup that helped spark the Titans' winning comeback. Other contributors this season have included senior driver Chris Hurley, a two-year program player who had his season curtailed by a broken hand in the final weeks of the season, senior wing Edgar Cisneros and juniors Joel Kownacki and Justin Raya, a transfer from Mar Vista who was pressed into goalkeeper duties with the loss of returner Alex Howell. Newcomers who have seen extensive varsity assignments include juniors Peter Silva, James Laxson and Derek Gallanosa and freshmen James Hiney and Danny Herrera.
Itís been the play of the newcomers that has supplied a bright spot to offset some of the teamís woes this year, according to Eastlake coach Don Swanson. "We lost some players who should be playing for us who arenít. The new players have worked their tail off. Itís been a refreshing breath of fresh air," he said.
The Titansí heroic comeback runs last weekend were a testament to the teamís desire to persevere. "They played valiantly," Swanson said. "We were undermanned. They played their hearts out. Theyíre to be commended for it. They battled," Swanson said.
Metro Tournament notepad
Shootout heroics
Chula Vista won the three-team shootout with a 4-3 edge in the sudden-death round with Eastlake after both the Spartans and Titans finished with seven goals apiece in the initial three-way rotation. Hilltop, with six shootout goals, was relegated to the fifth-place game. Clair-Williams, Cruz and Raya all led Eastlake with three shootout goals while Gregorio Flores scored three times for Chula Vista. In the sudden-victory round, the Titans promptly rang off three goals against Spartan netminder Chris Young before Eastlake's Laxson shot wide and Young blocked Silva's final attempt. Against Chula Vista, Clair-Williams started the Titans' title game bid by stopping Young but the Spartans sealed their trip to the tournament finals with four unanswered shootout goals, with Jeremy Olaso, Bryan Flitcraft and Flores all scoring to tie the score at 3-3 and two-meter guard Jon Hamblin then notching the decisive shootout tally.
Dramatic endings
Flitcraft helped set up the shootout round by scoring the game-tying and then game-winning goal in the Spartans' 5-4 come-from-behind overtime win against Hilltop. The Lancers, who twice held two-goal leads in the game, saw their advantage disappear in the final quarter as Danny Lopez first brought Chula Vista to within 3-2 by finishing off an outlet pass from Young and Flitcraft then sent the game into overtime by leveling the score with 31 seconds to play in regulation off a pass from Lopez. In the first of two three-minute overtime periods, the Spartans recorded two near misses as Jack Fritz hit the post and Flores was wide on a power play attempt. The second overtime period opened with some controversy on Hilltop's side as the Lancers were charged with fielding an illegal player to start the period. A red flag had been raised at the scoring table in the first overtime session to signify that one of Hilltop's players had collected three ejections and thus was ineligible to continue playing. The Lancers maintained that their player had accumulated only two ejections and thus was eligible to continue in the game. However, a four-meter penalty shot was awarded to Chula Vista with 10 seconds elapsed in the second overtime period and Flores scored past Hilltop goalie Pedro Martinez to give the Spartans a 4-3 lead. The drama -- and heroics -- were only beginning. Nick Davidson matched the goal for the Lancers by slipping a skip shot past Young with 1:12 to play in the period. With the score knotted at 4-4, Flitcraft secured a ride on his teammates' shoulders by scoring the game-winner on an outside shot with 47 seconds to play.
Powerpacked punch
Bonita Vista made its top seed in the tournament hold up by getting past its two bracket opponents by a combined 26-1 score after defeating Montgomery 11-1 and Mar Vista 15-0. Freshman Andrew Hibbard led the Barons with six goals between the two games.