SD Prep Sports: Water Polo
www.geocities.com/sdprepsports
E-mail us at [email protected]
Home Swimming/Diving Cross Country Track & Field Roller Hockey Water Polo CIF Scorecard
Barons swamp Titans, nab CIF record 14th consecutive league title
By Phillip Brents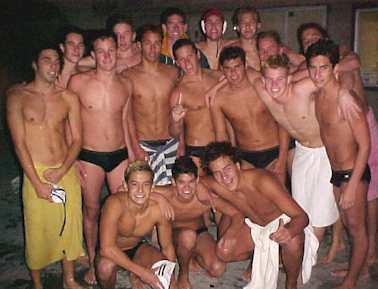 CHULA VISTA, Oct. 31, 2000 -- Bonita Vista High water polo coach Jim McNees has to hope his team can carry its late season momentum into the upcoming San Diego Section Division I playoffs. The Barons earned a berth in the post-season draw after defeating Eastlake, 18-9, in the title game of this year's Metro Conference championship tournament to earn their section-record 14th consecutive league championship banner.
Tuesday's victory in front of a standing-room only crowd at the Southwestern College pool capped a perfect 3-0 tournament performance by Bonita Vista, which racked up a lethal 54-11 scoring edge against its South Bay foes.
The Division I playoffs are set to begin Thursday. The Barons, as league champions, will be out to secure a home site game at Monday's seeding meeting.
"I thought the kids played very well. We struggled early in the season. Now we're starting to jell together — playing more as a team rather than as a bunch of individuals. We're starting to get more people involved offensively and defensively," explained McNees, whose team takes a 13-12 overall record into post-season play.
Seven Barons either registered a goal or assist in Tuesday's championship matchup against the Titans, who will be seeking to land a berth in the Division II playoffs, which get under way Wednesday. Eastlake dropped to 15-10 overall.
Bonita Vista, which shot out to a quick 3-0 edge, led 12-3 at one point in Tuesday's game.
"We just got fired up. We knew what we had to do," explained Baron senior Mike Dinsmore, who led all scorers in the water with eight goals and three assists and totaled 15 goals for the tournament. "We had tradition to live up to. We set a new CIF record, winning 14 Metro titles. We all came out and knew what we had to do."
Teammate Paul Hernandez, who had a goal and assist in Tuesday's game, echoed the sentiment of those words. "It was really great since we struggled through the middle part of the season. We came out with a lot of intensity tonight," he said.
Bonita Vista, seeded second in the seven-team Metro draw, opened tournament play last Saturday with 19-1 and 17-1 victories against Southwest and Hilltop, respectively. Dinsmore had four goals in the win against Southwest and added three goals against Hilltop. Alejandro Loya finished second in tournament team scoring with nine goals. He had five goals in the championship game to help deliver the knockout punch against the Titans, who had rallied to trail 14-8 late in the game.
Also scoring goals in Tuesday's title matchup for the Barons were two-meter guard Lee Hopper, Galen Maddocks, Jeff Balistreri and both Josh and Paul Hernandez. Hopper finished the three tourney games with seven goals. Bram Hanono had three goals in both of last Saturday's games. Goalie Patrick Loitz had eight saves in the title game after allowing just two goals last Saturday.
Tuesday's championship game victory gave Bonita Vista a final 8-1 league record, and made amends for an 11-10 loss to Montgomery in first-round play. The Barons defeated Eastlake 15-9 in the teams' first-round meeting. The Titans were led in the pool against Bonita Vista by four players who each had two goals: Chris Hurley, Mark Esquivel, Christian Kownacki and Nik Clair-Williams. Robert Cruz also scored one goal.
Williams racked up eight goals to pace Eastlake in tournament scoring, followed by Esquivel with five goals. Williams had six goals, three assists and six steals in the Titans' 13-1 semifinal victory against Chula Vista last Saturday. He entered this week's El Cajon Valley Division II tournament with 99 goals. Titan sophomore goalie Alex Howell finished the championship game with his share of saves but found the defense in front of him out-numbered too many times by the speedy Barons.
"Eastlake has improved immensely from the first time we played them," the Barons' McNees said. "I was really impressed with the way they played."
Chula Vista, seeded fifth, captured Tuesday's third place game with a nail-biting 3-2 win against sixth-seeded Hilltop. Both teams advanced to the third place matchup with upset victories last Saturday. The Spartans edged four-seeded Mar Vista, 7-6, while Hilltop scored an emotional, thrill-packed 17-15 overtime decision against third-seeded Montgomery.
Junior goalie Chris Young provided the heroics for Chula Vista (5-8) in the wins against Mar Vista and Hilltop. He had 19 saves to help guide the Spartans past the Mariners and recorded 17 saves in Tuesday's third place game in another inspirational performance.
"The last two years have been less than super fantastic for us. This year it's started to pick up," said Young, who has averaged 16 saves per game this season. "I spent a lot of time working in the offseason. It paid off. I get hyped up in the water."
Chula Vista's John Zacheroff got the only goal of the tightly-played first period, taking a feed from Young after he made a save in the Spartan cage. The Spartans made it 2-0 on a second-period goal by Gregorio Flores, assisted by senior captain Alex Schurek. But Hilltop halved the deficit on the scoreboard when Sam Jones beat Young on a rebound off the post. The score stood at 2-1 at halftime after Schurek tipped out a Hilltop shot that had gotten past Young.
Lancer senior Philip Beaver beat Young on a wicked backhand shot to tie the game in the third period. The game-winning goal, scored on Halloween night, was appropriately reserved for CV junior Jon Hamblin, who still sported festive face paint. A long, outlet pass from Young again set up a goal. Afterward, Young and the Chula Vista defense weathered the remainder of the final period as Hilltop finished with a two-to-one margin in shots for the game.
Notepad
Montgomery, which was paced by junior Jose Serratos' 13 tourney goals, was the tough luck team in last Saturday's preliminary round. After dropping the overtime clash against Hilltop, the Aztecs fell 10-9 to Mar Vista in a consolation game. Even the team's one tourney win — against seventh-seeded Southwest — didn't come easy. Montgomery defeated the Raiders, 13-12.
The opening round of the Division II playoffs start Wednesday, Nov. 8, followed the next day by Division I first-round play. Two quadruple-headers, featuring four quarterfinal games in both Division I and Division II, are scheduled to take place Saturday, Nov. 11 at the La Jolla Jewish Community Center, starting at 8:30 a.m.
Preliminary Round
Oct. 28/Southwestern College
Quarterfinals
(Seeding denoted)
(2) Bonita Vista 19, (7) Southwest 1
(6) Hilltop 17, (3) Montgomery 15/OT
(5) Chula Vista 7, (4) Mar Vista 6
(1) Eastlake — bye
Semifinals
(2) Bonita Vista 17, (6) Hilltop 1
(1) Eastlake 13, (5) Chula Vista 1
Consolation Games
Montgomery 13, Southwest 10
Mar Vista 10, Montgomery 8
Mar Vista 15, Southwest 9
Championship Round
Oct. 31/Southwestern College
Third Place Game
(5) Chula Vista 3, (6) Hilltop 2
Championship Game
(2) Bonita Vista 18, (2) Eastlake 9
2000 All-Tournament Team
(Selected by The Star-News)
Mike Dinsmore Bonita Vista Senior
Chris Young Chula Vista Junior
Alejandro Loya Bonita Vista Senior
Nik Clair-Williams Eastlake Sophomore
Lee Hopper Bonita Vista Senior
Christian Kownacki Eastlake Senior
Brian Colsell Hilltop Senior
Honorable mention: Jose Serratos (Montgomery); Paul Hernandez (Bonita Vista); Philip Beaver (Hilltop); Tommy Tong (Eastlake); Alex Schurek (Chula Vista); Mike Goggin (Mar Vista).
Metro Conference Preliminary Rounds
Eastlake 13, Chula Vista 1
The top-seeded Titans, despite missing players because of illness, defeated the upset-minded Spartans with a mix of offense and defense to earn an appearance in this year's tournament championship game. Nik Clair-Williams led the offense with six goals and three assists. He was supported by three goals from Mark Esquivel, a goal and three assists by Tommy Tong, a goal and two assists by Chris Hurley and four assists from Christian Kownacki. Tong and Clair-Williams helped key the defensive effort with a team-high six steals apiece while Kownacki contributed four steals and Robert Cruz had three steals. Cruz and Steve Sanchez, who started in the cage, also scored one goal apiece. Alex Howell recorded a second-half shutout with six saves. Sanchez, who was making his first varsity goaltending start, made four saves in the first two periods. "I was kind of nervous but the team backed me up," Sanchez said.
Bonita Vista 17, Hilltop 1
Alejandro Loya paced the Barons into the tournament championship game by scoring a game-high four goals. Mike Dinsmore and Bram Hanono both contributed three goals while Lee Hopper scored a pair of goals to help fuel the Bonita Vista offensive attack. The win evened the Barons' season record at 12-12. Both Dinsmore and Hopper scored four goals apiece in the team's 19-1 victory against Southwest earlier in the day. Hanono had three goals in that quarterfinal game while Jeff Balistreri scored two goals. Bonita Vista has outscored its two tourney opponents 36-2. Baron goalie Patrick Loitz enters the tournament title game with a 1.00 GAA after wins against Southwest and Hilltop.
Hilltop 17, Montgomery 15/OT
The third-seeded Aztecs appeared to be cruising into a semifinal-round date with Bonita Vista before the sixth-seeded Lancers engineered an inspired comeback in what was easily the most exciting game in Saturday's preliminary play. The score stood at 11-10 in Montgomery's favor after three periods before Hilltop senior team captain Brian Colsell tied the game at 13-13 to send the matchup into overtime. Colsell promptly gave the Lancers a 14-13 lead on a four-meter penalty shot. But that was answered by a four-meter shot by Aztec junior Steven Mora to deadlock the teams at 14-all. Sam Jones gave Hilltop a one-goal lead at the end of the first overtime before Montgomery's Roberto Sandoval leveled the score at 15-15 with the first goal in the second overtime period. But the Lancers closed out scoring on goals by Richard Davidson with 1:25 and :27 left in the contest.
The win was only the second all season for Hilltop. "We finally started working as a team," noted Lancer coach Linda McCoy. "Pedro Martinez did a find job in goal, which allowed Philip Beaver in the field to help us." Martinez made nine saves in the game while Beaver, formerly the team's netminder, scored three goals. Hilltop was led on the scoreboard by sophomore Nick Kolata with five goals and Colsell with four goals.
The Aztecs, who finished first-round seeding play with a 5-1 record and 11-10 victory against defending league champion Bonita Vista but suffered foul trouble late in the game against the Lancers, were keyed by Jose Serratos' four goals. Francisco Rodriguez had three goals for Montgomery, which also received two goals apiece from Mora, Raul Curiel and Aaron Romero. Goalie Jorge Camacho had eight saves in the loss.
Chula Vista 7, Mar Vista 6
Spartan junior goalie Chris Young was the difference on defense with 19 saves in the upset win against the fourth-seeded Mariners. Jeremy Olaso, John Zacheroff and Gregorio Flores all scored twice for Chula Vista, which also got a goal from senior captain Alex Schurek. Spartan coach David Hunt otherwise had one word to define his team's victory: "Defense."
"Alex is a key and Chris is obviously a key," said Hunt, whose team improved to 4-7 overall with the win. "The importance is on the team as a whole. We have a couple guys who are playing their first year. What's helped us at this point of the season is just the experience of playing together as a team."
Mar Vista, which is in the midst of a rebuilding year, according to coach Chuck Thurman, was led by three goals by Mike Goggin and two goals by Omar Flores, the team's second-leading scorer on the season. The Mariners were without the services of their leading scorer, Matt Pendergraft, for the game against Chula Vista. Pendergraft and Goggin scored three goals apiece in a subsequent 10-9 win against Montgomery while Joe Czerwiec and Flores both scored twice. In the latter game, Jose Serratos led the hard-luck Aztecs with five goals. Serratos finished as Saturday's high scorer with 13 goals in three games. The Mariners closed out the tournament with a 15-9 victory against Southwest.