SD Prep Sports: Water Polo
www.geocities.com/sdprepsports
E-mail us at [email protected]
Home Swimming/Diving Cross Country Track & Field Roller Hockey Water Polo CIF Scorecard
Top seeds Coronado and Mira Costa on a collision course?
Coronado Islander Invitational (preliminary round) photo album
Coronado Islander Invitational (championship round) photo album
By Phillip Brents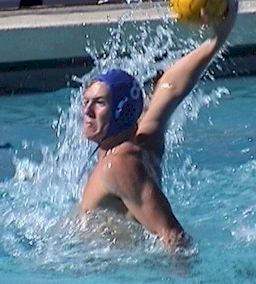 CORONADO, Calif., Sept. 28, 2001 -- The top two seeded teams both opened with lop-sided victories to jump-start play in the 2001 edition of the Coronado Islanders Invitational boys varsity water polo tournament. Top-seeded Coronado, the defending state champions, routed the Vista Panthers, 19-3, in the opening game of the 12-team tournament on Wednesday, Sept. 26, and then topped Palo Alto by a 21-6 score on Friday, Sept. 28, to capture its three-team pool while second-seeded Mira Costa, the defending Southern Section Division III champions, defeated the Scripps Ranch Falcons, 16-4, to conclude the second day of game action on Thursday, Sept. 27, before finishing atop its three-team pool with a 13-7 victory against Valley Center to round up bracket play on Friday, Sept. 28.
The tournament, which annually serves as a midseason barometer for San Diego Section teams, features eight area ranked teams besides four out-of-town powers. Ranked San Diego Section teams participating in this year's field include five top 10-ranked Division I teams (#4 Bonita Vista, #6 Vista, #8 Rancho Buena Vista, #9 Mt. Carmel and #10 Valley Center) and three top 10-ranked Division II teams (#2 Coronado, #4 La Jolla and #7 Scripps Ranch). Out-of-section teams include Buchanan, Mira Costa, Dos Pueblos and Palo Alto.
The local ranking are likely to change if the first three days of competition are any indicator.
"When I start thinking about the quality of this tournament, I'm excited," said Coronado head program coach Randy Burgess. "My one disappointment is that we weren't able to use the combat training pool."
The finals of the tournament were scheduled to be played at the Naval Amphibious Base Combat Training Tank pool but the recent terrorist attacks against the United States put that plan on hold, with all games instead held at the Coronado Municipal pool.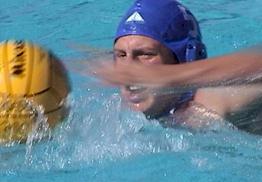 Thomas Hopkins led the top-seeded Islanders against Vista with five goals, one assist and eight steals while Dougie Mann added four goals and one assist. Andrew Dunlevy had three goals, three assists and one steal and Tom Jay contributed three goals and one assist for Coronado, which opened up an 11-1 halftime lead. As a team, the Islanders recorded 26 steals and converted on all three of their man-power opportunities while failing to give up any player ejections.
Also scoring goals for Coronado, which built an early 6-1 first-period lead on the strength of two goals each by Hopkins and Mann, were Alex Ratcliffe, with two goals and two assists, Jamal Motlagh with one goal and four assists, and Brian Singleton with one goal and one assist. Ratcliffe and Motlagh both contributed three steals. Connor Herron had two assists in the game while Alexis Fernandez also had one assist. Starting goalie Gant Morgner was credited with six saves and one steal while Scott Syverson had two saves in reserve duty.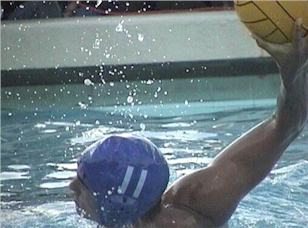 In the victory against Palo Alto, Ratcliffe scored three times and Hopkins added two goals to get the Islanders off to a 7-1 first-period edge. Three goals by Mann in the second period boosted the Coronado lead to 11-4 at halftime. A run of 10 unanswered goals gave the Islanders a 21-4 lead before Palo Alto's Peter Davis rounded out the scoring in the game with two goals. A nearly unstoppable force in the two-meter position (or from anywhere else in the pool, for that matter), Mann paced Coronado in the scoring department with seven goals while contributing three steals. Hopkins finished the game with four goals and six assists and three steals to highlight another standout effort while Ratcliffe had three goals, four assists and three steals. Motlagh added three goals for the Islanders, who also received two goals and one assist from Alexis Fernandez and single goals from Andrew Dunlevy and Nick Bullard. Coronado recorded 18 team steals and was 2-for-2 on man-up situations while holding their opposition scoreless on three man-down situations. Morgner, the starting goalie for the Islanders, made seven saves while recording three assists and three steals. Syverson, once again handling reserve duty, made six saves while allowing two goals.
In winning its two bracket games, Coronado finished with a +31 goal-differential by outscoring its opponents 40-9.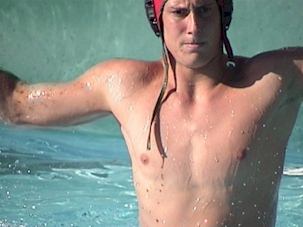 Tyler Krikorian paced Mira Costa's ferocious offensive attack with six goals while teammates Pat O'Hare and Travis Buchanan both scored three goals apiece in front of goalies Will Didinger and Ron Giery in the team's opener. The game's outcome was sealed much in the same fashion as in the Islanders' opening game result — by forced turnovers and steals on the part of the winners, who steadily pulled away on the scoreboard as the game wore on and the Falcons wore down. Andre Encannacco led Scripps Ranch with a pair of goals.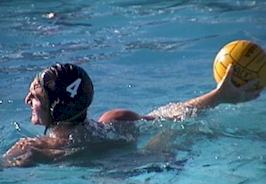 Mira Costa pushed out to leads of 3-0 (first quarter) and 7-3 (halftime) against Valley Center and held a comfortable 12-4 advantage entering the final period of play. Krikorian was once again the big man in the tank with eight goals while Aaron Mellman added two goals and four players -- John Lee, Nick Cowgill, Chris Drum and Sean Hastings -- all scored one goal. Charlie Weaver and Kevin Callister led the Jaguars with two goals apiece. Cody Youngkin, Daniel Calvert and Ryan Sheehy all added single goals for Valley Center.
In tournament games Wednesday:
Mt. Carmel 10, La Jolla 6
Ryan Lindroth led the Sundevils with four goals while teammate Scott Blyleven scored three times. Mt. Carmel opened a lead with a four-goal second period. Christian Guth placed La Jolla with two goals. The Vikings made a game of it with three goals in the third period.
Scripps Ranch 11, Valley Center 7
Kevin Israel and Vince Gonzalez both scored four goals to key the Falcons, who took control of the contest with a four-goal second period. Valley Center, which exploded for five goals in the final period, was led by Charlie Weaver's four goals. Two of Weaver's goals came in the Jaguars' final period flurry.
In tournament games Thursday:
Rancho Buena Vista 10, Bonita Vista 9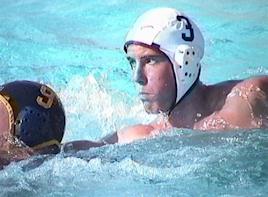 The pivotal call — or rather, mis-call — in this back-and-forth contest came with 22 seconds to play in regulation with the teams tied 8-all when Bonita Vista coach Dan Way signaled for a time-out after his team regained possession of the ball only to realize he had already used up his two allotted time-outs in the game. Possession reverted to the Longhorns, who had scratched their way back from an 8-5 deficit, and Joe Carter scored the game-winner with one second to play as RBV played for the final shot of the game. "I blew that one — I'm humble," Way admitted.
The Barons, who dropped a 10-7 non-tournament game to Scripps Ranch two days previously, led 3-2 after the opening period on a pair of goals by Joel Larimer and were up 5-3 at halftime after second-period scores by Greg Broadfoot and Galen Maddocks (on a penalty shot). But the Longhorns, who improved to 8-5 on the season with the win (5-3 against San Diego Section teams), kept themselves in the contest with a scrappy third period played by both teams. RBV narrowed the score to 5-4 on a goal by Adam Crosswhite but Bonita Vista (4-5) regained its two-goal lead at 6-4 on another goal by Larimer. The Longhorns once again trimmed the Barons' lead to a single goal when Mike Maughan scored. But a pair of unanswered goals by Maddocks promptly pushed Bonita Vista to an 8-5 lead. Jason Sorenson scored a key goal for RBV at the tail end of the period and Cheyne O'Gorman got the Longhorns off to a positive start in the final period by scoring the first goal of the quarter.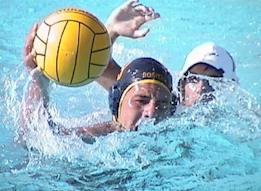 Maddocks appeared to give the Barons the lift again by scoring on a back-hand shot while being mauled in the two-meter position. But Bonita Vista would surrender the final three goals of the game. The game appeared headed for at least a deadlock after goals by Crosswhite and Sorenson knotted the score at 9-9 with 2:45 to play. Baron senior goalie Patrick Loitz came up with two key saves to keep the score level while Bonita Vista just narrowly missed taking the lead on an excellent opportunity in front of Longhorns goalie John Taylor, who was credited with four saves in the game. The Barons had hoped to play for the final shot of the game — and the possible game-winning goal — before Way made his errant time-out call.
Both Sorenson and Crosswhite finished the game with three goals apiece for RBV while Carter, O'Gorman, Maughan and Paul Snyder all scored single goals. Carter added three assists and two steals while O'Gorman had two assists and two steals. Maughan had one assist and three steals while Ian Slover had two steals.
Maddocks keyed Bonita Vista's scoring attack with five goals, with Larimer scoring three times.
La Jolla 8, Buchanan 5
The Vikings rebounded from an opening day loss to Mt. Carmel with two-goal performances by Matt Marinovich, Christian Guth and Grayson Lafrenz. La Jolla led 5-2 at halftime and 6-4 after three periods. Nic Maes and Bane Krivokapic led Buchanan with two goals apiece.
Dos Pueblos 14, Rancho Buena Vista 4
K. C. Feeley paced Dos Pueblos' offensive attack in its win against RBV by scoring six goals while teammate Jake Harter scored five goals. The second half was the difference for Dos Pueblos, which outscored the Longhorns 9-1 in the final two periods after holding a narrow 5-3 halftime edge. The teams were knotted at two goals apiece after the first period of play. Billy Umoff scored two goals in the final period to help Dos Pueblos seal the victory. Both Feeley and Harter racked up two goals apiece in the third period to turn the game's momentum.
In tournament games Friday:
Dos Pueblos 8, Bonita Vista 6
Dos Pueblos won its bracket, though the pesky Barons made a run of it to make amends for a disappointing one-goal setback in their tournament opener against Rancho Buena Vista. Dos Pueblos took a 2-1 first-quarter lead but had difficulty shaking Bonita Vista thereafter. The Barons fought back for a 2-2 tie and narrowed the score to a goal on three separate occasions, trailing 7-6 before Jake Harter gave Dos Pueblos some additional breathing room with 4:11 to play in regulation. Harter led Dos Pueblos with three goals, including two in the final period. K. C. Feeley had two goals in the third period to boost Dos Pueblos to a 6-4 lead. Joel Larimer led Bonita Vista with four goals, including two in the second period as the Barons trailed just 4-3 at the half. Greg Broadfoot scored twice for Bonita Vista, which dropped its two bracket games by a total of three goals.
Vista 8, Palo Alto 8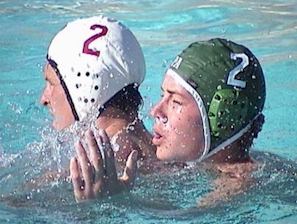 Peter Davis notched the game-tying goal for Palo Alto with 2:05 remaining in regulation play to cap a team-leading six-goal performance. Vista's Scott Garrett had given his team an 8-7 lead with 3:31 to play in the final period. Palo Alto had rallied from a 5-4 halftime deficit to lead 7-5 after three period but Vista scored the first goal of the fourth quarter to grab the momentum. Garrett matched teammate Chris Lacroix with two goals for Vista while Mike Regan, Jason Villescas, Clint Stone and Kellen Asebroek all scored single goals for the Panthers. Ryan Fortune had two goals for Palo Alto.
Buchanan 12, Mt. Carmel 5
Buchanan evened its record at 1-1 in bracket play by taking a 10-5 lead through three periods against the Sundevils. Bane Krivokapic paced Buchanan with six goals while Nic Maes added three goals and Jeff Morse added two goals to the winning effort. Justin Garver led Mt. Carmel with a pair of goals. The Sundevils received single goals from Phil Spann, Danny Lorber and Scott Blyleven.
Tournament notepad
Saturday's championship finals schedule is as follows: cross bracket games beginning at 7 a.m. followed by semifinals at 10:20 and 11:10 a.m., the 11th-place game at noon, ninth-place game at 1 p.m., seventh-place game at 2 p.m., fifth-place game at 3 p.m., third-place game at 4 p.m., championship game at 5 p.m.
For a complete tournament schedule and scoreboard, access the Web site at www.nadopolo.com.
In non-tournament play, the Coronado JV team defeated Valley Center, 12-5, on Wednesday, Sept. 26, and topped Dos Pueblos, 9-8 in overtime, on Thursday, Sept. 27, in another junior varsity contest.