SD Prep Sports: Water Polo
www.geocities.com/sdprepsports
E-mail us at [email protected]
Home Swimming/Diving Cross Country Track & Field Roller Hockey Water Polo CIF Scorecard
Sundevils scorch Barons in playoff opener
To view the Mt. Carmel-Bonita Vista playoff photo album, click here
By Phillip Brents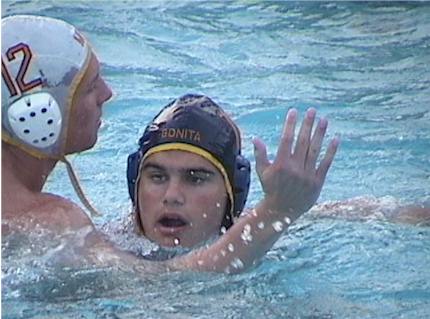 CHULA VISTA, Nov. 7, 2001 -- Saturdayís quarterfinal-round matchup between third-seeded Valhalla (21-8) and sixth-seeded Mt. Carmel (16-11) will be a homecoming of sorts for Sundevil coach Mitchell Hoffarth, who coached the Norsemenís junior varsity team for six years.
Hoffarthís Sundevils have the makings of a team to be reckoned with in the future as demonstrated in their 13-6 first-round victory against Metro Conference champion Bonita Vista Wednesday at the Southwestern College pool.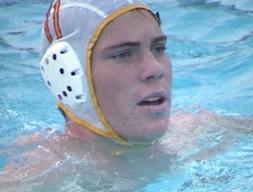 Senior Scott Blyleven paced Mt. Carmelís win with five goals and two assists while senior teammate Jeff Rich scored three goals. After that it was time for the underclassmen to shine ó a host of them. Junior Tyler Allen contributed five assists while racing up and down the pool in alternate offensive and defensive roles while junior two-meter guard Ryan Lindroth ó who missed the Sundevilsí initial encounter with the Barons in the Coronado Islander Invitational on Sept. 29, a 6-3 Mt. Carmel victory ó contributed to the all-around team effort with two goals and four steals. Junior Justin Garver pitched in with four steals and one goal while junior Danny Lorber also scored once in the contest. Sophomore goalie Dane Benham helped key the Sundevilsí standout defensive game with five steals, one assist and one goal (scored from his cage with 4:35 left in the contest).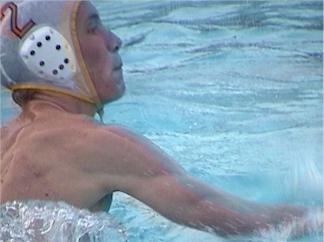 Mt. Carmel essentially put the game away with a 6-0 scoring run to jump-start the matchup. The Sundevils led 4-0 after the first quarter.
Bonita Vista, a quarterfinalist last season, ended its season 15-13.
"It takes a while to be where you want to be to play against the great teams," Baron coach Dan Way said in placing an ending to his teamís season.
The difference in the quality of competition each team faced in its respective league was evident from the initial seconds of the game. Mt. Carmel, which competes in the brutally-strong Palomar League, came out with a defensive press that led to opportunistic offensive counter-attacks. Bonita Vista senior goalie Patrick Loitz ó the Metroís Player of the Year ó was bombarded all evening long and made his share of saves but repeatedly faced too many one-on-one and two-on-one breakaways to defend.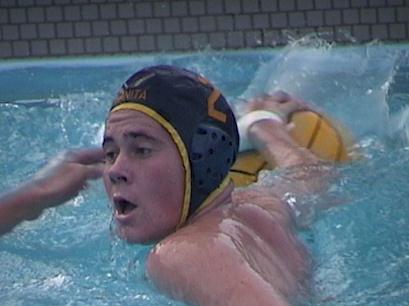 All six of the Palomar Leagueís teams qualified for the Division I playoffs, with four earning top six seeds, and five advancing to Saturdayís eight-team second playoff round. Palomar League champion Poway (19-5) earned the top seed in the Division I field, followed by fourth-seeded Torrey Pines (21-7), fifth-seeded Vista (15-10-1) and the Sundevils. Also qualifying for the Division I playoffs were eighth-seeded Rancho Buena Vista, which ended its season 10-19 after a first-round loss to Avocado League runner-up Fallbrook, and 12th-seeded Rancho Bernardo, which lost to Vista. In winning last weekendís Metro Conference tournament ó and cementing the schoolís section-record 15th consecutive league championship ó the Barons outscored their three conference opponents 43-2. No other Metro team qualified for the postseason tournament.

"We play a lot tighter. Itís a quality league ó all six Palomar League teams made the playoffs, four made top seed in seeding. I think that definitely helped and prepared us for this game," Hoffarth said. "Weíve played better and better as the year has gone on. Thatís where you want to be, especially in CIF."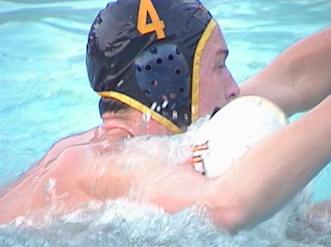 Blyleven helped fuel Mt. Carmelís six-goal game-opening run by scoring three times. Lorber opened scoring on an outlet feed from Benham and Rich made it 2-0 by scoring on a point-blank shot after a series of possessions ended in the Sundevilsí favor with 3:04 elapsed in the first period. Blyleven got his first goal on a two-on-one break that was initiated by a blatant Baron giveaway in neutral water. With 2:22 left in the opening quarter, it was 4-0 when Lindroth beat Loitz on a four-meter penalty shot. Execution was the key word for Mt. Carmel while Bonita Vista squandered two man-up scoring opportunities.
"We came out sleeping. Four-nil. The first quarter was the difference," Way sighed.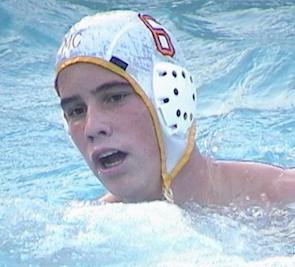 Blyleven quickly notched the opening two goals of the second period to hike the Sundevilsí lead to 6-0. The Barons finally breathed some fire into the game by closing the period with a pair of unanswered goals to trail 6-2 at halftime. Senior Greg Broadfoot, taking a feed from freshman standout Andrew Hibbard, got Bonita Vistaís first goal with 5:32 remaining in the period. The Barons got another one back four minutes later when Loitz sent an outlet pass down field to Mike Pilgrim, who beat Benham one-on-one.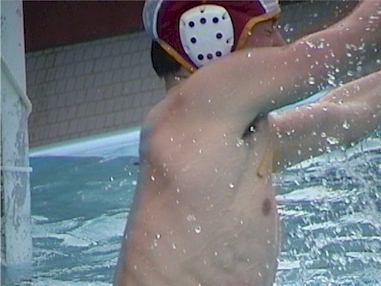 But the host teamís vision of any comeback was dashed just under two minutes into the third quarter when Garver converted a pass from Allen to hand the momentum back to Mt. Carmel and a 7-2 lead. Hibbard continued his impressive showing in the water by feeding senior Joel Larimer for the Baronsí third goal but Rich promptly scored to put Mt. Carmel ahead 8-3. Bonita Vista senior Bram Hanono cut his teamís deficit to 8-4 by scoring on a Sundevil kickout with 2:38 left in the period. However, Mt. Carmel retaliated with two unanswered goals to end the quarter and move ahead 10-4 on the scoreboard. Blyleven made it 9-4 on a power play and Rich scored from seven meters out with four seconds to play in the period.
Baron senior Andrew Henning put his name in the scorerís book with a power play goal to open the final quarter. The Sundevils continued to increase their lead, however, on an open-net shot by Blyleven and Benhamís pool-length lob into the opposing cage. The goal was Benhamís first of the season scored from the goalie position.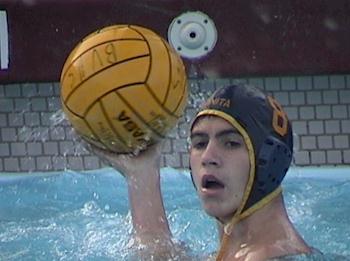 Hibbard closed out a scintillating first season with a goal with 4:11 left in the game. The waning minutes of the contest continued to frustrate the Metro champs. Lindroth scored his second goal of the contest with 3:06 remaining off a pass from Rich. With Hoffarth having made generous substitutions from his bench, backup goalie Jon Schlaf denied BVís Art Reed on a penalty shot with 2:08 to play.
Hoffarth credited Blyleven, Lindroth, Rich and Benham with solid performances for his team in the victory. The presence of Lindroth proved to be the wild card the Barons could not overcome. "He controls the middle of the pool when he decides to," Hoffarth said of Lindroth.
Overall, it was pressure defense and opportunity that handed Mt. Carmel the win. "This is a style we play now. I like to play a defensive game than runs into offense," Hoffarth said.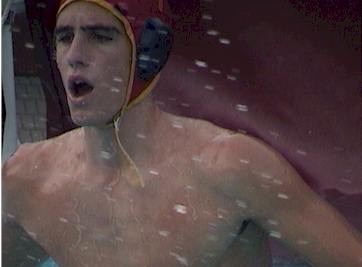 The Baronsí loss took little away from the luster put on the teamís season by Loitz. "Patrick is a great goalie with tons of natural skill. He dominated the league," Way said.
Loitz was the Baronsí lone returning starter off last seasonís team and Way said he looked to him for leadership in the pool. "Heís the leader with the team. Heís back there communicating with the team all the time," Way noted.
Loitz was one of two Bonita Vista players named to the All-Metro First Team, joining Hibbard, and one of seven Barons overall to earn All-Metro recognition this season. Seniors Hanono and Larimer each earned Second Team honors while all-league honorable mention recognition went to seniors Broadfoot and Henning and sophomore Jesse Gallegos.
Hibbard, playing with ice in his veins, was all over the pool while executing both offensive and defensive roles. He had one goal and two assists in the contest, having a part in half his teamís scoring output.
Division I notepad
Top-seeded Poway (19-5) will play Fallbrook (14-12) in Saturdayís opening game at 8:30 a.m. at the La Jolla Jewish Community Center. Torrey Pines will take on Palomar League rival Vista at 9:45 a.m., followed by the Valhalla-Mt. Carmel contest at 11 a.m. Second-seeded Carlsbad (24-4) will play Granite Hills (19-10) at 12:15 p.m. The third-seeded Norsemen are 21-8 after finishing Grossmont South League play with an undefeated 8-0 record.
Fallbrook advanced with its 13-4 win against RBV while Vista stopped Rancho Bernardo by a 14-4 score as Mike Regan notched four goals and teammates Scott Garrett and Robert Osorio both scored three goals. Granite Hills ended Grossmont North League runner-up West Hillsí season with a 17-12 victory.