SD Prep Sports: Water Polo
www.geocities.com/sdprepsports
E-mail us at [email protected]
Home Swimming/Diving Cross Country Track & Field Roller Hockey Water Polo CIF Scorecard
Barons find a Way
By Phillip Brents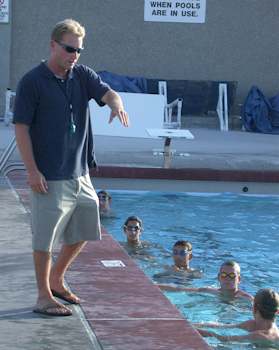 CHULA VISTA, Calif., Sept. 13, 2001 -- For the first time since the sport was refunded by the Sweetwater Union High School District for the 1987 season, the Metro Conference celebrated its 2000 campaign with tri-champions. Bonita Vista, Eastlake and Montgomery were each awarded a share of the championship banner ó albeit after the playoff season was officially concluded.
There shouldnít be any ambiguity in naming a champion in 2001. The overall league champion ó and automatic playoff qualifier for post season play ó will be selected on winning percentage, regular season and tournament play combined, with the last meeting carrying the most weight in breaking any ties.
Bonita Vista defeated Eastlake, 18-9, to claim last yearís tournament title ó and apparent sole rights to the Metro banner, the programís San Diego Section record 14th consecutive. But a regular season loss by the Barons to Montgomery later held up in a postseason meeting of league administrators to amend the order of finish.
A banner now hangs in the Eastlake High gym to attest to that decision.
Bonita Vista, however, once again remains the favorite to repeat.
Hereís a look at last yearís top four tournament finishers and how they might fare this year:
Bonita Vista Barons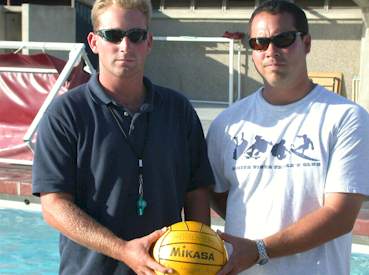 The Barons have won a share or outright possession of every league or conference championship since the sport was refunded by the Sweetwater Union High School District in 1987 and look to continue the tradition under new coach Dan Way, a Bonita Vista alumnus. Way earned the San Diego Section Division I Player of the Year award in 1995 while helping lead his team to a second-place finish in the Division I championship game. A return to the gloried past is on Wayís agenda, though he knows it takes as much as a four-year commitment to the sport to achieve such success.
Last yearís team advanced as far as the Division I quarterfinals, ending its season against a very strong Carlsbad squad. Prior to the playoffs, the Barons defeated Eastlake, 18-9, to claim the conference tournament title ó and rights to the programís San Diego Section record 14th consecutive league title.
Way, 23, is assisted this season by former Baron stars Steve Wiggs (who serves as the schoolís swim coach during the spring season) and Antonio Gallardo, both former Metro Players of the Year, to solidify the link to past tradition. Way played one year at Southwestern before coaching the menís team at Miramar College. Wiggs, 28, played two years at the community college level for Mesa and Grossmont. The coaching staff also includes former Hilltop star Dan Street to further bolster the All-Metro connection.
The practices may be demanding but simply match the end goals.
"My goal is to build a strong program to be in contention for a CIF championship every year," Way said with an air of conviction.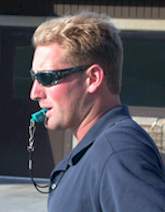 Success at the highest level is something that Way brings to the program. Way also serves as a coach with the San Diego Shores club program. At this yearís Junior Olympic national championship tournament in Michigan, Way was an assistant coach for the clubís national champion under-18 A boys and girls teams. As a head coach, he guided the under-18 B boys team to a top 16 place-finish. Overall, Shores earned recognition as the top club team in the nation.
All the seniors on this yearís Bonita Vista team captured the County Cup championship under Way as eighth graders.
"I donít give them any slack. They know what I expect from them. They respect that," Way said. "The season has started out on a positive note."
The 2001 Barons rate faster than last yearís squad that finished 14-13 overall and boast a good camaraderie among the ranks, according to the coaches.
Itís the latter attribute that could mean the difference in the outcome of the season. "Our strength will be our unity and teamwork," Way said. "Our strength will be our team defense. We will win as a team and lose as a team."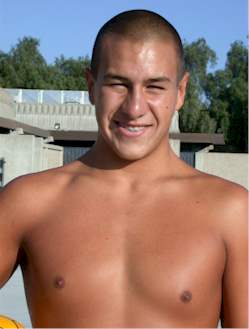 In that vein, Way would rather not look at who ranks as the teamís returning scoring leaders but at the team as a whole. Senior goalie Patrick Loitz is the lone returning starter but the team overall is buoyed by nine varsity returners. Besides Loitz, the senior class includes Mark Adato, Joel Larimer, Andy Jones, Bram Hanono, Jeff Balistreri, Andrew Henning, Galen Maddocks and Art Reed. The juniors include Nate Golder, Brian Kowalski, Doug Schulz and Mike Pilgrim. Maddocks is the teamís key two-meter offensive set while sophomore Jesse Gallegos, last yearís junior varsity goalie, is being groomed along with Henning as two-meter defensive guards. Freshman Andrew Hibbard brings several years to youth experience to the team.
Bonita Vista opens its season Sept. 18 with a home pool matchup against Mira Mesa, starting at 6 p.m. at Southwestern College. That is followed by a key Metro Conference encounter against eastside rival Eastlake the next day at 6:30 p.m. at the same site. Other high-profile matchups include those against Western League power Scripps Ranch on Sept. 25 at 3 p.m. at Miramar College, University of San Diego High on Oct. 4 at 6:30 p.m. at Southwestern and a crucial season-ending encounter at Division II superpower Bishopís on Nov. 1 at 4:15 p.m.
Way prefers not to judge his teamís progress by early season results. "We got some big kids, decent speed," Way assessed. "Weíll peak by the end of the season."
Way prefers not to judge his teamís progress by early season results. "We got some big kids, decent speed," Way assessed. "Weíll peak by the end of the season."
Eastlake Titans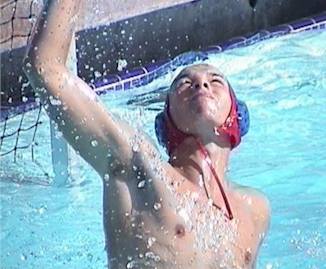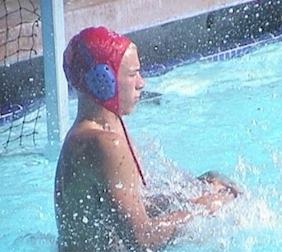 Eastlake, under first-year coach Don Swanson II, finished 15-10 overall but failed to gain an invitation to the Division II playoffs, much to Swansonís dismay.
"What hurt us last year was automatic (playoff) berths. Teams we had beaten got in because they won their conference," the Eastlake coach said.
With a core group of players returning with an additional year of experience under their Speedos, look for the Titans to continue to make waves this season.
"Last year, I wanted to build a foundation and to re-establish tradition. This year, I want to build on last year and get us back to CIF," Swanson explained.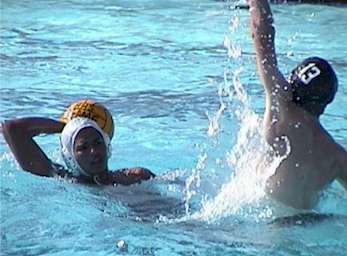 Leading the returners is junior Nik Clair-Williams, who nearly set a school record with 128 goals last year and was named the teamís Offensive Player of the Year. Clair-Williams is playing just his second year of water polo but is coming off a spring campaign in which he captured the Division II 50-yard freestyle swimming title. Itís speed combined with a strong arm that makes Clair-Williams particularly dangerous from his flat/driver position.
Senior Robert Cruz, an all-league honorable mention last season, is the teamís four-year program player and will man duties at the point, both offering balance to the offense as well as supplying prime defensive duties. Junior goalie Alex Howell is entering his third year on the team and may have been one of the more deserving players not to achieve all-league recognition last season. Heís very capable in the cage and if he can rise to occasion in the proverbial "big games" along with Clair-Williams and Cruz, the Titans could be hanging a second consecutive banner in the school gym.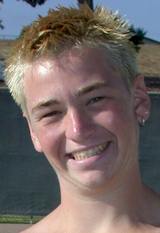 But it will be a team effort that delivers any reward. Eastlakeís other two-year players include junior drivers Chris Hurley and Steve Sanchez and senior wing Edgar Cisneros. Other varsity performers include juniors Joel Kownacki, who played part of last season, and Justin Raya, a transfer from Mar Vista. Players new to extensive varsity assignments whom Swanson will count on include juniors Peter Silva, James Laxson and Derek Gallanosa and freshmen James Hiney and Danny Herrera.
Swanson said he is looking for the returners "to step up and set a good example for the newer players."
Chula Vista Spartans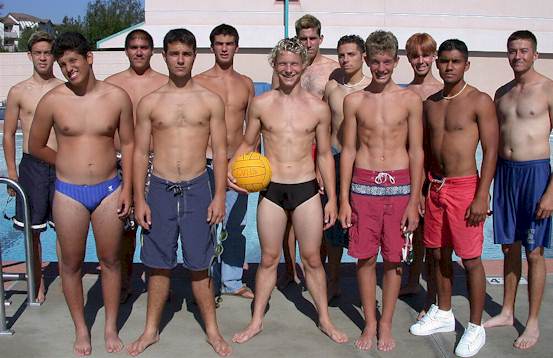 Chula Vista came out of last yearís Metro tournament with an inspirational third-place finish after being seeded fifth, defeating Hilltop by a 3-2 score, behind the scintillating play of goalie Chris Young and timely goals from John Zacheroff, Gregorio Flores and Jon Hamblin. The Spartans, who lost only two starters off last yearís 5-8 team, will be out to improve on that finish, if not maintain it in this yearís seven-team league.
"We have a lot of returners ó a lot of seniors," Chula Vista coach David Hunt said. "Iíd like to do a little better outside the league than we did. How we ended up in the tournament, itís not going to be easy to stay there. Weíre going to have to battle for a spot this year."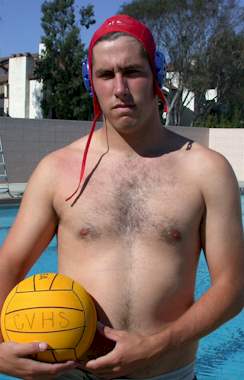 Young, now a senior, leads the corps of impact returners. He stopped 17 of 19 shots in last yearís third-place tournament game against the Lancers and ended the season with First Team All-Conference honors. The Spartans also return their top two leading scorers from a year ago ó Flores, a junior two-meter set, and senior pointman Jeremy Olaso. Flores is a returning 40-goal scorer; Olaso notched just five goals less than his teammate.
Hunt is also counting on leadership in the water from senior drivers Hamblin and Danny Lopez, sophomore forward Bryan Flitcraft and senior forward Jack Fritz. Hamblin and Olaso are being counted on in particular, according to the coach.
"Weíre not the fastest team but Iím looking to be a little more consistent across the board," Hunt explained.
The team benefits from increased involvement in the swimming season as well as a physically more mature cast. Hunt said he is looking for more offensive production from Flitcraft, who was thrust into a starterís role last season as a freshman but who has gotten quite a bit taller this year. "He was overwhelmed physically last year by a lot of the taller seniors," Hunt said.
Chula Vista will also draw from a roster that includes seniors Regan Russell, Zac Copley and Chris Foster, junior James Belcher and sophomores Oscar Zapata and Ian Tisdale.
The Spartans will open their season as part of the Poway tournament, Sept. 13-15. Chula Vista also has non-league games scheduled against Pt. Loma, Mission Bay, Helix and Morse.
Hilltop Lancers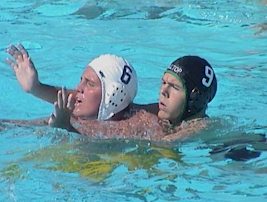 The Lancers proved to be the little team that did at last yearís tournament, rising from its sixth-seeded position to place fourth by a one-goal margin. Hilltop defeated third-seeded Montgomery, 17-15, in overtime in the quarterfinal-round of tournament play. It was only the second win all season for Hilltop, which received five goals in the game from Nick Kolata, then a sophomore.
Kolata is back this season to key the offense. Heís joined by returners Robbie Davidson, Richard Davidson, Kyle Kovar, David Watkins, Jeff Schroeder, Ryan Michaelsen, Nick Davidson, Ryan Raymetz and Pedro Martinez. Martinez played in the net in the tournament win against Montgomery and adds a dimension to the team from his position in the cage. Richard Davidson, Kolata and Schroeder are returning starters. The cast of newcomers include Estevan Felix, Matt Silva and back-up goalie Nick Martinson.
Montgomery, Mar Vista and Southwest complete this yearís seven-team league. Montgomery may have peaked too early last season, finishing 5-1 in first-round play to earn the third seed in the tournament before suffering upset losses to lower-seeded Hilltop and Mar Vista.