SD Prep Sports: Water Polo
www.geocities.com/sdprepsports
E-mail us at [email protected]
Home Swimming/Diving Cross Country Track & Field Roller Hockey Water Polo CIF Scorecard
Metro Tournament preview
Up-and-coming Mariners searching for first league win
Hilltop-Mar Vista 10-24-2001 game action photo album
By Phillip Brents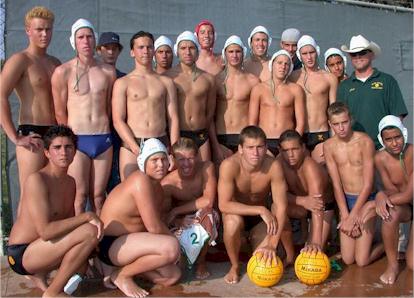 CHULA VISTA, Oct. 24, 2001 -- When the Mar Vista High boys water polo team hits the pool in the opening rounds of Saturday's Metro Conference tournament at Southwestern College, it will be with two things in mind: to continue to improve and to capture the team's first league victory.
The Mariners fell 11-5 to Hilltop Wednesday at the Loma Verde pool to finish the first round of league play with a 0-5 mark against conference competition. With Southwest having dropped from the league this season for the inability to field a team, Mar Vista — like the remainder of the conference's six teams — received a forfeit win against the Raiders. However, all the Mariners' other Metro varsity games have come by loss, though the margin of defeat is decidedly narrowing.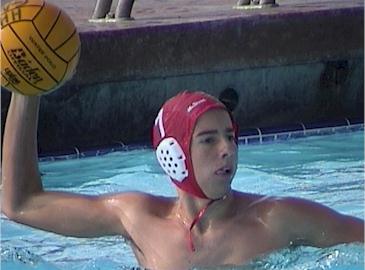 It's that attribute that has first-year coach Chip Case optimistic about this weekend's round of games after spending the majority of the season integrating more than a dozen new players into the program.
"We've been teaching the kids the fundamentals and growing as a family. We do a lot of things together on the weekend," explained Case, who teaches on campus. "(A lot of the new guys) didn't know what they were doing at the beginning. Since then, we've been lowering the opponent's score and increasing ours. I'm proud of what we've done."
Prior to Wednesday's game against Hilltop, Mar Vista dropped a high-scoring 19-12 decision to Eastlake on Oct. 17. The Mariners began the season with lopsided losses to Montgomery (18-4), Bonita Vista (16-1) and Chula Vista (14-5).
Junior driver Joe Czerwiec had two of Mar Vista's goals against Hilltop while juniors Shawn Johnson and Victor Townsend and senior Juan Vera also scored. The Mariners rallied from an 8-0 deficit in the game and played the Lancers even up in the second half with both teams trading a pair of goals. Neither team could beat the other's defense in the final period.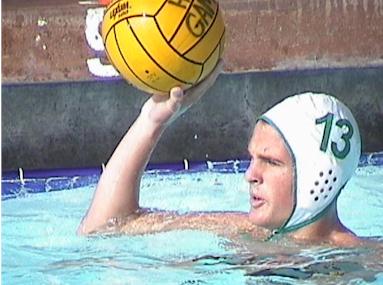 Czerwiec is among six returners for Mar Vista. He's joined by senior two-meter guard Kyle Collins, sophomore goalie Eric Grieble and junior drivers Daniel Rumsey, Charlie Hughes and Andrew Allen. Collins played between the pipes last season.
Among the newcomers who have rotated into the varsity lineup are Johnson, the team's two-meter offensive set, Townsend, a two-meter guard, junior drivers Josh Madigan and John Thero and sophomore Noah Stamm. A number of younger players comprise the team's junior varsity squad. Battling in the water Wednesday were freshmen Max Craig, Scott Knox, Kyle Stogsdall, Adel Jabbar, Mike Hemingway and Julian Czerwiec and sophomores Carlos Espinosa and Eric Cornwall.
The Mariners' lone victory this season has come at the novice level, 11-9 against Vista, during the Rancho Buena Vista tournament earlier this season.
"We're looking to improve. Every game, the kids are creating new opportunities for themselves and seeing how they can take advantage of them in the future," Case said.
This learning process, though sometimes painfully slow, is augmented by a strong sense of belonging to the team, according to Case.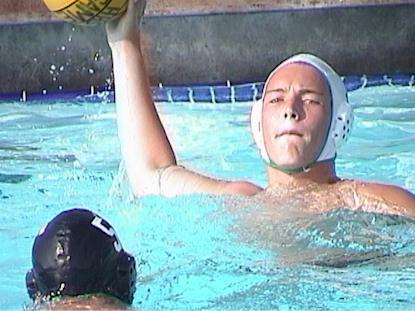 "We meet every Saturday and run and swim around the pier and then surf after that," Case said. "We've had a lot of barbecues during the season." The team also has been involved in community events such as an Imperial Beach cleanup.
Besides teaching the game, Case is also involved in tutoring his charges as an on-campus teacher. The team prides itself this year by not having lost anyone to academic ineligibility.
Clearly, there is plenty of room for improvement. Many on the team compete year-round as members of the Imperial Beach Swim Team that boasts 65 swimmers, ages 8 to 18.
The good news: the team loses only two seniors next season.
Improvement certainly details Hilltop's season. The Lancers enter Saturday's tournament with an overall 6-9 record, 3-3 in league play. Compare that to just one victory the team took into last year's tournament.
Junior Nick Kolata led Hilltop against Mar Vista with five goals, two assists and four steals while sophomore Nick Davidson contributed two goals, two assists and six steals and junior Jeff Schroeder had two goals, two assists and four steals. Senior David Watkins had two goals and one steal while sophomore Kyle Kovar added an assist and two steals. Senior goalie Pedro Martinez made seven saves while finishing the game with two steals and one assist.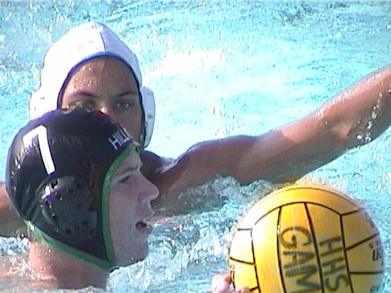 For the season, Watkins and Kolata tied for the team lead with 23 goals, followed by Richard Davidson (13) and Nick Davidson (12). Richard Davidson paced the team with 11 assists, followed by Kovar (6) and Watkins (5). In the defensive steals department, Nick Davidson keyed the Lancers with 29, followed by Martinez (26) and Kolata (24). Hilltop made 17 team steals against the Mariners.
"I'm very excited about the way the team is playing coming into the tournament. The team has jelled," Hilltop co-coach John Salts explained. "We've had outstanding efforts. David Watkins, Kyle Kovar, Nick Davidson and Jeff Schroeder have really stepped it up. Pedro Martinez continues to be a leader from his goalie position. Every game he seems to have two or three key one-on-one saves."
Tournament preview
Who will reign over the Metro Conference's water polo realm? That question will be answered to everyone's satisfaction this coming week, beginning with preliminary playoff action Saturday and concluding with championship finals Halloween night at South-western College.
Six teams — Southwest suspended its program for the remainder of the season — will gather Saturday at the college's pool where play will be conducted through the semifinal stage to determine the final four teams that will compete in Wednesday's finals. Saturday's action starts at 9:30 a.m. with the last game scheduled at 2:30 p.m. Teams will be divided into two three-team pools, with round-robin results determining final placement. Undefeated teams will advance to Wednesday's championship game while the second-place pool teams will meet for third place. The fifth-place game will pit the third-place teams in each pool in the final game on Saturday.
The third place game is scheduled Oct. 31 at 6 p.m., followed by the championship game at 7 p.m.
Bonita Vista defeated Eastlake, 18-9, to win last year's tournament title and the automatic playoff berth it carried. This season, the league champion will be determined by overall winning percentage — league and tournament play combined.
The Barons, who will be seeking their San Diego Section record 15th consecutive league title, are once again favored to repeat.
Bonita Vista, ranked ninth among Division I squads, finished in 14th place in the 32-team San Diego Open last weekend. The tournament is regarded as a final regular season opportunity for teams to improve their seeding for the upcoming division playoffs. Bishop's, ranked second to Coronado among the section's Division II teams, defeated top-ranked Division I power Carlsbad, 15-5, in last Saturday's tournament final.
Baron coach Dan Way said the team received standout tournament performances from Mike Pilgrim, Joel Larimer and goalie Patrick Loitz. Pilgrim rejoins the team while Galen Maddocks, the team's primary two-meter set, is likely lost for the season after sustaining an injury.
Bonita Vista tuned up for Saturday's opening game — a rematch with Montgomery — by defeating the Aztecs, 16-2, in a game played at Vista Terrace. Way said the team received outstanding efforts from two-meter guard Andrew Henning and Pilgrim in an offensive role. Way was also pleased in the team's discipline. "The whole team kept its composure when things got a little rowdy. I'm proud of my team for that."
Chula Vista edged Hilltop, 3-2, to capture third place at last year's tournament. With the number of close contests this season, the order of finish this year appears open to question.
The Spartans (5-16) are the prime example of that. Chula Vista finished 1-4 at last week's San Diego Open but lost one game by one goal (6-5 to Helix) and dropped two other contests by three-goal margins (8-5 to both Eastlake and Morse). The Spartans were routed in just one game — a 10-1 loss to Valhalla (ranked third among Division I teams) — while defeating Serra, 9-7.
In Wednesday's final league seeding game, Chula Vista held an early 3-1 lead in a rematch with Eastlake, only to fall 10-8 after trailing 9-8 with 2:23 to play in regulation.
"I'm proud of this game. We just had too many ejections that hurt us," said Spartan coach David Hunt.
Jeremy Olaso led Chula Vista with five goals. His penalty shot drew the Spartans to within one goal in the late going but Eastlake's Clair-Williams scored from long distance on a foul call to seal the game with 26 seconds left. Nik Clair-Williams, who scored seven goals against Chula Vista the previous week in the San Diego Open tourney, got to showcase his impressive quick release throughout the game, finishing with five goals (two on penalty shots). He was especially wicked shooting from two-meter range.
Clair-Williams notched two goals in the opening period and another in the second to complement one goal by Peter Silva to give the Titans (9-9) a 6-3 halftime lead. Clair-Williams and James Laxson added goals in the third period to offset a pair by CV's Olaso to keep the Eastlake lead at three goals, 8-5. The Titans led 9-5 before the Spartans reeled off three unanswered goals — one each by Danny Lopez, Gregorio Flores and Olaso. Spartan senior goalie Chris Young finished the night contest at the Loma Verde pool with eight saves, including two blocks on penalty shots taken by Clair-Williams.
The competitive nature of this year's squad has buoyed coach Hunt's expectations for the upcoming tournament. "Last year, we used to get killed by some of these teams. This year, we're giving good chase," Hunt explained. "The offense is moving a little more. We're better at stopping the counter-attack than in the past. We still need to work on our shots."
Eastlake finished with a 5-1 league seeding record and enters Saturday's conference tournament following a 2-3 showing at the San Diego Open. Clair-Williams had a prolific tournament by scoring 27 goals, including all his team's goals in one game and all but one in another. He had eight goals in the Titans' 12-8 victory against El Cajon Valley and racked up 11 goals in the 19-12 win Oct. 17 against Mar Vista. Clair-Williams' career single-game high is 12 goals. Though he will not reach the total of 128 goals he scored last year because Eastlake will not play as many games, he is actually averaging more goals per game this season.
Metro notepad
Olaso and Flores led Chula Vista in goal-scoring at last week's San Diego Open with nine goals apiece while sophomore Bryan Flitcraft chipped in with five goals.
The game against Helix was tied on three occasions before the Highlanders finally secured the win. Flitcraft led the Spartans with two goals in that game. Chula Vista trailed Eastlake by a 2-1 score at the end of the first period before the Titans jumped out to a 6-2 halftime lead and then weathered a late Spartan comeback bid. Eastlake's Clair-Williams scored five first-half goals and finished the contest with seven goals. Olaso and Flores both scored twice for Chula Vista.
In the victory against Serra, Olaso keyed the Spartans with four goals while Flores added three goals and Flitcraft scored two goals. Young made 14 saves to help support the defensive effort.