SD Prep Sports: Water Polo
www.geocities.com/sdprepsports
E-mail us at [email protected]
Home Swimming/Diving Cross Country Track & Field Roller Hockey Water Polo CIF Scorecard
Islanders crown Mustangs, 12-4, for own tourney title
Coronado Islander Invitational (championship round) photo album
Coronado Islander Invitational (preliminary rounds) photo album
By Phillip Brents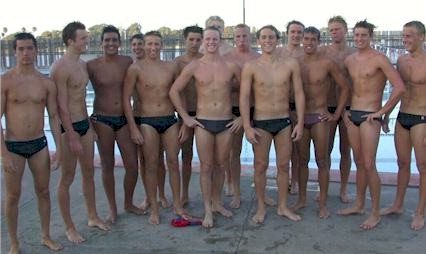 CORONADO, Calif., Sept. 29, 2001 -- It was a homecoming for former Islander star Jon Reichardt, the 1984 San Diego Section Co-Player of the Year and High School All-American. Though now at the helm of the Mira Costa Mustangs from Manhattan Beach, Reichardt still found that the familiar surroundings of the Crown City -- and Coronado High water polo tradition -- still held true to form after nearly two decades as the top-seeded Islanders downed second-seeded Mira Costa, 12-4, to capture the championship of this year's 12-team Coronado Islander Invitational boys water polo tournament.
Senior Thomas Hopkins, who earned the Most Valuable Player award in the tournament, led the Islanders in the championship game with four goals, four assists and four steals. Jamal Motlagh scored three goals and added two assists and two steals while Alexis Fernandez and Andrew Dunlevy both scored two goals and Dougie Mann scored one goal to help propel the Islanders, who improved their season record to a perfect 6-0 with a 4-0 tourney performance. Fernandez also had two assists and three steals.
While the offense was once again clicking on all cylinders, it was the defense that set things in motion. Coronado recorded 19 team steals while holding Mira Costa scoreless on three Islander player ejections.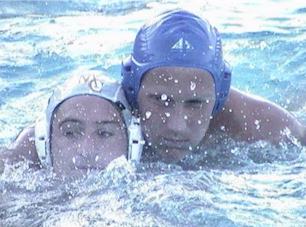 "Our key matchup was Alex Ratcliffe on (Tyler) Krikorian. Alex is a strong and physical player and a good swimmer," noted Coronado head coach Randy Burgess, who was more than happy to spread around the credit for the victory. "Gant Morgner, our goalie, had a strong game. Thomas Hopkins did a good job of controlling the offense. We had six players who scored, 10 players with steals and five players with assists. Hopefully, that's a thing for us -- balance."
The Islanders led 5-0 after the first period on the strength of two goals by both Fernandez and Hopkins and a single goal by Dunlevy. Krikorian, who entered the championship game with 18 goals in three tournament games, was held scoreless until 3:50 remained in the first half of play. By that time, Coronado held a 7-0 lead.
Behind the steady play of Morgner, who finished the contest with 12 saves, the Mustangs never really had a chance to get back in the game, trailing 8-2 at halftime. Doug Luther matched Krikorian's shutout-breaking goal to cut his team's deficit to 7-2 but the Islanders followed with three unanswered goals to pad their lead to 10-3 before Krikorian would find the range once more. Coronado led 12-3 before Krikorian would close out scoring in the game with his third goal.
The Islanders once again proved the masters of opportunity by scoring on four of five Mira Costa kickouts.
Coronado advanced to the championship game with a 13-3 semifinal-round victory against Santa Barbara's Dos Pueblos while Mira Costa downed third-seeded Buchanan from Clovis by a 10-6 score in the other semifinal. Hopkins led the Islanders against the fourth-seeded Chargers with five goals while Krikorian led the Mustangs with four goals.
Joining Hopkins, who finished the four tourney games with 16 goals, on the all-tournament team was Islanders' teammate Mann while Mira Costa's two all-tournament selections included Krikorian, a senior, and Mustang senior goalie Will Didinger.
Coronado now braces for the continuation of Western League play and an eventual showdown with Bishop's, the top-ranked team among the San Diego Section's Division II schools. Burgess called the Islanders right on course.
"I'm happy they're working hard, I'm happy with what they've been doing in the games. This game (against Mira Costa) was the first time they've really been challenged. We're a senior-laden team with a lot of talent on it," Burgess said.
Third-Place Game
Buchanan (Clovis) Bears 13, Dos Pueblos (Santa Barbara) Chargers 11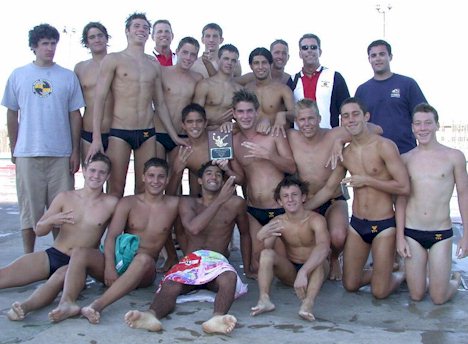 Bane Krivokapic led the Bears with four goals while teammates Curt Merlo and Nic Maes both tallied three times to place an exclamation point on this exciting back-and-forth matchup between the third- and fourth-seeded teams in the tournament. Buchanan led 4-3 after the opening period on a pair of goals by Krivokapic but Dos Pueblos rallied to take a 7-4 lead thanks in part to two goals by Billy Umoff and single scores by Shane Scoggins and Jake Harter. But Buchanan ended the half with a pair of unanswered goals to trail 7-6 at halftime. Jeff Morse tied the game for the Bears with the first goal of the third period but that was matched by Dos Pueblos' Jeff Ranta to tied the game at 7-7. Krivokapic then unloaded for back-to-back goals to put Buchanan back in the lead at 9-8. But Ranta scored scored his fifth goal of the game to deadlock the contest once more. Merlo broke the 9-9 tie with a goal for Buchanan and Maes then added the first of his three goals in the final period to increase the Bears' slender lead to 11-9. K. C. Feeley notched a man-up goal to cut the Chargers' deficit to a goal at 11-10 but Maes scored twice more to extend the Buchanan margin to 13-10. Feeley then closed out scoring for Dos Pueblos.
Buchanan improved to 7-5 on the season with the win. "We made a turnaround after losing our first game in the tournament to La Jolla," explained Buchanan coach Scott Schiller, whose team rebounded with the third-place tournament finish. "We were having some troubles with our team chemistry. The players held a meeting Thursday night -- a bitch session, bascially -- to get it all out but leave it there. After that, the team played better. Our chemistry improved which helped our performance."
Senior Jeff Jarved represented Buchanan on the all-tournament team while Harter was Dos Pueblos' all-tournament selection. Harter scored two goals in his team's 13-3 semifinal loss to top-seeded Coronado while Buchanan's Morse and Krivokapic both scored two goals apiece in their team's 10-6 semifinal-round setback to Mira Costa.
Fifth-Place Game
La Jolla Vikings 10, Palo Alto 9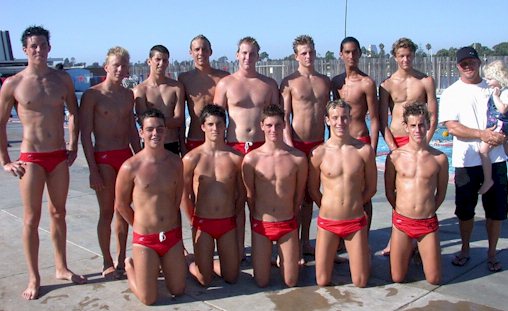 All-tournament selection Grayson LaFrenz scored on a long-range shot with one second left in regulation play to break a 9-9 tie and give the Vikings (8-3) the victory. Matt Marinkovich led La Jolla with four goals in the thrill-seeking game while LaFrenz, a junior, and teammate Brady Dinsen both scored twice. Peter Davis paced Palo Alto with four goals while teammate Paul Showronski added three goals in a losing effort.
The Vikings led 4-2 after the opening quarter on two goals by Marinkovich and held a 7-5 halftime advantage. However, Palo Alto held a 9-8 lead by the end of the third period after scoring four of the five goals in the quarter. Marinkovich put La Jolla back on an even keel at 9-all and two big saves by Vikes' sophomore goalie Mark Vacquier -- and a hit crossbar by the La Jolla squad -- kept the game deadlocked until LaFrenz' dramatic game-winner. Nick Eddy had the lone Viking goal in the third period to give his team an 8-6 lead before Palo Alto reeled off three consecutive goals to take the lead.
La Jolla also won a dogfight against Western League rival Scripps Ranch, by breaking a 5-5 third-period tie with four unanswered goals in the final quarter for a 9-5 win in the day's earlier cross-bracket game. In that game (tied 2-2, 3-3 and 5-5 at the juncture of the opening three quarters), the Vikings received final period goals from Marinkovich (two) and LaFrenz and Christian Guth. Marinkovich led La Jolla with four goals while both Guth and LaFrenz scored twice against the Falcons (who were keyed by two goals from Vince Gonzalez). La Jolla coach Tom Atwell cited conditioning as his team's eventual trump card in the matchup against Scripps Ranch. "I think we wore them down," Atwell said. The same might be true in sealing the outcome against Palo Alto. "Against Palo Alto, we came out on fire. We got away from our game plan but we managed to finish it off," Atwell said.
Palo Alto, keyed by all-tournament selection Davis, a junior, defeated Rancho Buena Vista by a 5-3 score in the morning's earlier cross-bracket pairing. Ausitn Brizgys led Palo Alto with two goals in that game while Davis, a junior, scored once as did teammates Paul Showronski and Ryan Fortune.
Seventh-Place Game
Scripps Ranch Falcons 15, Rancho Buena Vista Longhorns 5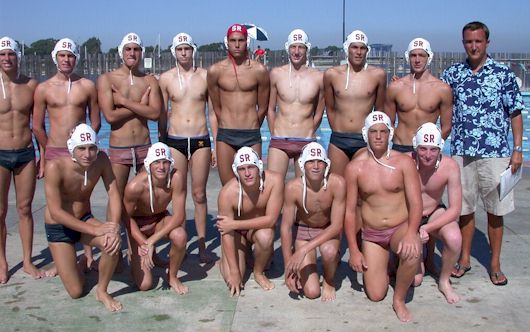 Kevin Israel, the Falcons' all-tournament selection, led Scripps Ranch with six goals while a trio of players -- Cory Allen, Taylor Ewing and Vince Gonzalez -- all scored two goals apiece in the win against the Longhorns. The Falcons (7-4) led 6-4 at halftime and expanded their lead to 10-4 at the end of three periods. Jason Sorenson led RBV with three goals.
Scripps Ranch coach Marcus Gregory, whose team returns just one starter from last year's team, seemed fairly pleased with the team's performance heading into another week of demanding games. "We were having a tough time trying to set our set offense. But there are teams that we can out-swim and teams that we can counter-attack," the Falcons coach explained about his team's 2-2 tournament showing.
Scripps Ranch fell 16-4 to second-place Mira Costa on Thursday and dropped a 9-5 decision to Western League rival La Jolla earlier in Saturday's cross-bracket games while recording victories against Division I Top 10-ranked teams Valley Center (ninth place) and RBV (eighth place). "We were 5-5 with La Jolla going into the last quarter, so that was encouraging," Gregory said. "But teams that put a lot of pressure on the ball we have difficultly with. We're doing well to have only one returning starter back."
The Longhorns finished tourney play 1-3 after dropping both games on Saturday but nearly advanced to the fifth-place game after suffering a narrow 5-3 defeat to Palo Alto (sixth place) in Saturday morning's cross-bracket contest. Goalie John Taylor earned selection as RBV's all-tournament player.
Ninth-Place Game
Vista Panthers 13, Valley Center Jaguars 7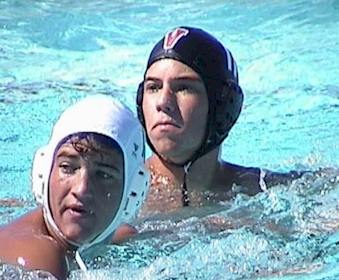 Clint Stone scored four goals and teammates Chris Lacroix and Mike Regan both scored three goals to lead the Panthers against the fellow Top 10 Division I ranked Jaguars. Vista led 9-2 at halftime on the strength of three goals from both Regan and Stone and the play of all-tournament selection Nick Cooper in the cage. Valley Center was led in the pool by Kevin Callister and all-tournament selection Charlie Weaver, both of whom scored two goals apiece in the game.
The Panthers entered the tournament ranked sixth among Division I schools and may move up in the rankings based on their 2-1-1 tourney record that included an 11-3 cross-bracket win win against fourth-ranked Bonita Vista earlier in the day. Regan led Vista against the Barons with six goals while Scott Garrett and Robert Osorio both contributed two goals. The Panthers led game-weary Bonita Vista, playing its third game in less than 24 hours, by an 8-1 halftime margin.
Valley Center advanced to the ninth-place game after securing an 8-7 overtime victory against Mt. Carmel in the morning's cross-bracket game.Callister supplied the game-winner for the Jags, who battled back from 4-2 (first quarter) and 6-5 (halftime) deficits against the Sundevils. Valley Center took a 7-6 lead on back-to-back goals by Weaver before Mt. Carmel sent the game into an extra sudden-victory period.
11th-Place Game
Mt. Carmel Sundevils 6, Bonita Vista Barons 3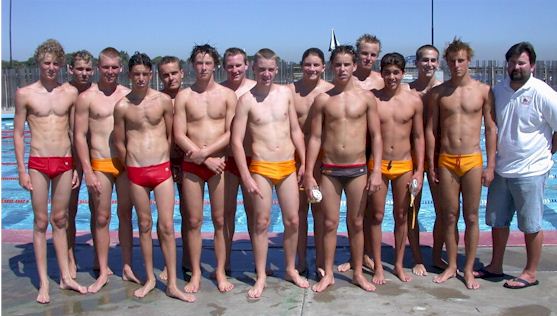 Scott Blyleven notched three goals, including two of Mt. Carmel's five second-half tallies, to lead the Sundevils to the come-from-behind victory. Tyler Allen contributed two goals, two assists and two steals while all-tournament selection Danny Lorber added one goal and four steals for Mt. Carmel, which trailed Bonita Vista early on 2-0.
"We just kept swimming hard and the counter-attack eventually came out," explained Sundevil coach Mitchell Hoffarth. "We isolated a couple of their stronger players with our stronger players, and if they were going to beat us, it was going to be by some of their less stronger players."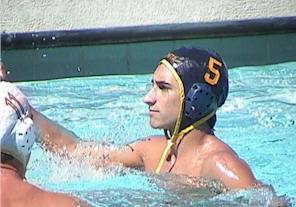 After a scoreless first period, Bram Hanono -- reacting off his speed -- gave the Barons a two-goal lead. However, Blyleven halved the Mt. Carmel deficit on a penalty shot just before halftime. Allen and Lorber scored clutch goals to start the third quarter to lift the Sundevils to a 3-2 lead and Blyleven gave Mt. Carmel a 4-2 edge when he beat Baron goalie Patrick Loitz on a back-door play. Hanono scored his third goal of the game by taking a down-court feed from Loitz to bring Bonita Vista back within a goal at 4-3 but the Barons failed to tie the score when given a man-up opportunity shortly thereafter. Allen notched his second goal of the game with 46 seconds remaining in regulation play and Blyleven iced the game with an open net goal when Loitz lined up as a field player.
The Barons, who were playing their seventh game in the span of less than four days and fifth game in less than 48 hours (they rushed from Friday's game in Coronado to Southwestern College to defeat Hilltop by a 22-3 score later that night), exhibited very little movement in the final period and had difficulty getting inside water on the Mt. Carmel defense. Sundevil goalie Dane Benham made 10 saves and two steals to support the defensive effort.
Joel Larimer, Galen Maddocks and Greg Broadfoot, who led Bonita Vista in scoring in the team's opening two tournament contests, were all held without a goal in the team's tournament finale, though Larimer narrowly missed finding the back of the cage on some good outside shooting opportunities. Freshman Andrew Hibbard was chosen as the team's all-tournament representative.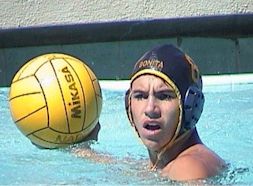 Baron coach Dan Way had indicated that he was counting the days until the end of the season when he would have his team fine-tuned for the playoffs. After a rugged week in which Bonita Vista dropped all five of its non-league games (though only one by blowout), Way has reason for matching that goal. The Barons fell three goals short of winning their bracket and ensuring themselves of a top four finish in the Islander tournament, thus making their 12th-place tourney finish not necessarily a true reflection of the team's overall performance. A coaching decision paved the way for RBV to steal a 10-9 victory in the team's tournament opener when the game was poised to end either in a tie or with a possible BV win on the final possession of the game; the Barons fell 8-6 in a gutsy performance the next day to Dos Pueblos after the Santa Barbara team had routed the Longhorns 14-4 the previous day. Heading into the waning stages of Friday's game, Bonita Vista trailed Dos Pueblos 7-6. The Santa Barbara team finished fourth in the Coronado tournament; RBV placed eighth.