SD Prep Sports: Water Polo
www.geocities.com/sdprepsports
E-mail us at [email protected]
Home Swimming/Diving Cross Country Track & Field Roller Hockey Water Polo CIF Scorecard
Lancers come together in 6-2 win against Spartans
To view the Hilltop-Chula Vista game action photo album, click here
By Phillip Brents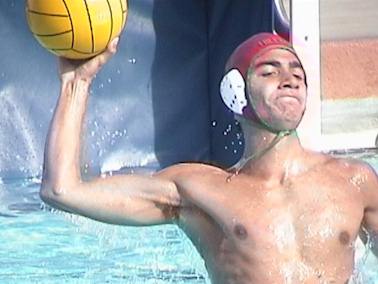 CHULA VISTA, Oct. 17, 2001 -- Hilltop High co-coach John Salts termed Wednesday's 6-2 victory against Metro Conference rival Chula Vista at the Parkway pool a revolutionary turning point in the team's season — one that will soon culminate with the conference finals.
"We played a first quarter and every quarter after that," said a dripping wet Salts after the game, the victim of a ceremonial dunking by his squad. "This is what we've worked for all year. We played a consistent game all the way through. This is the first time they've done it this year. We had outstanding play from everyone. Now that they can see how they can play, hopefully this can lead into the Metro playoffs. This game is the fruits of all their hard work."
The Lancers (5-9) had defeated Chula Vista, 5-4 in overtime, in a non-league game nearly a month ago to cap a comeback from a 4-1 deficit in regulation play. However, this much more mature Hilltop team put its game plan into action from the onset and never let up in its execution in the rematch.
"We dominated the shot clock," Lancer co-coach Linda McCoy said. "We pressured them and kept them away from the goal. We forced them to make bad shots."
The emphasis was clearly on defense by both teams. The Spartans, who dropped to 4-12 after the loss and who had made their own strides since a 0-6 start to the season, appeared to turn the game's momentum in their favor when sophomore Bryan Flitcraft continued his torrid outside shooting by cutting into an early 2-0 Hilltop lead midway through the second quarter. But the lack of a strong inside shooting game hampered Chula Vista's comeback attempt throughout the contest.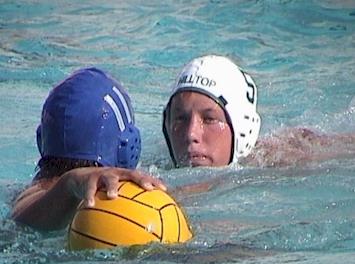 Nick Kolata scored what may have been the most critical goal of the game with four seconds left in the opening half when he beat Spartan senior goalie Chris Young on a shot just before the buzzer sounded on the 35-second shot clock to give the Lancers a 3-1 lead. Young, who finished the game with 16 saves, was then beaten on two penalty shots in the third quarter to boost the Hilltop advantage to 5-1. Young made back-to-back saves at opposite ends of the cage before Jeff Schroeder finally tipped in a shot with 1:40 left in the final period to up the Lancer edge to 6-1.
Flitcraft scored his second goal of the game on an outside laser shot to round out scoring in the contest.
Hilltop goalie Pedro Martinez was credited with just five saves in the game, but several came on one-on-one confrontations in front of the net and he made five steals. As a team, the Lancers finished with 16 steals.
Kolata, who started the game in the two-meter set position as opposed to hole guard, led Hilltop with three goals (two on penalty shots) while matching Martinez with five steals. David Watkins had two goals, including one on a penalty shot, while also drawing an assist. Kyle Kovar had one assist and three steals. Richard Davidson also had three steals while Nick Davidson had one assist and two steals.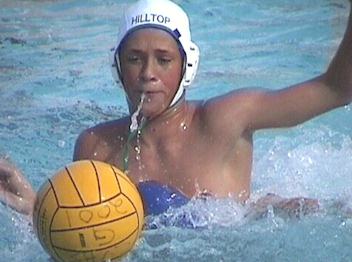 McCoy, who called Kovar one of the team's "pleasant surprises" for his increased swimming speed and physical strength, said ball movement was the key to the team's winning offensive scheme. "We've been practicing a lot of movement. It was a pretty physical game," she said.
Kolata initiated scoring in the game by pumping in a four-meter penalty shot and Watkins hiked the Lancer lead to 2-0. However, Martinez came up huge on a point-blank shot by Chula Vista junior Gregorio Flores. Following Flirtcraft's goal to halve the Lancer lead, CV's Jeremy Olaso then hit the crossbar to cap another frustrating rush down tank.
The Spartans were led defensively by senior Jon Hamblin, who drew duty of guarding Kolata, who was held to one goal from the field besides his two penalty shots. However, poor shot selection and near-misses plagued Chula Vista offensively.
The conference tournament is scheduled to get under way with a series of preliminary games Saturday, Oct. 27, beginning at 9:30 a.m. at Southwestern College. The third-place and championship games are set Wednesday, Oct. 31, at 6 and 7 p.m., respectively, at the same site.