SD Prep Sports: Water Polo
www.geocities.com/sdprepsports
E-mail us at [email protected]
Home Swimming/Diving Cross Country Track & Field Roller Hockey Water Polo CIF Scorecard
Titans top Lancers, 13-10
Eastlake-Hilltop 10-10-2001 game action photo album
By Phillip Brents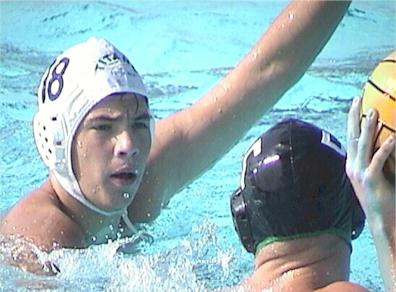 CHULA VISTA, Oct. 11, 2001 -- Goals by Edgar Cisneros and Chris Hurley in the final two minutes helped Eastlake post a 13-10 victory against a resurgent Hilltop team in a Metro Conference boys water polo game Wednesday at the Loma Verde Pool. The victorious Titans (4-6) were led overall in the contest by Nik Clair-Williams, who scored four goals, and Robert Cruz, who matched Hurley with three goals.
After grabbing an early 5-0 lead, Eastlake was forced to hold off a determined Lancer comeback throughout the balance of the game. Hilltop narrowed the score to 8-6 at the end of three periods on goals by Richard Davidson, Nick Davidson and Nick Kolata and trailed 11-8 with 2:16 to play in regulation when David Watkins scored on a four-meter penalty shot.
However, Cisneros promptly gave the Titans a 12-8 lead and Hurley put Eastlake in front 13-9 with 1:26 to play. The Titans twice held five-goal leads in the high-scoring matchup. Clair-Williams gave Eastlake an 8-3 lead after scoring the opening goal of the third period.
Hilltop, which trailed 7-3 at halftime, finished with a 7-6 scoring advantage in the second half of play. Richard Davidson and Jeff Schroeder both had two goals and one assist for the Lancers (4-9) while Nick Davidson contributed two goals. Kolata and goalie Pedro Martinez led Hilltop with three steals. Martinez made 10 saves while scoring from his cage on a pool-length shot with one second left in the game.
"I'm disappointed about our first half play but very excited about how they brought it together in the second half," Lancer co-coach John Salts said. "If we can just get consistent, I think this team will shock at the Metro tournament."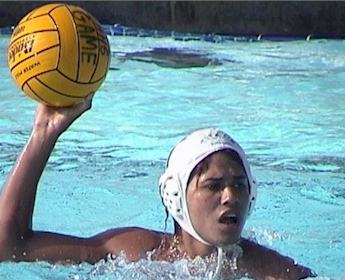 Peter Silva and James Laxson both scored single goals for Eastlake, which improved to 2-1 in league play with a rescheduled game against Southwest pending. Kyle Kovar, Kolata and Watkins all had one goal and one assist each for Hilltop. Silva and Cruz scored the only goals of the first quarter as the Titans took a 2-0 lead. Hurley increased Eastlake's lead to 3-0 and Clair-Williams scored back-to-back goals to extend the lead to 5-0.
Kovar broke Titan goalie Alex Howell's shutout bid with 2:18 left in the first half on a breakaway and Richard Davidson followed with a goal to cut Eastlake's lead to 5-2. Hurley and Schroeder exchanged goals for their respective teams and Cruz ended the first half with a goal to give the Titans a 7-3 lead.
Clair-Williams, Laxson and Cruz gave Eastlake some much needed breathing room by opening the final period with goals to push the Titans out front 11-6. Nick Davidson, who utilized his speed and aggressiveness to positive results in the latter stages of the game, brought the Lancers to within 11-7 on the scoreboard before Watkins beat Howell on the penalty shot.