SD Prep Sports: Water Polo
www.geocities.com/sdprepsports
E-mail us at [email protected]
Home Swimming/Diving Cross Country Track & Field Roller Hockey Water Polo CIF Scorecard
Barons topple Titans in early Metro showdown
By Phillip Brents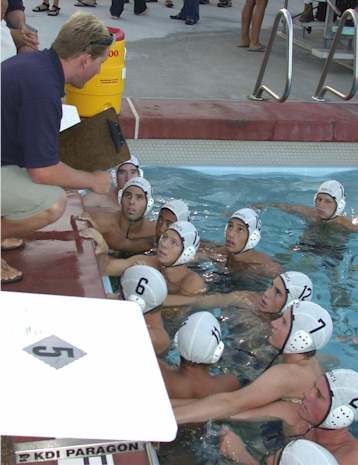 CHULA VISTA, Calif., Sept. 19, 2001 -- The Bonita Vista High boys water polo team does indeed appear to be a squad to be reckoned with this season. The Barons displayed as much after finishing eighth at last weekend's Poway Invitational to secure the No. 4 ranking among the San Diego Section's Division I schools and then defeating Eastlake 15-4 in Wednesday's Metro Conference opener.
Freshman utilityman Andrew Hibbard and senior goalie Patrick Loitz, both standouts in the Poway Invitational, helped key Bonita Vista (3-3) in Wednesday's eastside showdown. Hibbard scored three goals, a figure matched by teammate Galen Maddocks, while Loitz had firm control of his cage while contributing an excellent outlet passing game.
Overall, the Barons received goals from nine players in the contest in which they led 9-1 at halftime and 12-1 at one point during the third period. Joel Larimer and Jeff Balistreri both scored two goals for the 14-time reigning league champions.
"We played great two-meter defense. We ran our game plan well but we made some mistakes. I expect us to be crisp and clean," said Bonita Vista head coach Dan Way.
"Joel Larimer had a good defensive game. Andrew Hibbard just had an all-around great game like he always does. He's solid. Patrick Loitz played well. Nathan Golder came off the bench and had a couple good minutes and Mark Adato played good defense," the Baron helmsman continued.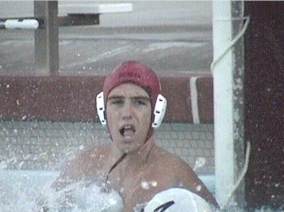 When Loitz went off target, so did the Titans (1-2), who sent several shots off the crossbar and over it while limited mostly to outside shooting. Eastlake's offense was hampered when scoring leader Nik Clair-Williams fouled out midway through the second period. The Division II 50-yard freestyle swim champion, Clair-Williams opened scoring in the game at the 1:38 mark and that would stand as the Titans' lone lead of the high-profile matchup.
A four-meter penalty shot by Hibbard, who has been playing club water polo since the fourth grade, gave the Barons a 4-1 lead as time expired in the first period. Maddocks scored on a lob shot to the far corner for the opening goal of the second period to continue the momentum. Maddocks' goal was followed by a penalty shot by Larimer and another well-placed lob by Hibbard to give Bonita Vista a 7-1 lead.
Chris Hurley broke the Barons' onslaught of 12 unanswered goals with 1:49 to play in the third period. Eastlake followed with two more goals to narrow the score to 12-4. But Bonita Vista ended the game with three consecutive goals, including two by Maddocks, to secure the victory.
Andrew Henning, Greg Broadfoot, Andy Jones, Adato and Golder all added single goals for the Barons. Hurley led the Titans with two goals. Joel Kownacki also scored once for Eastlake, which was coming off a 13-6 non-league win against Army-Navy on Sept. 14. In that game, Clair-Williams paced the Titans with six goals, three assists and two steals while Kownacki scored three goals.
* * *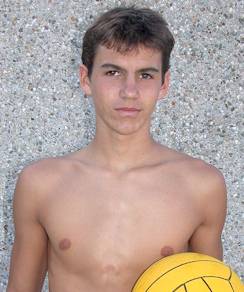 Bonita Vista captured its first two games in the Poway tournament, defeating Rancho Bernardo by an 8-4 score and then upending second-seeded Fallbrook by an 8-5 count to reach the round of the top eight teams. However, losses to University of Irvine High and University of San Diego High (11-5 in the quarterfinals) dropped the South Bay team to the seventh-place game against La Jolla. The Vikings made amends for a loss to the Barons during the spring swim season with a 7-6 victory.
Way called the tournament an all-around positive experience for his team, which went into the fray without having played a game this season after a scrimmage contest against USDHS on Sept. 11 was cancelled.
"It was a nice start to the season. We got our nerves out," Way commented. "We didn't have any games going into the tournament after our scrimmage with University of San Diego was cancelled because of the terrorist attack, and the guys were a little nervous about what to expect. But we played out those nerves and got into the top eight."
Though Way prefers to concentrate on the team aspect of the game, he did point to standout performances by Hibbard and Loitz as being instrumental in the team's success at the tournament.
"Andrew is our utility player. I can stick him in anywhere. He played solid. Patrick, our goalie, had a great tournament," Way said.
The Barons next play Scripps Ranch, ranked seventh in Division II, at 3:30 p.m. on Sept. 25 at Miramar College and then prepare for competition in the Islander/Coronado Police Officer Association tournament that begins Sept. 26 and concludes with final-round matches on Sept. 29. Bonita Vista is included in a field with Dos Pueblos and Rancho Buena Vista. Dos Pueblos is seeded fourth in the tournament behind top-seeded Coronado, the three-time defending San Diego Section Division II champions, second-seeded Mira Costa and third-seeded Buchanan.
The tourney-host Islanders, who jump-started their season with a 15-2 victory Sept. 15 at Newport Harbor, share a bracket with Palo Alto and Division I sixth-ranked Vista, while Division II fourth-ranked La Jolla and Division I ninth-ranked Mt. Carmel are included in the same bracket with Buchanan. Division II seventh-ranked Scripps Ranch and Division I 10th-ranked Valley Center round out the 12-team field with Mira Costa.
The Barons open tourney play with a 3:20 p.m. matchup against RBV on Sept. 27 at the Coronado Municipal Pool, followed by a 2:30 p.m. game against Dos Pueblos on Sept. 28 at the same site. Games commence Sept. 29 at the Coronado Municipal Pool beginning at 7 a.m. Due to last week's terrorist attack and heightened security precautions at this country's military bases, the finals of the Islanders/Coronado Police Officers Assn. Invitational, originally scheduled for the Naval Amphibious Base, have been moved to the Coronado Municipal Pool. Times for Saturday's championship finals are as follows: semifinals at 10:20 and 11:10 a.m., 11th place game at noon, ninth place game at 1 p.m., seventh place game at 2 p.m., fifth place game at 3 p.m., third place game at 4 p.m., championship game at 5 p.m. For a complete tournament schedule, access the website at www.nadopolo.com.
10th-ranked Aztecs trim Spartans 11-3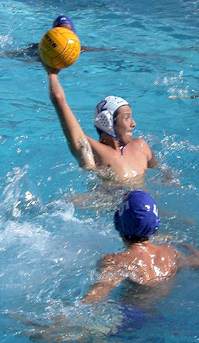 CHULA VISTA, Calif., Sept. 19, 2001 -- The Montgomery High boys water polo team is clearly taking one step at a time, but clearly big steps forward.
The Aztecs came out of last weekend's Poway Invitational with a 3-2 record and the No. 10 ranking among the San Diego Section's Division II schools. Montgomery then inaugurated 2001 Metro Conference play with an 11-3 victory against Chula Vista Wednesday at the Parkway pool.
"We need to work on our first half. It was the second half before we woke up. We came out sloppy but I was happy with our second-half performance," explained Aztec head coach Giancarlo Nencini, whose squad held a modest 3-1 first-quarter lead on the Spartans (0-6) before reeling off seven unanswered goals to take command of the game.
Jose Serratos and Raul Curiel both scored four goals apiece to lead Montgomery (4-2). Serratos' goals came during the Aztecs' seven-goal outburst, including three consecutive, to give the Aztecs a comfortable 8-2 halftime lead.
Jorge Camacho, Manlio Elazab and Adrian Curiel also scored goals for Montgomery, which also benefitted from the play of goalie Roberto Sandoval.
Chula Vista, which suffered from turnovers throughout the contest against a more seasoned and aggressive Aztec team, tied the contest early on at a goal apiece when team scoring leader Gregorio Flores beat Sandoval. However, the Spartans would not find the scoring range again until Jeremy Olaso beat Sandoval on a four-meter penalty shot late in the second period. By that time, Montgomery held a seven-goal lead.
Flores scored two goals to pace Chula Vista while senior goalie Chris Young recorded 18 saves, including several of the spectacular variety, redirecting at least one ball into the spectator's gallery overlooking the pool.
The Aztecs defeated Monte Vista, Poway's B team and University of San Diego High in the Poway tournament while suffering losses to Poway's A squad and Rancho Buena Vista, ranked first and eighth, respectively, in Division I.
Flores led the Spartans with 10 goals in the tournament, notching four goals in setbacks to both Oceanside (14-6) and El Cajon Valley (12-6). Olaso was second in team scoring with three goals and three assists. Bryan Flitcraft recorded three steals and two assists in the loss to El Cajon Valley. Young tallied 81 saves in the five tourney games to bring his season total to 99 following Wednesday's game. He had 21 saves in his team's 6-0 loss to Escondido.