SD Prep Sports: Water Polo
www.geocities.com/sdprepsports
E-mail us at [email protected]
Home Swimming/Diving Cross Country Track & Field Roller Hockey Water Polo CIF Scorecard
Barons overcome slow start, stop Spartans 18-3
By Phillip Brents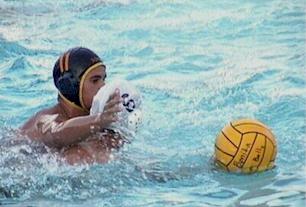 CHULA VISTA, Sept. 26, 2001 -- A slow start proved costly for the Bonita Vista High boys water polo team in Tuesday's San Diego Section top 10 showdown with Scripps Ranch at Miramar College but the Barons were able to overcome an aggressive Chula Vista team in Wednesday's Metro Conference matchup at Southwestern College.
Bonita Vista, ranked fourth among Division I squads, fell 10-7 to Scripps Ranch, ranked seventh among Division II teams, after trailing 3-0 in the first two minutes of the high profile non-league pairing. The Barons (4-4) fell behind 2-0 in Wednesday's tilt against the Spar-tans before lighting up the scoreboard in an 18-3 win.
"We come out sleeping in some games," Baron head coach Dan Way said in reference to the Scripps Ranch encounter. "It was three-nil in the first two minutes — that was the difference in the game."
Jeremy Olaso gave Chula Vista (1-8) a 2-0 lead before Bonita Vista responded with an onslaught of 10 unanswered goals before Olaso scored again. Greg Broadfoot led the Barons with five goals and two steals while Galen Maddocks added four goals, three assists and two steals. Freshman Andrew Hibbard had two goals, three assists and five steals. Overall, Bonita Vista placed 12 players on the scoresheet, including 10 different goal-scorers. Senior goalie Patrick Loitz had six saves and four steals in the win.
The Spartans were coming off a pair of one-goal thrillers, defeating Pt. Loma, 6-5, on a goal by Jack Fritz with six seconds remaining in regulation play after dropping a 5-4 overtime contest to Hilltop the day before as the Lancers' Nick Kolata scored in the extra period. Hilltop had trailed 4-1 entering the fourth period. Chula Vista goalie Chris Young had 17 saves against the Lancers while Gregorio Flores scored three goals. Jon Hamblin had three goals in the victory against Pt. Loma while Danny Lopez scored twice. Young notched 19 saves against Pt. Loma. He had 12 saves against Bonita Vista.