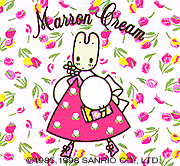 Marron Cream

Born: May 13

Ever cheerful and optimistic, this little girl rabbit is very good at making crafts and baking sweets. She lives in Paris, France.



Pics: [ 1 | 2 | 3 | 4 ]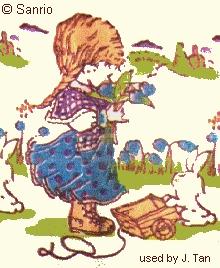 Meadow Sweet

No official info on this character as yet, but from what I can see Meadow Sweet is a cute little country girl.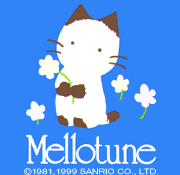 Mellotune

A lonesome little Persian cat, Mellotune is very sentimental, and a dreamy romanticist. She likes flowers and stars, and listening to soft, sweet violin music...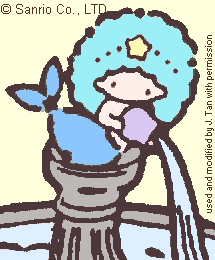 Merwechithe

No official info on this character as yet. She reminds me of Lala, the girl from the Little Twin Stars, and I think I know why. A while ago I found a very early picture of Lala posing as a mermaid for the star sign Pisces along with the rest of the horoscope signs. See the picture here. I think Sanrio must have liked that picture therefore created a new character out of it.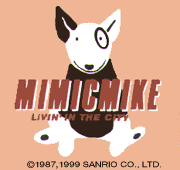 Mimic Mike

A long-time resident of Los Angeles, this London-born English bull terrier is convinced he is not a dog. Curious and brimming with energy, Mimic Mike loves to sport the latest LA fashions.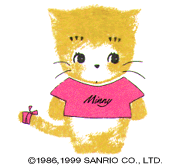 Minny La Mew

Born in France, and a bit of a crybaby, this little kitten is certainly spoiled-- Her favorite drink is cocoa with cream! A natural clumsy-puss, she never fails to close the door on her tail. Meow!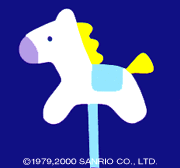 Mokuba

After the children and their parents have fallen asleep, the hobbyhorse gallops through the world of dreams on the loveliest of melodies. It's the beginning of a fantastical night!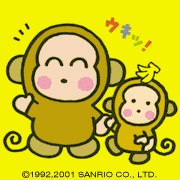 Monkichi

Born: January 13

Most monkeys like bananas, but only Monkichi can eat ten of them in one minute! He lives high in the mountains with all his friends, including his best friend, Monta. Monta is quite a bit smaller than Monkichi but can outrun any monkey around. This helps because Monta loves to play tricks on all of his monkey friends, except Monkichi. Monkichi loves keeping his friends entertained with stories, jokes and poems. His dream is to one day be a poet or maybe a professional comedian.
Moresbrothers

Decked out in a spiffy hat, necktie and suspenders, this rabbit is quite a fashionable guy. And he's talented to boot -- listen to him play a few licks on his trumpet! You won't find him boasting, though: He's actually very sweet and shy.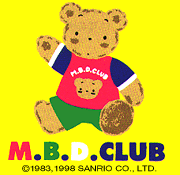 Mr. Bear's Dream

Born: One day, when the sun came up and shone in the toy shop window, he was there!

Mr. Bear is a gentle and kind teddy bear. He loves to look at picture books and visit his friends in the forest. He lives in London, England.



Pics: [ 1 ]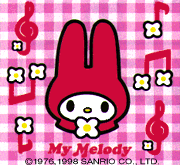 My Melody

Born: January 18

Gentle, cheerful and kind, Melody is the perfect older sister. More than anything else in the whole world (except her younger brother, of course) this little girl bunny treasures the red hood that her grandmother made for her. Melody's favorite pastime is helping her mother bake cookies.



Pics: [ 1 | 2 | 3 ]