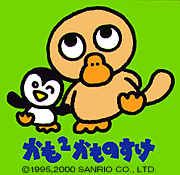 KamoKamoKamonosuke

Born: September 24

Don't let the vacant expression fool you--this platypus is really quite sharp! Kamo Kamonosuke's dream is to do synchronized swimming in the ocean.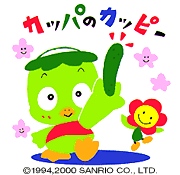 Kappa no Kappi

Born: A sunny day in the first year of Kappa

He simply adores cucumbers, and is an expert when it comes to playing the cucumber-flute! A true nature-lover, Kappi has many interesting and mysterious friends.


Pics: [ 1 | 2 ]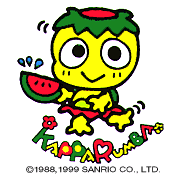 KappaRumba

A kappa, or mythical Japanese river sprite, Rupapa may be 50% legend, but he's 100% energy! Understandably, he's a natural at any type of water sport. His favorite food is freshly-picked fruit, and he loves to spend afternoons napping on the beach. Rupupa lives in Runrun Land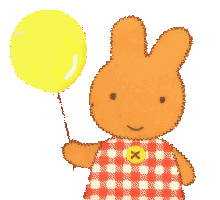 Keenyweenies

No official info on this chracter as yet. All I can see is an adorable little orange bunny with a yellow ballon.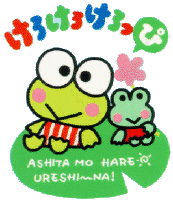 Keroppi

Born: July 10

Keroppi lives with his brother, sister and parents in a big house on the edge of Donut Pond, the largest and bluest pond around. Most of his best friends live nearby, including his girlfriend, Keroleen. He is the natural leader of his large group of friends, and he leaps to help his pals in their time of need. Keroppi and his friends share his love for playing games, especially baseball and boomerangs. But most often he is seen with his little snail friend, Den Den, always tagging along and usually a little behind.


Pics: [ 1 | 2 | 3 | 4 | 5 ]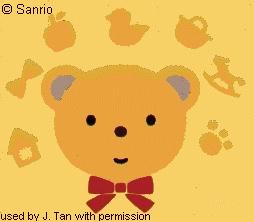 Kidsbear

No official info on this character as yet. By the looks of it, Kidsbear is a little bear with a red bow tie who loves to play!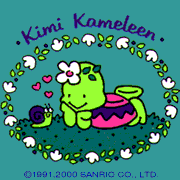 Kimi Kameleen

This sweet little girl turtle loves being surrounded by fragrant flowers... almost as much as she loves being in the company of her friends!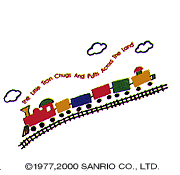 Kisha

All aboard! Next stop: adventure! Don't forget your hopes and dreams, 'cause this colorful little train is going to take you over field and mountain, to faraway lands...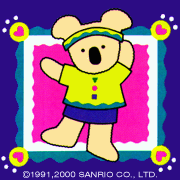 Koala Design Series

She dances, she roller-skates, she even does aerobics--Katie the Koala is just one fun little bundle of energy!


Pics: [ 1 ]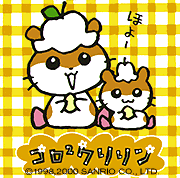 Kuririn

Born: February 4

Although timid by nature, Kuririn is actually quite laid-back for a hamster. Full of curiosity and spunk, he excels at speed-nibbling, and burrowing into unbelievably small spaces.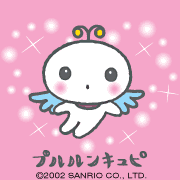 Kyupi

Pururun Kyupi lives in beautiful Pururun Lake, the clearest lake in the whole world. He's a water fairy, born in the shimmering bubbles that rise from the crystal depths. Only those with a kind heart are able to see him. It's easy to tell when Pururun Kyupi is happy — his antennae blink! His favorite hobby is fortune telling.


Pics: [ 1 ]