Samoyed Clipart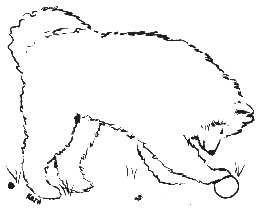 Pup & Ball
Clipart by Artist Kathleen Handley".
See the Links page for another sample
27 cute pen & ink drawings! Use on letterhead, envelopes or
watermarks, makes great background for web pages! (check out background),
Price $12.00 + $2.00 (shipping & handling) = Just $14.00 for
these great one of a kind images! Or if you prefer, Save $2.00
S/H and we'll Email them to you!
To Order yours, Email:
Promise Samoyeds